Today In History, 6 February: What Happened On This Day
What happened today in history (6 February): Bob Marley, Ronald Reagan and Abdul Gaffar Khan born, Motilal Nehru and Lata Mangeshkar died, Charlies Chaplin's first film was released, Queen Elizabeth II ascended the throne of UK, New Zealand was established as a British colony, and more.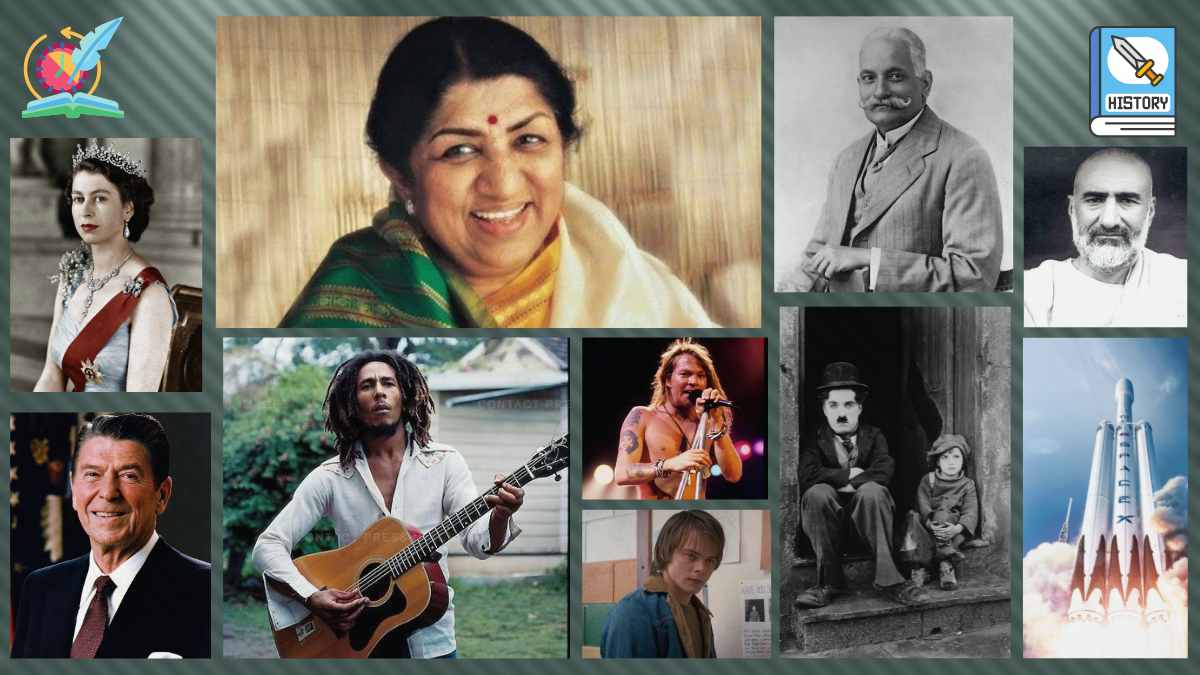 This day in history (6 Feb): The Demise of Lata Mangeshkar
Today in History, 6 February: 2023 has been a roller coaster year so far, and we're only in the second month of the year. We don't mean to dampen the fun, but it's necessary to keep learning. On that note, let's learn about the historical significance of the many days of the year.
Today is 6 February, another random, lazy day in the winter month of February. However, 6th February holds a pivotal place in world history.
Read on to find out what pivotal events transpired on this day (Feb. 6) in sports, politics and art, along with famous birthdays and deaths in world history.
Historical Events On This Day
In 1819, the Treaty of Singapore was signed, giving birth to modern Singapore.
In 1840, the Treaty of Waitangi was signed by the Maori people, establishing New Zealand as a British colony.
In 1899, the Spanish-American War officially came to an end after the ratification of the Treaty of Paris by the United States Senate.
In 1918, the Representation of the People Act of 1918 was passed, giving 8.4 million women over the age of 30 and meeting certain requirements, the right to vote.
In 1952, the UK's longest-reigning monarch, Elizabeth II, ascended the throne after her father, King George VI's death.
In 2000, Russia captured Chechnya's capital, Grozny, during the Second Chechen War.
In 2018, one of the world's most powerful rockets, SpaceX's Falcon Heavy, was launched.
In 2020, American astronaut Christina Koch completed the longest continuous spaceflight by a female astronaut after spending 328 days aboard the International Space Station.
Sports Events Today
In 1967, Muhammad Ali retained his world heavyweight title after beating Ernie Terrell.
In 1971, American astronaut Alan Shepard became the first person to hit a golf ball on the Moon.
In 1988, American basketball icon Michael Jordan made his signature slam dunk from the free throw line, inspiring the Air Jordan and the Jumpman logo.
Art and Culture Events Today
In 1921, Charlie Chaplin's first feature film, The Kid, was released.
In 1981, The Beatles—Paul McCartney, Ringo Starr & George Harrison—recorded a tribute to John Lennon.
In 2003, American rapper 50 Cent released his best-selling album, "Get Rich or Die Trying".
Notable Deaths On This Day
| | | |
| --- | --- | --- |
| Sr No | Death Year | Personality |
| 1 | 1685 | Charles II, King of England, Scotland and Ireland from 1660 to 1685 |
| 2 | 1931 | Motilal Nehru, Indian lawyer, freedom fighter and politician who served as the President of the Indian National Congress on multiple occasions |
| 3 | 1952 | George VI, King of the United Kingdom who presided over World War II and the Independence of India |
| 4 | 1994 | Jack Kirby, American comic book artist best known for creating Marvel's Fantastic Four, Black Panther the X-Men and DC's New Gods |
| 5 | 2022 | Lata Mangeshkar, Indian playback singer regarded as the greatest singers of India and recorded songs in over 36 Indian languages during her eight decade long career |
Famous Birthdays On This Day
| | | |
| --- | --- | --- |
| Sr No | Birth Year | Personality |
| 1 | 1890 | Abdul Gaffar Khan, Pashtun independence activist who founded the non violent Khudai Khidmatgar resistance movement against British colonial rule in India |
| 2 | 1895 | Babe Ruth, American baseball player known for his home-run hitting streaks and is widely considered the greatest baseballer of all time |
| 3 | 1911 | Ronald Reagan, American actor, union leader and politician who served as the 40th President of America from 1981 to 1989 |
| 4 | 1917 | Zsa Zsa Gabor, Hungarian-American actress and socialite who starred in popular films like Moulin Rouge and Queen of Outer Space |
| 5 | 1945 | Bob Marley, Jamaican singer who pioneered the reggae genre and delivered several chart-topping hits like "Three Little Birds", "No Woman, No Cry" and "Is this Love?" |
| 6 | 1962 | Axl Rose, American singer known for his distinctive high-pitched voice and co-founding the iconic hard rock band Guns N' Roses |
| 7 | 1966 | Rick Astley, English singer best known for his dance pop classic "Never Gonna Give You Up" |
| 8 | 1986 | Dane DeHaan, American actor best known for his roles in the superhero films Chronicle and The Amazing Spider-Man 2 |
| 9 | 1994 | Charlie Heaton, English actor best known for playing Jonathan Byers in the Netflix series Stranger Things |
Related | Today in History (5 February)
Related | Today in History (4 February)