Today In History, 6 March: What Happened On This Day
What happened today in history (6 March): Humayun and Michelangelo were born, Georgia O'Keeffe died, Treaty of Surat was signed, periodic table was presented, Muhammad Ali adopted his name, National Dentist Day, and more.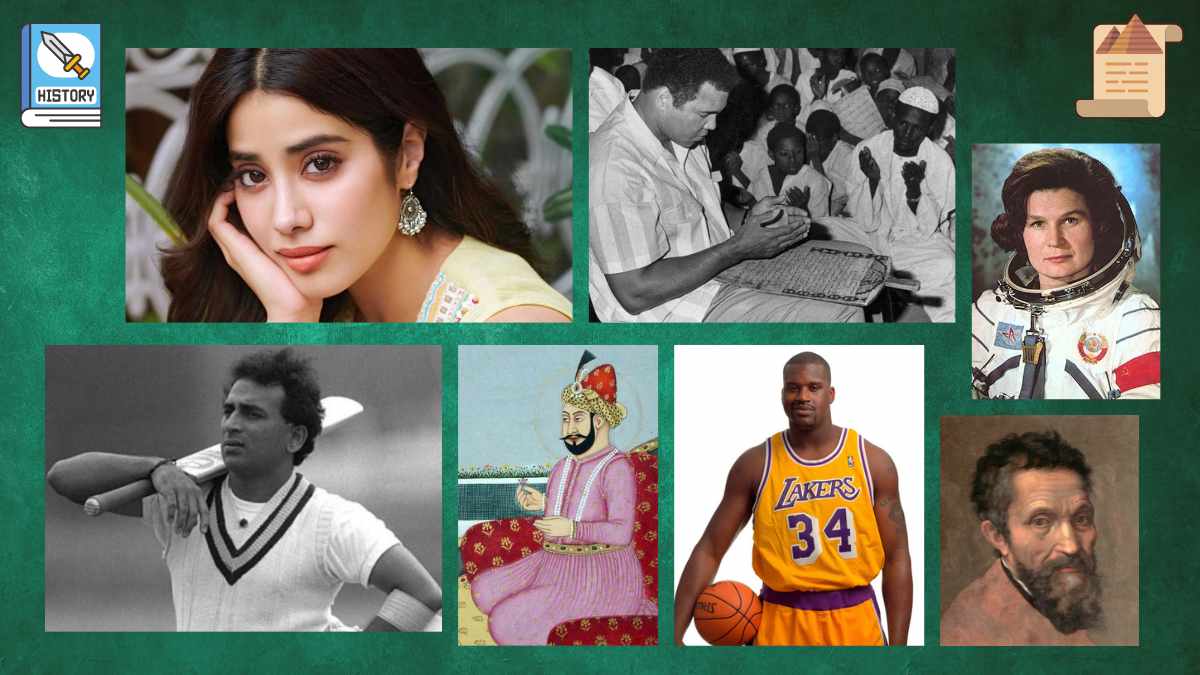 This day in history (6 Mar): The Treaty of Surat Was Signed
Today in History, 6 March: 2023 continues to race by. March has arrived, but few people are still living in the previous year. But we're here to wake you up from your slumber. It's time to expand your general knowledge by learning the historical significance of March.
Today is 6 March, another sunny Spring day. However, 6th March holds a pivotal place in world history.
Dive in to find out what big events took place on this day (Mar. 6) in sports, politics and art, along with famous birthdays and deaths in world history.
Historical Events On This Day
In 1775, the Treaty of Surat was signed by Raghunath Rao, sparking the First Anglo-Maratha War.
In 1836, the Battle of the Alamo took place during the Texas Revolution between the Mexican forces and Texan defenders, resulting in a Mexican victory.
In 1869, Russian chemist Dmitri Mendeleev presented the first periodic table at a meeting of the Russian Chemical Society.
In 1899, acetylsalicylic acid (Aspirin) medicine was patented by Felix Hoffman at the German company Bayer.
In 1915, Mahatma Gandhi and Rabindranath Tagore met for the first time at Shantiniketan.
In 1924, King Tut's mummy tomb was opened by the Egyptian government.
In 1957, Ghana gained independence from the United Kingdom.
In 1961, the most popular English-language-based newspaper in India was founded by the Times Group.
In 1991, Indian Prime Minister Chandra Shekhar resigned from the post of Prime Minister seven months after the Congress Party withdrew its support.
Sports Events Today
In 1964, American boxer Cassius Clay adopted the name Muhammad Ali after joining the Nation of Islam.
In 1971, Indian cricketer and analyst Sunil Gavaskar made his Test debut against the West Indies.
In 1985, American boxing legend Mike Tyson KOed Hector Mercedes in round one of his first professional fight.
Art and Culture Events Today
In 1853, the iconic Italian opera La Traviata by composer Giuseppe Verdi premiered in Venice.
In 2000, Eric Clapton, Nat King Cole and Billie Holiday were inducted into the 15th Rock and Roll Hall of Fame.
Notable Deaths On This Day
| | | |
| --- | --- | --- |
| Sr No | Death Year | Personality |
| 1 | 1888 | Louisa May Alcott, American novelist and poet who is best known for her novel "Little Women," which is considered a classic of American literature |
| 2 | 1900 | Gottlieb Daimler, German engineer and industrialist who is known for his pioneering work in the development of the modern gasoline engine and the motorcycle |
| 3 | 1982 | Ayn Rand, Russian-American writer and philosopher who is best known for her novels "The Fountainhead" and "Atlas Shrugged," which espouse her philosophy of Objectivism |
| 4 | 1986 | Georgia O'Keeffe, American artist and pioneer of American modern who is best known for her paintings of flowers, landscapes, and other natural forms |
| 5 | 2014 | Nancy Reagan, American actress and First Lady of the United States from 1981 to 1989, during the presidency of her husband, Ronald Reagan |
Famous Birthdays On This Day
| | | |
| --- | --- | --- |
| Sr No | Birth Year | Personality |
| 1 | 1475 | Michelangelo, Italian sculptor, painter, and architect who is widely considered one of the greatest artists of all time for his iconic creations, the ceiling of the Sistine Chapel and the sculpture of David |
| 2 | 1508 | Humayun, Mughal Emperor and son of Babur. He ruled over parts of modern-day India, Pakistan, and Afghanistan during the 16th century |
| 3 | 1926 | Alan Greenspan, American economist |
| 4 | 1927 | Gabriel Garcia Marquez, Colombian author and journalist who is best known for his novels "One Hundred Years of Solitude" and "Love in the Time of Cholera" |
| 5 | 1937 | Valentina Tereshkova, Russian cosmonaut who became the first and youngest woman to travel to space in 1963 |
| 6 | 1972 | Shaquille O'Neal, former American basketball player who is known for his giant figure and is widely regarded as one of the greatest players in the history of the NBA |