Today In History, 7 January: What Happened On This Day
What happened today in history (7 January): The birthday of Irrfan Khan, Lewis Hamilton and Johnny Lever, demise of Nikola Tesla, first transatlantic phone call, Charlie Hebdo terrorist attack, beginning of Bill Clinton's impeachment trial, and more.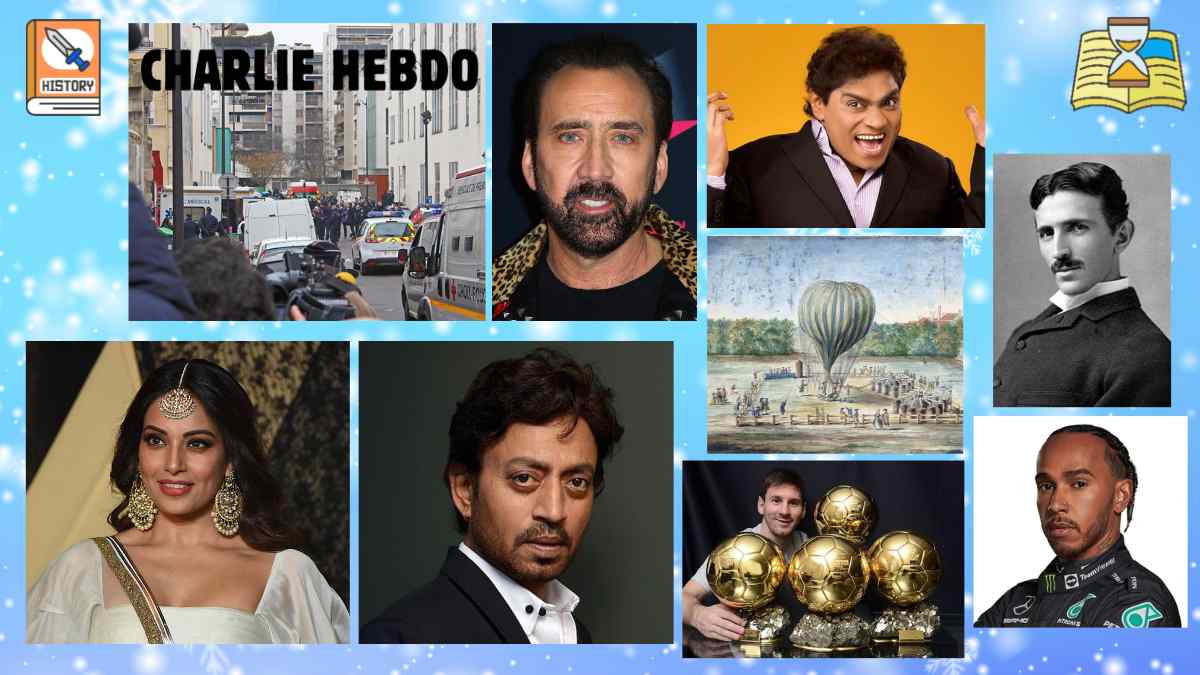 This day in history (7 Jan): Birth of Irrfan Khan and the Charlie Hebdo Terrorist Attack
Today in History, 7 January: 2023 just started, and a week has gone by already. Today is January 7. It appears to be another chilly winter day, which it is. But 7th January also holds a major place in world history. Many significant events transpired on this day.
The births of one of the most beloved comic actors of India, an international acting phenom, and one of the greatest race car drivers of the century, the demise of an underappreciated inventor, the terrorist attack on Charlie Hebdo, and the world's first transatlantic phone call are some of the key events that occurred on 7 January.
Keep reading to know what happened on this day (Jan. 7) in sports, politics and art, along with famous birthdays and deaths in world history.
Related: Today in History, 8 January: What Happened on This Day - Birthday, Events, Politics, Death & More
Historical Events On This Day
In 1610, Italian astronomer Galileo Galilei made his first observation of Jupiter's four moons: Ganymede, Callisto, Io and Europa.
In 1738, Peshwa Bajirao and Jai Sing II signed a peace treaty following the Maratha triumph at the Battle of Bhopal.
In 1785, French Gas Balloon pioneer Jean-Pierre Blanchard travelled with American John Jeffries from England to France over the English Channel.
In 1927, the world's first transatlantic phone call was made.
In 1953, US President Harry S. Truman announced the development of the hydrogen bomb.
In 1959, the US recognized Fidel Castro's Cuban government.
In 1968, the American uncrewed Space Probe, Surveyor 7, was launched by NASA to achieve a soft landing on the Lunar surface.
In 1979, Vietnamese forces occupied the Cambodian capital, Phnom Penh, and dethroned the dictator Pol Pot of the Khmer Rouge.
In 1999, US President Bill Clinton's highly publicized impeachment trial began in the Senate over his attempt to cover up his affair with Monica Lewinsky.
In 2015, two Islamist terrorists killed 12 people at the French magazine Charlie Hebdo's office in Paris over its depiction of Prophet Muhammad's cartoon.
In 2021, American business tycoon Elon Musk overtook Amazon founder Jeff Bezos as the world's richest man with a net worth of $186 billion.
Sports Events Today
In 1987, Indian cricketer and legendary all-rounder Kapil Dev took his 300th Test wicket at only 28 years of age, becoming the youngest player to do so.
In 2013, Barcelona and Argentina forward Lionel Messi was proclaimed the best football player in the world after winning the FIFA Ballon d'Or award for a record fourth consecutive time.
Art and Culture Events Today
In 1842, Italian composer Gioachino Rossini's cantata "Stabat Mater" premiered in Paris.
In 1955, American contralto Marian Anderson became the first black person to perform with the New York Metropolitan Opera.
In 2011, the Best Picture Oscar-winning film, The King's Speech, starring Colin Firth, Geoffrey Rush, and Helena Bonham Carter, was released in the UK.
Notable Deaths On This Day
| | | |
| --- | --- | --- |
| Sr No | Death Year | Personality |
| 1 | 1536 | Catherine of Aragorn, first wife of England's King Henry VIII |
| 2 | 1882 | Ignacy Łukasiewicz, Polish engineer, businessman and inventor who built the first modern oil refinery and invented the kerosene lamp |
| 3 | 1943 | Nikola Tesla, Serbian-American physicist and engineer who is one of the most under-appreciated inventors in history and is best known for developing Alternating Current and its applications |
| 4 | 1989 | Hirohito, Emperor of Japan from 1927-89 |
| 5 | 2015 | Stephane Charbonnier, French cartoonist and editor of the satirical magazine Charlie Hebdo |
Famous Birthdays On This Day
| | | |
| --- | --- | --- |
| Sr No | Birth Year | Personality |
| 1 | 1502 | Gregory XIII, Italian pope (1572-85) who introduced the Gregorian calendar |
| 2 | 1957 | Johnny Lever Indian comic who is one of India's first Stand-up comedians and is also known for starring over 300 Hindi films like Dulhe Raja, Baadshah and Mela |
| 3 | 1964 | Nicolas Cage, American actor who is known for his blockbuster films like Con Air, The Rock and National Treasure |
| 4 | 1967 | Irrfan Khan, Indian actor who gained international recognition for his performance in films like The Lunchbox, Paan Singh Tomar and Jurassic World |
| 5 | 1971 | Jeremy Renner, American actor known for starring in the Oscar-winning film The Hurt Locker and playing Hawkeye in the Marvel Cinematic Universe |
| 6 | 1979 | Bipasha Basu, Indian actress best known for her roles in horror and erotic films like Raaz, Ajnabee, Jism and Alone |
| 7 | 1985 | Lewis Hamilton, English race car driver who holds the record for most Formula One wins and World Drivers' Championship titles |
Also Read | Today in History (6 January)
Also Read | Today in History (5 January)
FAQ
What happened today in history (7 January)?
A terrorist attack took place at French satirical magazine Charlie Hebdo's Paris office today in 2015.
Which famous personality was born on this day, 7 January?
Indian actor Irrfan Khan, Formula One racer Lewis Hamilton and Hollywood megastar Nicolas Cage were born on this day (7 Jan) in history.
What major sports events took place on 7 January?
Indian cricket all-rounder Kapil Dev took his 300th Test wicket and Argentine footballer Lionel Messi won his fourth consecutive Ballon d'Or trophy on 7th January in history.