Today In History, 9 February: What Happened On This Day
What happened today in history (9 February): Tom Hiddleston, Alice Walker and Glenn McGrath born, Baba Amte and Fyodor Dostoyevsky died, first census of independent India was conducted, The Beatles first performed live in the US, Joaquin Phoenix won the Oscar for Best Actor, element copernicium was discovered, Benin City was invaded by the British, and more.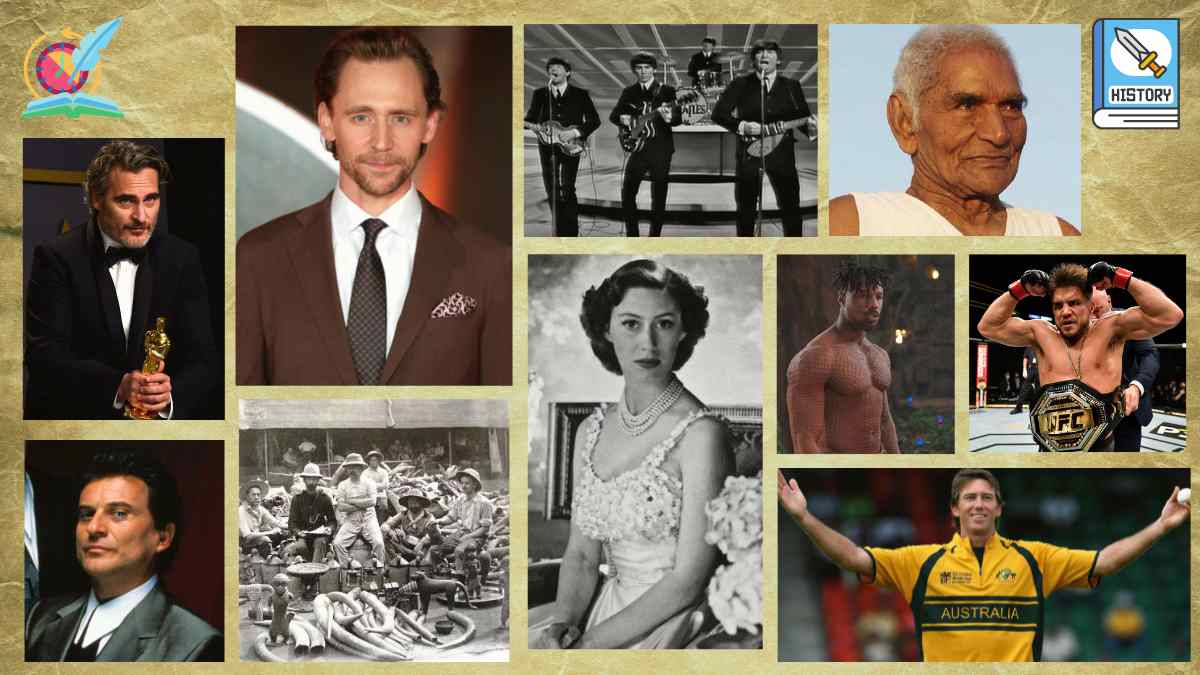 This day in history (9 Feb): First Census Conducted in Independent India
Today in History, 9 February: The month of love has begun, and so has Valentine's week.
Today is 9 February, also celebrated as chocolate day. It's wonderful to relish and gift chocolates to that special someone in your life, but it's also essential to not stop acquiring knowledge. So let's enhance our general knowledge by learning the importance of February 9 in history.
Check what significant events happened on this day (Feb. 9) in sports, politics and art, along with famous birthdays and deaths in world history.
Related | Today in History (8 February)
Historical Events On This Day
In 1757, the Treaty of Alinagar was signed between the British East India Company and the Nawab of Bengal, Siraj-ud-Daulah, restoring the factories, privileges, and the city of Calcutta to the Company.
In 1897, the British Expedition force invaded and looted Benin City, ending the Nigerian Kingdom of Benin.
In 1943, the World War II Battle of Guadalcanal ended with a US victory over Japanese forces.
In 1951, the first census of independent India commenced.
In 1963, the first flight of the Boeing 747 jet happened.
In 1964, the famed British rock band the Beatles first performed live in the US on The Ed Sullivan Show and were viewed by 73 million people.
In 1985, American intelligence officer Kiki Camarena, working in Mexico against drug trafficking, was kidnapped, interrogated under torture, and murdered.
In 1996, Peter Armbruster, Victor Ninov and Sigurd Hofmann discovered the highly radioactive chemical element 112, later named copernicium.
Sports Events Today
In 1895, the game of volleyball, initially called Mintonette was invented by William G. Morgan.
In 1900, the famous tennis tournament, the Davis Cup, was established by Dwight Davis.
In 2018, the XXIII Winter Olympics opened in PyeongChang, South Korea.
Art and Culture Events Today
In 1893, Italian composer Giuseppe Verdi's last opera, "Falstaff," premiered in Milan.
In 1997, the Fox cartoon series The Simpsons became the longest-running animated series in history after airing its 167th episode.
In 2020, Joaquin Phoenix won the Best Actor Oscar for Joker, and Bong Joon-ho won the Best Director and Best Picture Oscars for Parasite at the 92nd Academy Awards.
Notable Deaths On This Day
| | | |
| --- | --- | --- |
| Sr No | Death Year | Personality |
| 1 | 1881 | Fyodor Dostoevsky, Russian novelist, short story writer, and journalist best known for his renowned works Crime and Punishment and The Brothers Karamazov |
| 2 | 1979 | Dennis Gabor, Hungarian-British engineer, physicist and Nobel Laureate known for inventing holography |
| 3 | 1985 | Kiki Camarena, American intelligence officer working against the drug cartels in Mexico |
| 4 | 2002 | Princess Margaret, British royal and Countess of Snowdon who was younger sister of Queen Elizabeth II |
| 5 | 2008 | Baba Amte, Indian social worker and activist known for his work for the rehabilitation and empowerment of people suffering from leprosy |
| 6 | 2018 | Johann Johannsson, Oscar-nominated Icelandic music composer known for the films The Theory of Everything, Sicario and Arrival |
Famous Birthdays On This Day
| | | |
| --- | --- | --- |
| Sr No | Birth Year | Personality |
| 1 | 1846 | William Mayback, German engine designer and industrialist who developed many high-speed internal combustion engines suitable for land, water and air |
| 2 | 1943 | Joseph E. Stiglitz, American Keynesian economist who won the Nobel Memorial Prize in Economic Sciences in 2001 for analyses of markets with asymmetric information |
| 3 | 1943 | Joe Pesci, Academy Award-winning American actor best known for working with Martin Scorsese and playing tough guy gangsters in films like Goodfellas, Casino and The Irishman |
| 4 | 1944 | Alice Walker, American novelist known for her acclaimed classic The Color Purple and became the first black woman to win the Pulitzer Prize for Fiction |
| 5 | 1954 | Chris Gardener, American motivational speaker and entrepreneur whose rags to riches story as a stock broker inspired the popular film The Pursuit of Happyness |
| 6 | 1970 | Glenn McGrath, Australian cricket legend and fast bowler |
| 7 | 1981 | Tom Hiddleston, English actor who rose to fame playing the Norse God of Mischief Loki in the Marvel Cinematic Universe |
| 8 | 1987 | Michael B. Jordan, American actor, producer and director known for starring in blockbuster films like Creed and Black Panther |
| 9 | 1987 | Henry Cejudo, American wrestler who won the gold medal at the 2008 Beijing Olympics and later became a two division MMA champion in the Ultimate Fighting Championship |
Related | Today in History (6 February)
Related | Today in History (7 February)