US-China Close Call: The US Navy has recently released a video of a Chinese Warship that crossed in front of the US destroyer very closely and the US described it as "Unsafe Interaction." The event took place in the Taiwan Straits and here are all the details.
What Exactly Happened?
The United States Navy released a video on Monday June 5, 2023 in which the Chinese warship crosses in front of a U.S. destroyer in the Taiwan Straits.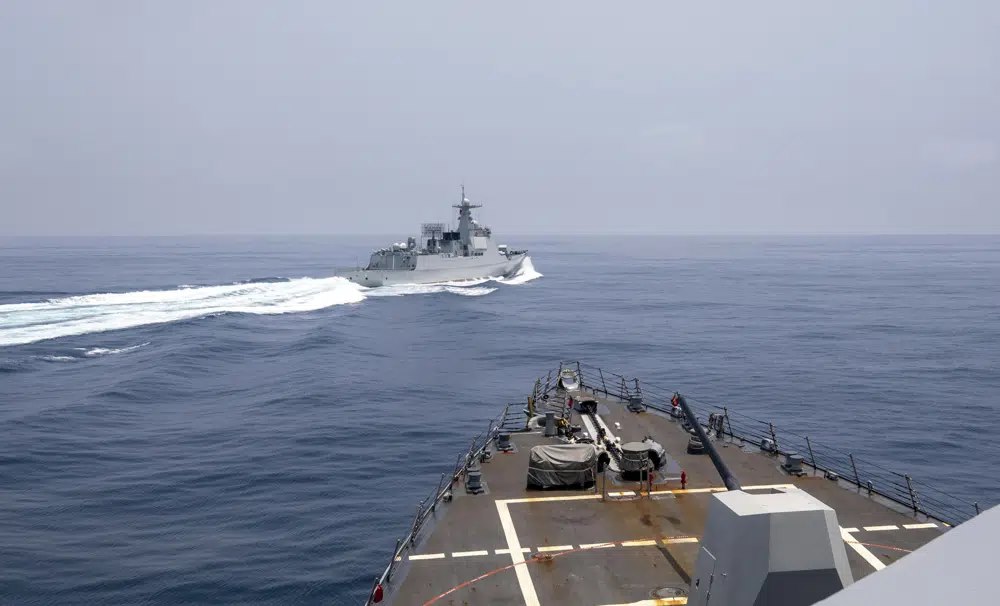 Source: AP News
The incident took place on Saturday, June 3, 2023, when the USS Chung-Hoon and the HMCS Montreal were conducting a normal routine transit of the strait. The Chinese warship, came within 150 yards (137 meters) of the USS Chung-Hoon.
The US Indo-Pacific Command Newsroom states, "In accordance with international law, USS Chung-Hoon (DDG 93) and HMCS Montreal (FFH 336) conducted a routine south to north Taiwan Strait transit June 3 through waters where high seas freedoms of navigation and overflight apply.
"During the transit, PLA(N) LUYANG III DDG 132 (PRC LY 132) executed maneuvers in an unsafe manner in the vicinity of Chung-Hoon. The PRC LY 132 overtook Chung-Hoon on their port side and crossed their bow at 150 yards.
"Chung-Hoon maintained course and slowed to 10 kts to avoid a collision."
The US Navy newsroom also said that "The LY 132's closest point of approach was 150 yards and its actions violated the maritime 'Rules of the Road' of safe passage in international waters."
The Chinese government has no comments on the incident.
Source: Inquirer.net
The incident comes at a time of heightened tensions between the United States and China. The two countries have been engaged in a trade war for the past year, and they have also been battling over the issue of Taiwan.
The US Navy's release of the video is a clear message to China that the United States will not tolerate aggressive behaviour.
China's Defence Minister Gen. Li Shangfu takes the side of the sailing warship that crossed the USS Chunghoon. According to BBC "he accused the US of a "Cold War mentality" and said this was "greatly increasing security risks".
The U.S. Navy has been conducting regular freedom of navigation operations in the Taiwan Strait in recent years. These operations are done on purpose to challenge China's claims to sovereignty over the strait.
The incident on Saturday is the latest in a series of close encounters between U.S. and Chinese warships in the Taiwan Strait. In December 2022, a Chinese warship came within 45 yards (41 meters) of a U.S. destroyer.
To conclude, the growing number of close encounters between U.S. and Chinese warships in the Taiwan Strait is a sign of the growing tensions between the two countries. The incidents raise the risk of an unintended conflict between the two countries.