Valmiki Jayanti 2021: Date, Puja Timings, Quotes, Wishes, History, Significance, WhatsApp and Facebook Status, and more
Valmiki Jayanti 2021: The birth anniversary of Maharishi Valmiki is observed as Valmiki Jayanti and is celebrated on Ashwin Purnima as per the Hindu lunar calendar. This year it falls on October 20. On this occasion, let us have a look at puja timings, quotes, wishes, history, and significance.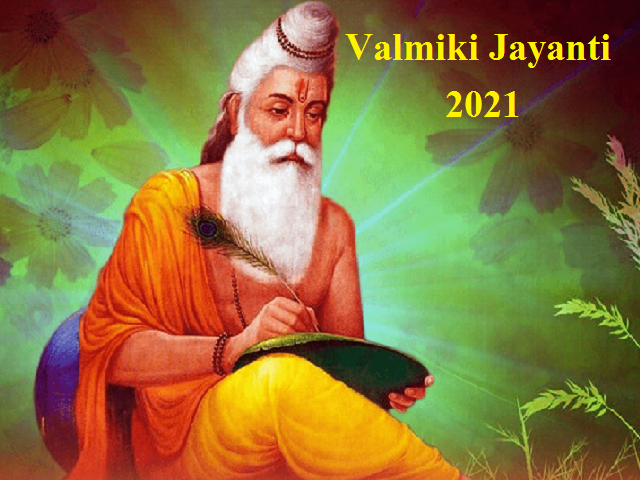 Valmiki Jayanti
Valmiki Jayanti 2021: Valmiki is also known as Maharishi Valmiki and is considered as the Adi Kavi that is the first poet of the Sanskrit language. He was a great sage and author of the epic Ramayana.
The birth anniversary of Maharishi Valmiki is observed as Valmiki Jayanti and is celebrated on Ashwin Purnima as per the Hindu lunar calendar. Valmiki Jayanti is also known as Pragat Diwas and this year it falls on October 20.
It is believed that Maharishi Valmiki was a contemporary of Lord Sri Rama and so it is difficult to define the exact timings of his birth as the birth era of Lord Sri Rama is also a topic of debate among modern historians.
About Maharishi Valmiki
According to Ramayana, Lord Rama met Valmiki during his period of exile and interacted with him. Later, Valmiki provided shelter to Devi Sita in his hermitage when Lord Rama banished her. In his hermitage, Kusha and Luv, the twin sons of Lord Rama were born. It is also believed that Valmiki taught Ramayana to both twins.
In his early life, Maharishi Valmiki was a highway dacoit whose name was Ratnakar. He used to rob people after killing them. It is said that Sage Narad Muni transformed Ratnakar and became a great devotee of Lord Rama.
Narad Muni advised Ratnakar to perform great penance by reciting the Mantra of Rama Nama. After several years of meditation, his penance became successful when a divine voice was heard and gave him the new name Valmiki, the one who was born out of ant-hills.
Valmiki Jayanti 2021: Puja timings
According to drikpanchang.com,
Purnima Tithi begins - 07:03 PM on Oct 19, 2021
Purnima Tithi ends - 08:26 PM on Oct 20, 2021
Valmiki Jayanti 2021: Inspirational Quotes by him
1. "Misfortune is the best fortune.
Rejection by all is victory."
2. "There is no deity powerful than time."
3. "Overdoing anything leads to sorrow."
4. "To be happy always is something which is difficult to achieve. That is to say, happiness and sorrow alternate in one's life and there cannot be uninterrupted happiness alone."
5. "Whatever a man does, good or evil comes back to him someday. And he pays for everything."
6. "A guest, though he be ill-mannered, deserves to be welcomed by the discerning."
7. "I want you to remember, always, that no man who sits upon a throne likes to hear another man being praised."
8. "Only the timid and the weak leave things to destiny (daivam) but the strong and the self-confident never bank on destiny or luck (bhagya)."
9. "It is difficult for the children to repay the debt of what the mother and the father have done to bring them up."
10. "Without danger knocking on the door of one's benefactor, where arises the chance to reciprocate?
Valmiki Jayanti 2021: Wishes and Messages
1. Happy Valmiki Jayanti to you and your family. May you always take the path of knowledge and righteousness.
2. You may gather knowledge and money and prestige and power, but if you have missed love, then you have missed the real door. Happy Valmiki Jayanti!
3. Maharishi Valmiki's life teaches us that we are not born good or evil, it's our deeds that determine our greatness. Happy Valmiki Jayanti!
4. Let us seek Maharishi Valmiki's blessings on the auspicious occasion of Pargat Diwas to discover the purpose of our lives and do good deeds for a lovely tomorrow.
5. May Lord Ram and Maharishi Valmiki's blessings be abundant in our life. On Pargat Diwas, best wishes.
6. Our actions outline our character and our life. Allow us to keep them good. Happy Maharishi Valmiki Jayanti!
7. Life is all about Karma and without Dharma, there is no importance of Karma. Always follow your Dharma when you perform your Karma for a blessed life. Happy Maharishi Valmiki Jayanti!
8. Valmiki Jayanti honours the author of the great epic Ramayana. His teachings are still relevant in modern times. Happy Valmiki Jayanti!
9. To everyone, a very happy Maharishi Valmiki. Let us follow his advice in order to live a better and happier life.
10. On the auspicious day of Valmiki Jayanti, I express my heartfelt greetings and best wishes to you and your loved ones.