What is Poshan Pakhwada? All You Need to Know
Poshan Pakhwada 2023: Poshan Pakhwada is an initiative by Central Government to promote a healthy and nutritious diet to curb malnutrition among children and women. Check all other details about Poshan Pakhwada like theme, significance, objective and more.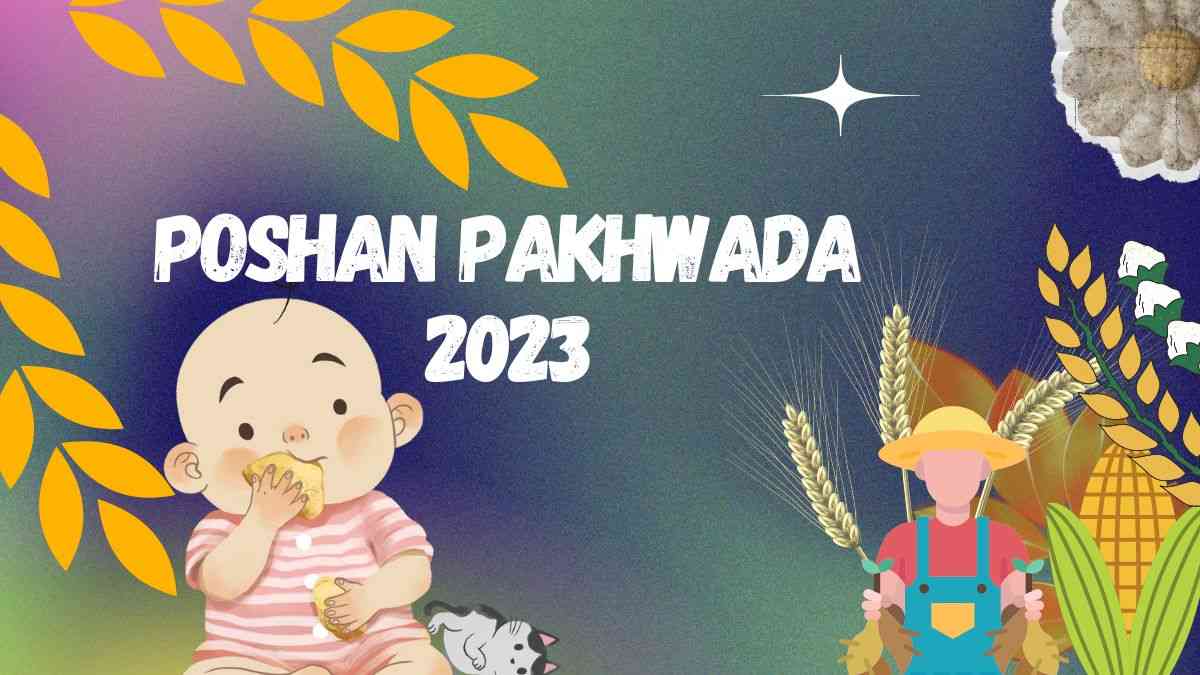 All You Need To Know About the Poshan Pakhwada.
Poshan Pakhwada 2023: The Ministry of Women and Child Development's 5th Poshan Pakhwada began on March 20 and will end on April 3, 2023. This programme, which is a part of PM Narendra Modi's "Poshan Abhiyan," aims to promote healthy eating and nutrition awareness through Janbhagidari and Janandolan.
What is Poshan Pakhwada?
Prime Minister Narendra Modi launched 'POSHAN Abhiyan' on 8th March 2018 to achieve improvement in the status of nutrition of both children and women. Since that time, the Ministry of Women and Child Development celebrates Poshan Maah or Pakhwada.
Poshan Pakhwada is celebrated for a span of 15 days in the month of March annually. It was established in order to locate children suffering from severe acute malnutrition (SAM) throughout all districts and give them specialized attention and nourishment. The flagship programme of India aims to enhance nutritional outcomes for kids, teens, pregnant women, and nursing moms, by using technology, a focused strategy, and convergence.
The initiative to ensure people's participation to improve nutritional outcomes in a holistic manner. Also, the event promotes developmental change in society to accomplish the desired goals of a Kuposhan-mukt Bharat.
However, Poshan Maah should not be confused with Rashtriya Poshan Maah, which is observed in September.
What is #PoshanPakhwada2023 ?
A) A government-led campaign to promote child nutrition and health.
B) A religious festival.
C) An event to celebrate International Women's Day.
D) A campaign to promote environmental sustainability.
.
.
.
.
.
. @MinistryWCD @Food_Odisha @HFWOdisha

— Department of WCD, Government of Odisha (@WCDOdisha) March 27, 2023
पोषण पखवाड़ा अंतर्गत @RaigarhDist के आंगनबाड़ी केंद्रों में अलग-अलग खाद्य सामग्रियों से रंगोली बनाकर बच्चों को बेहतर पोषण की महत्ता को समझाया। इस दौरान विभिन्न गतिविधियां कर गर्भवती और शिशुवती माताओं को भी सम्पूर्ण खान-पान व बेहतर ख्याल रखने को लेकर जागरूक किया गया।@MinistryWCD pic.twitter.com/kc3cn7Nslb

— WCD Department CG (@WCDCgGov) March 27, 2023
List of Bank Holidays in March 2023
What is the theme of Poshan Pakhwada 2023?
Poshan Pakhwada 2023 will be celebrated on the theme, "Nutrition for All: Together Towards a Healthy India". According to the official statement, this year's Poshan Pakhwada will centre on spreading the word about "Shree Anna" as a superfood to combat malnutrition. All the activities during the Poshan Pakhwada will focus on the promotion and popularisation of Shree Anna or millets for nutritional well-being through different events, activities and campaigns.
What is the significance of Poshan Pakhwada 2023?
Poshan Pakhwada put emphasis on the nutritional status of women and children between the age of 0-6 years. The programme uses technology, convergence, community involvement, and a targeted approach to reducing levels of undernourishment, anaemia, and low birth weight in children. It also places special focus on adolescent girls, pregnant women, and lactating mothers, providing a comprehensive approach to addressing malnutrition in the nation.
Some basic objectives of Poshan Pakhwada are:
Prevent Stunting and Improve under-nutrition in children(0- 6 years).

Reduce the Predominance of Anemia among Youth(6-59 months).

Diminish the prevalence of Anemia among Women and Adolescent Girls in the age group of 15-49 years.

Decrease cases of Low Birth Rate.
What are the different activities and events under Poshan Pakhwada?
All the Poshan Pakhwada activities at the district, state and national levels will be organised to promote Shree Anna as a valuable asset to focus on malnutrition. Millets are cereal crops or grains used as fodder and human food. Indian millet, a climate-resistant food crop, has a higher nutritional value than wheat and rice due to its abundance of protein, vitamins, and minerals. The Pearl millet, also known as Bajra in Hindi, is the most extensively planted millet in India. Foxtail millet, also known as Kangni or Kakum in Hindi, is the second most generally grown millet in India. Sorghum, also known as Jowar, and finger millet, also known as Ragi or Nachni in Hindi, are other common millets.
Various other campaigns will be run to spread awareness of Saksham Anganwadis and promote them as centres for better early childhood care and education, as well as improved nutrition delivery. Also, a healthy child passing all the standards of good nutrition, health and well-being will be regarded as 'Swasth Balak'.
FYI, the Poshan Maah and Pakhwada all these years have witnessed active participation and involvement from all States/UTs, frontline functionaries, converging Ministries as well as the public at large.
Source: Ministry of Women and Child Development