What Is The Willow Project? US Government Approves Alaska Oil And Gas Development
US President Joe Biden approved a major oil and gas drilling project in Alaska this Monday, March 13, 2023, that faced strong opposition from environmental activists. Find out about the controversial proposal, its cons, and its impacts here.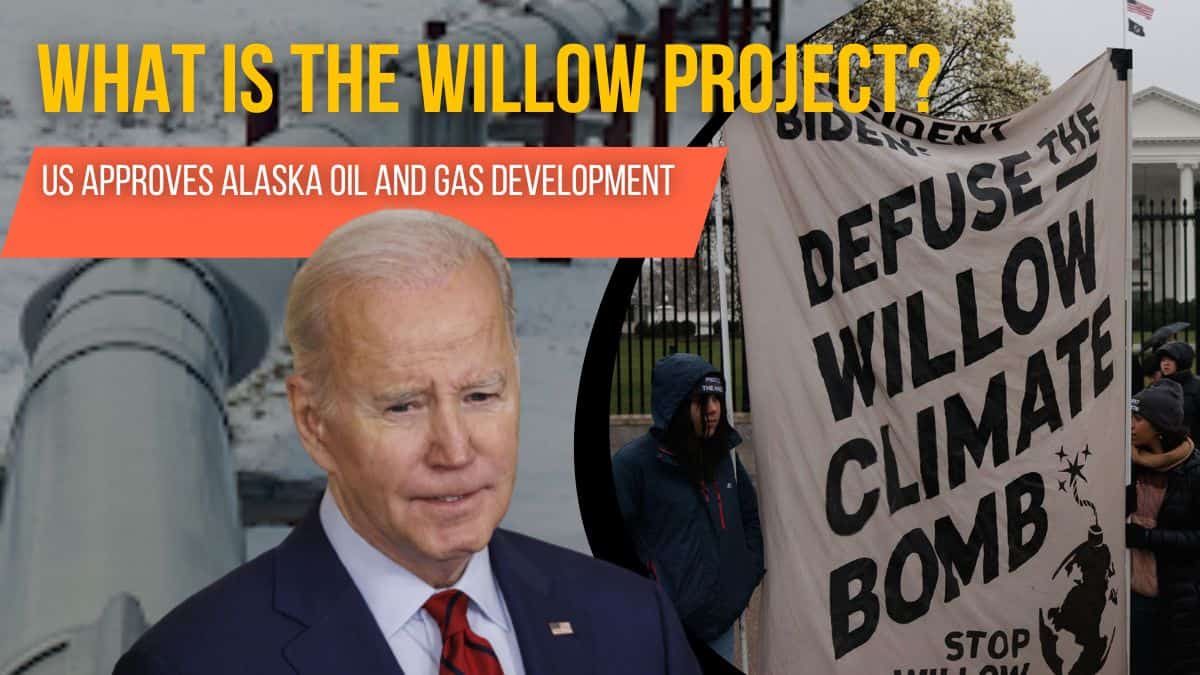 What Is The Willow Project? US Government Approves Alaska Oil And Gas Development
The Willow Project: US President Joe Biden approved a major oil and gas drilling project in Alaska this Monday, March 13, 2023, that faced strong opposition from environmental activists.
According to ConocoPhillips, the company behind the Willow project, this project intends to create local investment and thousands of jobs.
The $8bn (£6.6bn) project faced a cascade of online activism particularly among youth activists on TikTok.
Let's find out more about this proposal.
What is the Willow Project?
The Willow Project is an oil development project by ConocoPhillips.

It is located on the coastal plain of the National Petroleum Reserve in Alaska.

The proposal was originally to construct and operate up to five drill pads for a total of 250 oil wells.

Associated infrastructure includes -access and infield roads
-airstrips
-pipelines
-a gravel mine
-and a temporary island.
All these components will facilitate module delivery via sealift barges on permafrost land and within waters managed by the state of Alaska.
Willow Project: Timeline
| | |
| --- | --- |
| TIME | EVENT |
| 2016 | Oil was discovered in the Willow prospect area west of Alpine, Alaska |
| 2020 | In October the Bureau of Land Management (BLM) approved ConocoPhillips' Willow development project in its Record of Decision. |
| 2021 | Court challenge |
| 2023 | The BLM issued its final supplemental environmental impact statement (SEIS) in February. |
| 2023 | On March 13 President Biden approved the project. |

Japan Witnessed A Mysterious Iron Ball Washed Up On The Enshu Beach Shore! Check Details
Cons of the Willow Project
The Willow project can produce up to 600 million barrels of oil and 287 million tons of carbon emissions plus other greenhouse gases.

The project could adversely impact Arctic wildlife and Native American communities Nuiqsut, Utqiaġvik, Anaktuvuk Pass, Atqasuk, Point Lay, and Wainwright.
Willow Project: Details On The Decision
According to Biden's plan, there would be three drill sites initially and about 219 total wells.

The company has said it considers that option workable.

ConocoPhillips will relinquish rights to about 68,000 acres of existing leases in the National Petroleum Reserve-Alaska according to reports.

The administration's decision comes after the U.S. Bureau of Land Management, as part of an environmental review, advanced in February a development option calling for up to three drill sites initially, which it said would include about 219 total wells. ConocoPhillips Alaska said it considered that option workable.

Alaska's Republican U.S. senators warned any further limits could kill the project, rendering it uneconomic.
What do Climate activists have to say?
Indigenous community members from Alaska traveled thousands of miles to the White House to make their voices heard, calling on @POTUS to #StopWillow -- a massive oil drilling proposal for Alaska's North Slope.

Hear their testimonies: pic.twitter.com/RiB8Yx5mSW

— Molly Morabito 🌅 (@morabito_molly) March 8, 2023
Environmental activists all over social media have promoted a #StopWillow campaign. They are seeking to remind Biden of his pledges to reduce planet-warming greenhouse gas emissions and promote clean energy.

Climate activists have been outraged that Biden appeared open to greenlighting the project, which they said put Biden's climate legacy at risk.
Impact of the Willow Project
ConocoPhillips Alaska's Willow project could produce up to 180,000 barrels of oil a day, create up to 2,500 jobs during construction and 300 long-term jobs, and generate billions of dollars in royalties and tax revenues for the federal, state, and local governments, the company says.

The project is located in the federally designated National Petroleum Reserve-Alaska and enjoys widespread political support in the state.

Alaska Native state lawmakers recently met with Interior Secretary Deb Haaland to urge support for Willow.

According to US Bureau of Land Management estimates, that means it will generate up to 278 million metric tonnes of CO2e over its 30-year lifetime - the equivalent of adding two million cars to US roads every year.

CO2e is a unit used to express the climate impact of all greenhouse gases together as if they were all emitted as carbon dioxide.
Bottom Line
Monday's announcement will allow only three drill sites for the project instead of the five that were initially proposed. The approval also comes one day after the Biden administration imposed limits on oil and gas drilling in 16 million acres of Alaska and the Arctic Ocean.
ALSO READ|What is Saudi Arabia's Next Mega-Project? Mukaab, An Indoor Super-City In the capital Riyadh
What is the difference between La Niña and El Niño?
Delhi-Mumbai Expressway: India's Longest Expressway, All You Need To Know