Who is Bageshwar Dham Sarkar aka Dhirendra Krishna Shastri? Why he is in news?
His real name is Dhirendra Krishna Shastri. Read this article to know about his early days, why he is in the news, and more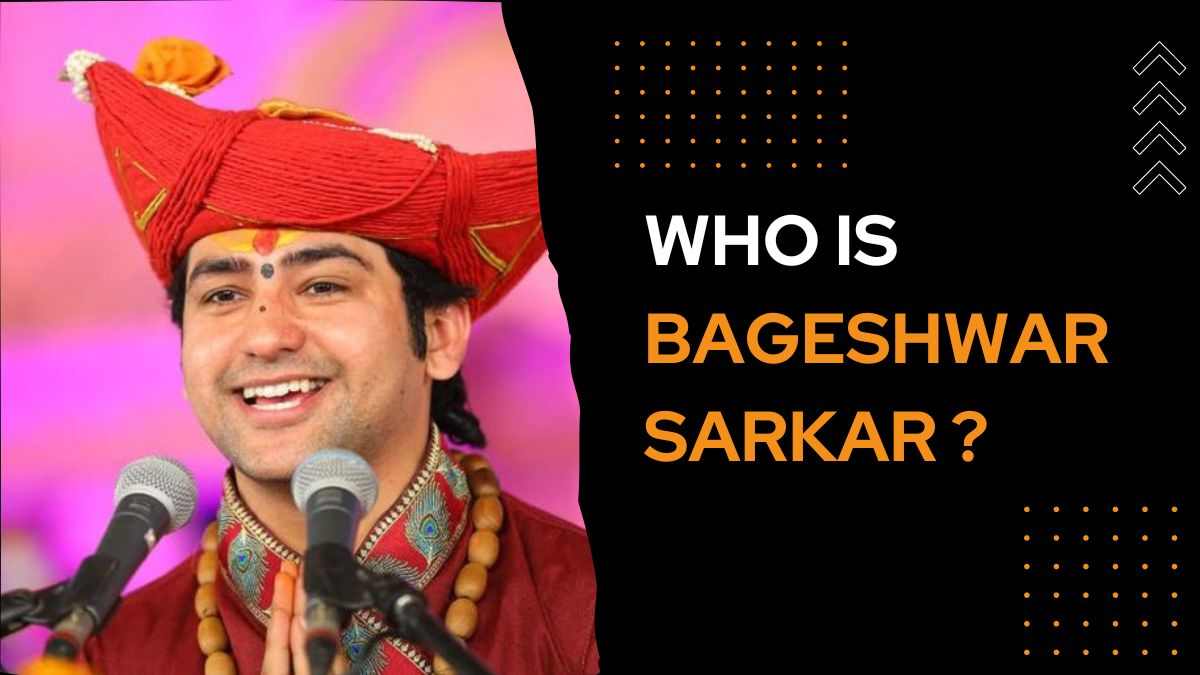 Who is Bageshwar Dham Sarkar?
Dhirendra Krishna Shastri, the head of the Bageshwar Dham temple in Madhya Pradesh, was invited to display his miraculous abilities at a gathering in Maharashtra by a group opposed to superstition. Nevertheless, he reportedly "fled" to Madhya Pradesh rather than show up at the event. And since then, the self-proclaimed Bageshwar Sarkar is under the spectrum of scrutiny.
खुला चैलेंज…नागपुर विवाद पर दी चेतावनी…नकारात्मक लोगो को दिखाया रास्ता…https://t.co/dlxpAWuAaB#bageshwardhamsarkar @NavbharatTimes @aajtak @News18India @NewsNationTV @TOIMumbai @ZeeNews @ANI @TOI_Nagpur @DDNewslive @TheLallantop

— Bageshwar Dham Sarkar (Official) (@bageshwardham) January 17, 2023
Who is Bageshwar Dham Sarkar?
Bhageshwar Dham Sarkar is the head of Bageshwar Dham. He has a sizable fan base who are convinced of his supernatural abilities. The Bageshwar Dham temple in Chhatarpur, Madhya Pradesh, is connected to the 26-year-old self-styled godman of the state. On July 4th, 1996, Dhirendra Krishna Garg was born. He later adopted the name Dhirendra Krishna Shastri. According to reports, his mother is Saroj Garg and his father is Karpal Garg. His paternal grandfather, Bhagwandas Garg, was a Siddh saint. Near the Hanuman temple, a court was held at the Nirmohi Akhara, which was connected to his grandfather. Later, Dhirendra Krishna Shastri began to hold divine court, which gained huge popularity.

The saint's alleged use of spiritual methods to solve people's problems has earned him widespread popularity. He is regarded as miraculous because he plays with people's psychological issues. There are several incidents involving Dhirendra Krishna Shastri baba where it is claimed that he demonstrably resolved personal problems using his alleged abilities.
The common miracles people witness during the Satsang of Bageshwar Dham Sarkar are:
Dhirendra Krishna Shastri addresses one individual by name among thousands of others. He also records details about the person, including his problem, how long it has existed, and its resolution, on a piece of paper without actually getting the other person's input. It's interesting to know that the person's actual issue matches what Dhirendra Krishna Shastri foresaw and wrote about.
The second miracle involves an incident where a person claims that a jinn, ghost, or other spirit entered his body and caused him distress. Bageshwar Dham Sarkar or Dhirendra Krishna Shastri expel the jinn from the body in order to fix the issue. Interestingly, it is seen that the jinn, or ghost, spoke to Shastri during this time. And the general public seems to find this to be quite appealing in and of itself.
Also Read| Who is the Diamond Heiress Devanshi Sanghvi, the youngest Indian monk?
What is the latest row around him?
Dhirendra Krishna Shastri was invited to their Satsang despite the Maharashtrian organization's accusations that he is a fraud. Demands for an FIR against Shastri have been made as Bageshwar Dham Sarkar reportedly fled from a Ramkatha event in Nagpur after being pressed to demonstrate his miracle. Bageshwar Dham Sarkar claimed in a video that went viral on Thursday that he did not leave Nagpur. He invited anyone who wanted to see his miracle to visit Raipur.
Whereas in a different video, Dhirendra Krishna Shastri said he lacked any supernatural abilities and had nothing to back up his claims. Ahead in the video, he said, "At Bageshwar Balaji's feet, I am merely a slave. I do as he inspires me,".
Photos of Dhirendra Krishna Shastri with a number of politicians have surfaced on social media as the godman is in the middle of a dispute. Bageshwar Dham is trending on Twitter, and videos of Dhirendra Krishna Shastri are also going viral.
हिंदुओं को एक करने की बात अगर भड़काऊ है तो ये होते रहना चाहिए - @bageshwardham pic.twitter.com/opyUaX6slk

— Vaibhav Raj Shukla (@VaibhavRjShukla) January 16, 2023
पंडित धीरेंद्र कृष्ण शास्त्री जी ने सुदर्शन के संघर्ष को दिया साधुवाद और #हिन्दुराष्ट्र का समर्थन भी किया हैं। वह पाखंडी नहीं हैं इस लिए हमारे साथ खड़े है और हम भी उनके साथ खड़े है। @bageshwardham #एक_ही_सपना_हिंदुराष्ट्र #सुदर्शन_की_हार_हिंदुओ_की_हार
pic.twitter.com/rW6usmKWjP

— Suresh Chavhanke "Sudarshan News" (@SureshChavhanke) January 19, 2023
बागेश्वर धाम के धीरेन्द्र शास्त्री जी पर लगातार हमले हो रहे हैं, क्योंकि वह सनातन संस्कारों की रक्षा में लगे हैं।
नागपुर वाली अंधश्रद्धा उन्मूलन समिति किसके इशारे पर यह सब कर रही है, उसका खुलासा स्व. राजीव दीक्षित जी ने बहुत पहले कर दिया था।#bageshwardham @bageshwardham pic.twitter.com/Dg10AHwEA5

— Divya Gaurav Tripathi (@write2divya) January 17, 2023
बाग़ेश्वर धाम महाराज के ख़िलाफ़ हमलें होने ही है

उन्होंने धर्म परिवर्तन को रोकने का काम किया है, वो व्यास पीठ से समाज और धर्म के सामने खड़ी चुनौतियों से लड़ने का आह्वान कर रहे हैं

देश विरोधी और हिंदू विरोधी गैंग के पेट में दर्द होना ही था

जिन्हें श्रद्धा नहीं वो मत सुनो

— Kapil Mishra (@KapilMishra_IND) January 17, 2023
The village of Gadha in the Madhya Pradesh district of Chhatarpur is home to the Bageshwar Dham Temple. This is the Balaji Hanuman temple. The temple was renovated by the villagers in 1986.
Who is the Famous Neem Karoli Baba? How to reach his Ashrams?
FAQ
Why Bageshwar Dham is famous?
The saint is considered revered among the masses due to his spiritual tactics of allegedly healing people's problems.
Who is Dhirendra Krishna Maharaj?
Dhirendra Krishna Shastri is the head and the maharaja of the Bageshwar Dham Sarkar.
Where is Bageshwar Dham situated?
Bageshwar Dham is a miraculous lively place of Bhoot Bhawan Mahadev and Swayambhu Shri Balaji Sarkar in Madhya Pradesh.
Who is Bageshwar Dham Sarkar?
Bageshwar Dham Sarkar is a self-proclaimed Godman.