Who is diamond heiress Devanshi Sanghvi, the youngest Indian Monk?
An eight-year-old girl who was supposed to inherit a $61 million company gave up her fortune to become a nun. In a lavish ceremony, Devanshi Sanghvi was initiated into the Jain faith as a monk.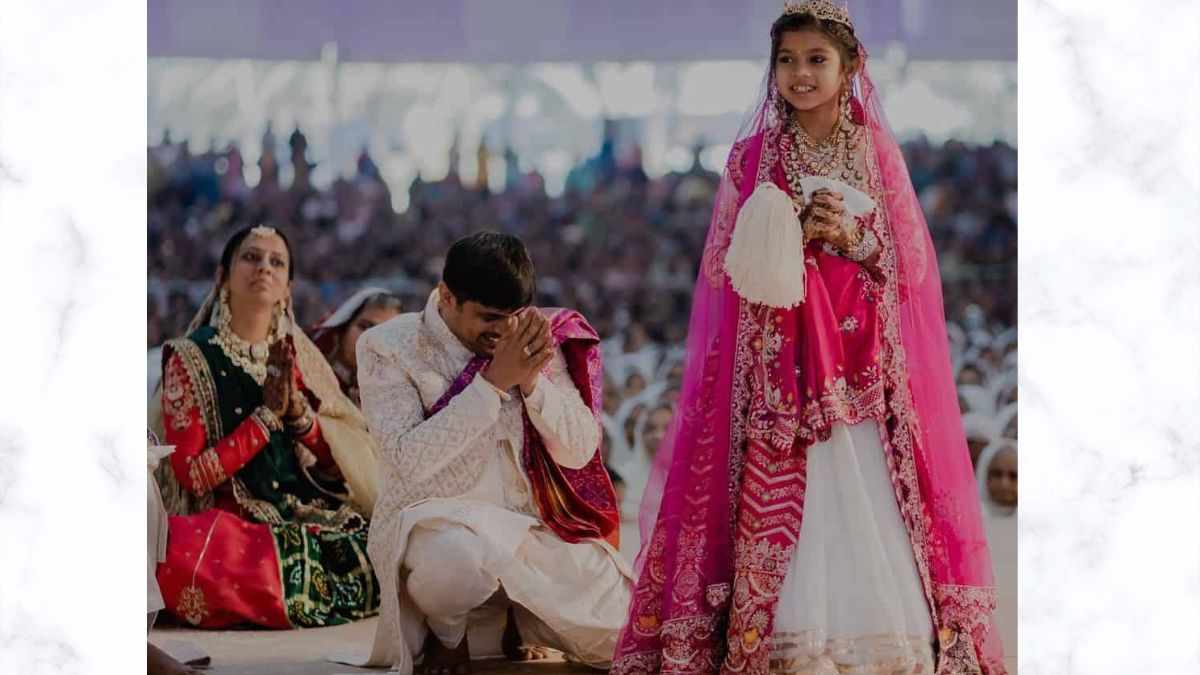 Who is the youngest india Sadhvi Devanshi Sanghvai?
An Indian eight-year-old girl who was due to inherit a multimillion-dollar diamond fortune instead chose to give up worldly luxuries and become a Jain Sadhvi. The child is now among the youngest individuals to have undergone the Diksha ceremony, which requires participants to give up all material possessions in order to become Jain monks.
Who is Devanshi Sanghvi?
Up until this week, Devanshi Sanghvi was the heir to the Sanghvi and Sons jewellery company in Surat, a city in western India that is popularly known as "Diamond City" due to its importance in the world gem trade. Ami and Dhanesh Sanghvi welcomed her into the world. Her family is a part of the Jain religion, a small but venerable sect of Hinduism that advocates strict vegetarianism, nonviolence, and compassion for all living things, large and small.
View this post on Instagram
She was honoured during a four-day ceremony to announce her new profession, during which she once rode in an elephant-drawn carriage. Then on Wednesday, after having all her hair removed, she went to a temple to exchange her ornate clothing for a plain white cotton outfit.
Devanshi Sanghvi was given the name Sadhvi Shri Dingat Pragya Shriji after receiving Deeksha from Sadhvi Prismita Shreeji.
Why are Jains protesting for Shikarji and Palitana temples?
Devanshi's Family and Relatives
In front of tens of thousands of spectators, 8-year-old Devanshi gave up her worldly life and chose the path of renunciation. According to her relatives, Devanshi's piety was well known among Surat's Jain community members even when she was a young child. The young girl was reportedly a regular participant in temple rituals and had never seen a movie, watched television, or visited a mall or restaurant.
View this post on Instagram
The family did, however, mention Devanshi's ardent interest in religion and her constant desire to achieve Sanyas. They went on to say that it was because of her commitment that she and her guru successfully completed a padayatra that spanned about 600 km.

List of theological demons in Hindu Mythology
What is Jainism?
The Jain Dharma is another name for the Indian religion known as Jainism. Jainism traces its philosophical roots and historical progression through the succession of twenty-four Tirthankaras. The first of the current time cycle, according to tradition, was Rishabhadeva, who lived millions of years ago. Parshvanatha, the twenty-third Tirthankara, is thought to have lived in the ninth century BCE. Mahavira, the 24th Tirthankara, is thought to have lived around 600 BCE. According to Jainism, the Tirthankaras are in charge of overseeing each cosmological time cycle, making it an eternal dharma. The three fundamental principles of Jainism are ahi (non-violence), anekntavda (non-absolutism), and aparigraha (non-violence) (asceticism).
Dhanesh Sanghvi, the sole child of Mohan Sanghvi, the founder of Sanghvi and Sons, resides in Malgaon, a town in Rajasthan's Sirohi district. Under the name Sanghvi & Sons, Dhanesh Bhai Sanghvi and his father Mohan Bhai Sanghvi operate a diamond business in Surat and Mumbai.
What is Hockeverse? All you need to know Hockey India entering Metaverse.
FAQ
Who are Jain Sadhavi's?
Aryika, also known as Sadhvi, is a female mendicant (nun) in Jainism.
Do Jain Monks brush their teeth?
As a part of their religion, many Jain individuals avoid brushing their teeth, especially during fasting.
What is Jain Diksha?
Diksha is preparation or consecration for a religious ceremony to renounce worldly life for an ascetic one.
Who is Devanshi Sanghvi?
Indian Diamon Heieress Devanshi Sanghvi is one of the youngest Jain Monks.