K.M Cariappa Jayanti 2023: Who was K.M Cariappa, the first field Marshal of India?
K.M Cariappa Jayanti 2023: The first Indian Field Marshal K.M Cariappa was born on 28th January. This year marks the 124th birth anniversary of the great son of the motherland.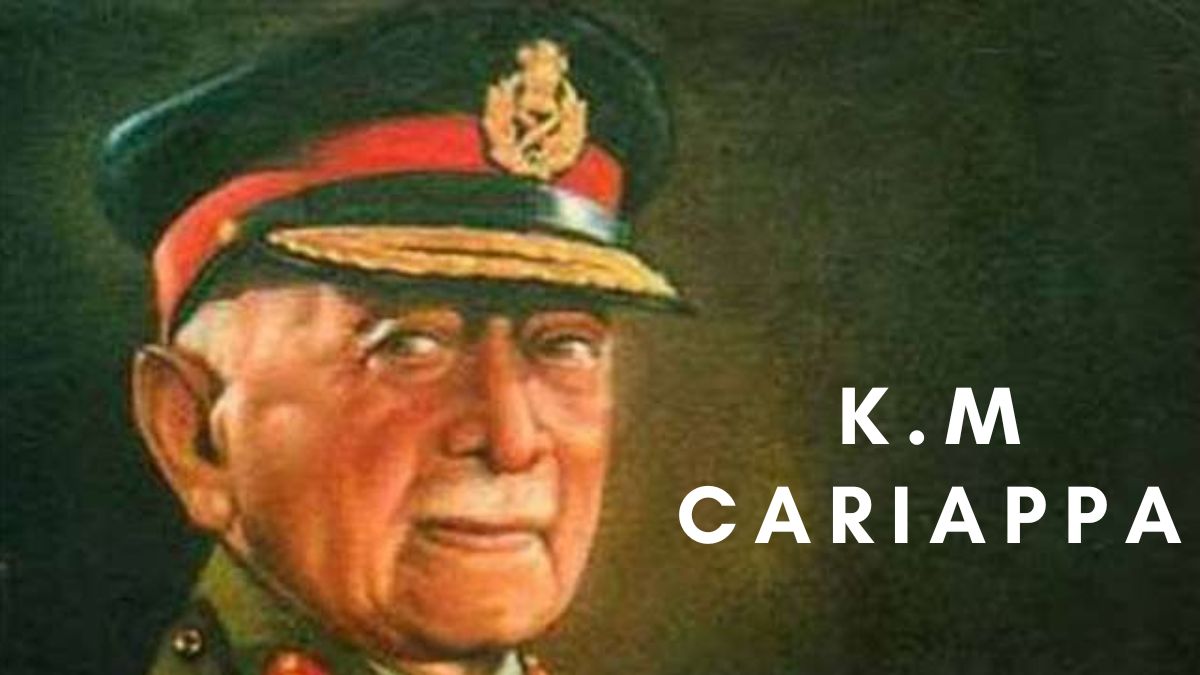 KM Cariappa Jayanti 2023
K.M Cariappa Jayanti 2023: 28 January in Indian and World History is celebrated, observed, and remembered for various reasons, and one of them is the birth anniversary of Kodandera Madappa Cariappa. He was the first Commander-in-chief of the Indian Army. And today we are commemorating his 124th birth anniversary.
Remembering the Legend…

On the 124th Birth Anniversary, #IndianArmy remembers & pays respect to Field Marshal KM Cariappa, one of the greatest Indian military leaders.#IndianArmy pic.twitter.com/jasBbKQc4Q

— ADG PI - INDIAN ARMY (@adgpi) January 28, 2023
Who was KM Cariappa?
Cariappa was born on 28 January 1899, in Shanivarsanthe, Coorg Province (present-day Kodagu district), to a family of farmers belonging to the Kodava clan. His father, Madappa, worked with the revenue department. Cariappa was the second child in a family of four sons and two daughters.
He was known as "Chimma" to his relatives. After completing his education at the Central High School at Madikeri in 1917, he attended Presidency College, Chennai, to pursue further education. During college, he learned that Indians were being recruited into the Army and that they were to be trained in India. As he wished to serve as a soldier he applied for the training. Of the 70 applicants, Cariappa was one of 42 who was finally granted admission into the Daly Cadet College, Indore. He scored well in all aspects of his training and graduated seventh in his class.
Lala Lajpat Rai Jayanti 2023: Early Life, Family, Political Journey, Achievements, Slogans, Books, Death, and more
Military Career
His distinguished military career spanned almost three decades. Born on 28 January 1899, in Madikeri, Kodagu, Cariappa joined the British Indian Army shortly after the end of World War I and was commissioned as a temporary first lieutenant into the 2/88 Carnatic Infantry. He was transferred between multiple regiments early in his career before settling on 1/7 Rajputs, which became his permanent regiment.
He was the first Indian military officer to attend the Staff College, Quetta, and the first Indian to command a battalion. He was also one of the first two Indians selected to undergo training at the Imperial Defence College in Camberley. He served in various staff capacities at various unit and command headquarters (HQ) and also at the General HQ, New Delhi. Before taking over as the C-in-C of the Indian Army, Cariappa served as the commander of the Indian Army's Eastern and Western Commands.
After World War II began, Cariappa was posted as brigade major to the 20th Indian Brigade stationed in Derajat. Later he was appointed as the DAQMG of the 10th Indian Division which was stationed in Iraq. He earned a Mention in Despatches as DAA and quartermaster general of General (later Field Marshal) William Slim's 10th Division. He served in Iraq, Iran, and Syria from 1941–1942 and then in Burma from 1943–1944. Back in India in March 1942, he was posted as second-in-command of the newly raised 7th Rajput Machine Gun Battalion at Fatehgarh. On 15 April 1942, he was promoted to acting lieutenant colonel and was appointed commanding officer of the same battalion, receiving advancement to temporary lieutenant colonel on 15 July. With this appointment, he became the first Indian to command a battalion in the Indian Army.
Post-Independence
Post-Independence, Cariappa was appointed as deputy chief of the general staff. He launched three subsequent attack Operations Kipper, Easy, and Bison—to capture the Naushera, Jhangar, Poonch, Zoji La, Dras, and Kargil areas. Plans were laid to drive out the Pakistani forces from Kashmir ultimately, but they were stopped by the intervention of the United States. On 6 July 1948, the Army HQ issued strict instructions against conducting any major operations without its permission. Cariappa protested against this, stating that this policy would threaten Leh, Kargil, and ultimately the Kashmir Valley, which would put the country's security at stake.
Awards
General Service Medal 1947

Indian Independence Medal

Order of the British Empire

1939-1945 Star

Burma Star

War Medal 1939-1945

India Service Medal

Legion of Merit

(Chief Commander)
Dates of Rank
Rank

Component

Date of rank

Second Lieutenant

British Indian Army

1 December 1919 (temporary)

17 July 1920 (substantive)

Lieutenant

British Indian Army

1 December 1920 (temporary)

17 July 1921 (substantive)

Captain

British Indian Army

17 July 1927

Major

British Indian Army

17 July 1938

Lieutenant-Colonel

British Indian Army

July 1942 (acting)

15 July 1942 (temporary)

17 July 1946 (substantive)

Colonel

British Indian Army

1 November 1944 (acting)

1 May 1945 (temporary)

Brigadier

British Indian Army

1 November 1944 (acting)

1 May 1945 (temporary)

Major-General

British Indian Army

30 July 1947

Major-General

Indian Army

15 August 1947

Lieutenant-General

Indian Army

21 November 1947 (acting)

General
(C-in-C, IA)

Indian Army

15 January 1949 (acting)

General
(C-in-C, IA)

Indian Army

26 January 1950 (recommissioning and change in insignia)

Field Marshal

Indian Army

15 January 1986
Personal Life
Cariappa was married in March 1937, in Secunderabad, to Muthu Machia, a forest officer's daughter. Though their married life was happy initially, later, due to an age gap of almost 17 years, ideological differences, and Cariappa's professional commitments, their marriage broke down. In September 1945, the couple separated without any formal divorce. Three years later Muthu died in an accident.
Cariappa and Muthu had a son and a daughter. Their son, K.C. Cariappa, was born on 4 January 1938, and their daughter Nalini on 23 February 1948. Their son, called "Nanda", joined the Indian Air Force and rose to the rank of Air Marshal.
How Field Marshal Cariappa died?
Cariappa's alliance with the Indian Army was spread over a period of around three decades, during which he had broad experience in staff and command work. After his retirement in 1953, he served as the Indian high commissioner to Australia and New Zealand until 1956. With a view toward ex-servicemen's welfare, Cariappa founded the Indian Ex-Servicemen's League (IESL) in 1964. He was also instrumental in setting up the Directorate of Resettlement (later Directorate General Resettlement), an inter-service organization under the Department of Ex-servicemen Welfare, Ministry of Defence, that looked after the various issues surrounding the resettlement of retired soldiers, especially those who retired young.
Cariappa's health began to deteriorate in 1991; he suffered from arthritis and heart problems. He died in his sleep on 15 May 1993, at the Bangalore Command Hospital where he had been receiving treatment for a few years. His mortal remains were cremated in Madikeri two days later. The cremation was attended by the three service chiefs along with Field Marshal Sam Manekshaw. Cariappa's son, Nanda, lit the pyre while the Honour Guard reversed arms.
As a mark of recognition for the commendable service rendered by him to the nation, the Government of India conferred the rank of field marshal on Cariappa on 28 April 1986, at a special investiture ceremony held at Rashtrapati Bhavan, the official home of the president of India.