Holi 2023: Why do we Celebrate Holi Festival? Know the Reason Behind it
Why do we celebrate Holi Festival? This festival of colour honours Lord Radha Krishna's enduring and heavenly love. The day also celebrates Lord Vishnu's victory over Hiranyakashipu in his role as Narasimha Narayana, signifying the victory of good over evil.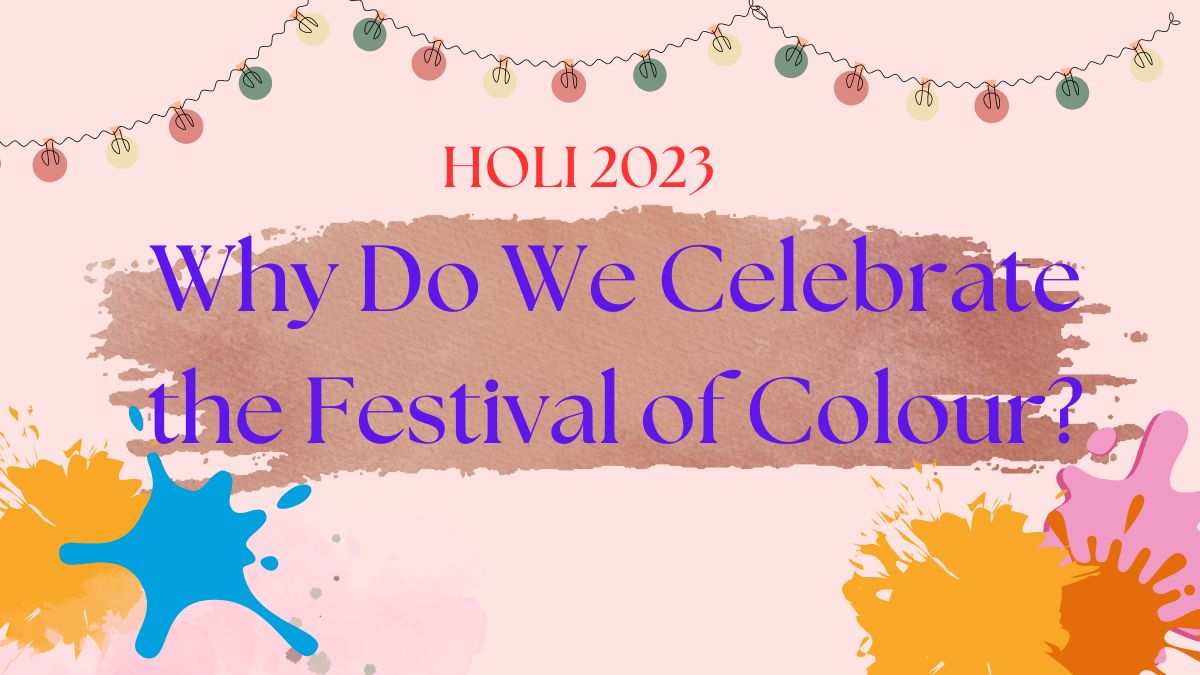 Know reason behind Why we celebrate Holi Festival
Hindus have a long-standing, revered tradition known as Holi. It is a national holiday in India and Nepal and a regional holiday in other nations. This widely observed holiday honours the divine and enduring love of Lord Radha Krishna. The day also celebrates Lord Vishnu's victory over Hiranyakashipu in his role as Narasimha Narayana, signifying the victory of good over evil.
When is Rangwali Holi 2023? Check Shubh Muhrat & More
The festival serves various purposes, but it primarily honours the arrival of spring. It was described as a festival in 17th-century literature that honoured farming and remembered prosperous land and good spring harvests. According to Hinduism, it's a time to embrace the vibrant colours of spring and bid winter adieu. This year's festival of colour celebration schedule is as follows:
Rangwali Holi 2023 Date: March 8, 2023 (Wednesday)
Rangwali Holi 2023 Time: March 8, 2023 (Whole Day)
Holika Dahan 2023 Date: March 7, 2023 (Tuesday)
Holika Dahan 2023 Time: 6:24 PM- 8:51 PM
Holika Dahan 2023: Date, Shubh Muhurat, Rituals, History, and Significance
Why do we celebrate Holi?
Holi marks the beginning of Indian summer, the end of winter, and the blossoming of love. The festival also serves as an invocation for a prosperous spring harvest. It begins on the evening of the Purnima (Full Moon Day), which falls in the Hindu calendar month of Phalguna, which corresponds to the middle of March in the Gregorian calendar. It lasts for a night and a day. Holika Dahan or Chhoti Holi is the name given to the first evening, and Holi, Rangwali Holi, Dol Purnima, Dhulandi, Ukuli, Manjal Kuli, Yaosang, Shigmo, Phagwah, or Jajiri is the name given to the second day of celebration.
What is the story behind Holi?
The Holi festival has a cultural significance among various Hindu traditions of the Indian subcontinent. Some of the instances from history to understand the cultural and religious significance are given below:
Radha & Krishna
The puranic text known as the Garga Samhita, written by Sage Garga, is the first work of literature to refer to the romantic description of Radha and Krishna playing Holi. The festival is also explained by a well-known symbolic legend. Krishna used to worry that Radha, who has fair skin, wouldn't like him because of his dark skin. Yashoda, his mother, who had grown weary of his pleading, instructed him to go up to Radha and ask her to paint his face any colour she desired. And this act of love brought the union of Radha and Krishna.
Ever since the playful coloring of Radha and Krishna's faces has been commemorated as Holi. Also, this is the reason why we celebrate Holi with colours.
Happy Holi 2023: Wishes, Quotes, Messages, SMS, WhatsApp and Facebook Status, Poems, and More
Lord Vishnu
According to a legend found in chapter 7 of the Bhagavata Purana, King Hiranyakashipu, the father of Prahlada, was the ruler of the evil Asuras. He had attained a boon that gave him five unique abilities: he could not be killed by humans or animals, nor could he be killed by astra (projectile weapons), nor by any shastra (handheld weapons), nor by being on land, in water, or in the air. Hiranyakashipu became arrogant, believed himself to be God, and insisted that everyone worship only him. However, Prahlada, Hiranyakashipu's own son, was in disagreement and stayed committed to Lord Vishnu.Hiranyakashipu was enraged by this. He subjected Prahlada to cruel punishments, but none of them had any effect on the young man or his resolve to uphold his moral convictions. Finally, Prahlada's wicked aunt Holika conned him into sitting with her on a pyre. Holika was protected from fire damage by a cloak she was wearing, but Prahlada was not. But later, Holika's cloak flew from her as the flames raged, encasing Prahlada, who lived while Holika perished.
In order to represent the triumph of good over evil, Prahlada's victory over Hiranyakashipu, and the fire that destroyed Holika, the Holika bonfire is lit prior to the celebration.
Kama and Rati
The fabled significance of Holi is connected to Shiva in yoga and intense meditation, among other Hindu traditions like Shaivism and Shaktism. On Vasant Panchami, Goddess Parvati enlisted the aid of Kamadeva, a Hindu god of love, in her quest to bring back Shiva to the world. The yogi opens his third eye and burns Kama to ashes as the love god shoots arrows at Shiva. This upsets both Kama's wife Rati (Kamadevi) and his own wife Parvati. Shiva recognizes Rati's forty-day asceticism in meditation, pardons her out of compassion, and restores the god of love as a result. And that's why the 40th day following the Vasant Panchami festival is when Holi is celebrated in honour of the return of the god of love.
Essay on Holi 2023 for Children and Students in English, Easy and Simple with 10 Lines
Holi was celebrated with such fervour in Mughal India that members of all castes were permitted to colour the Emperor. Besides that, Sikhs have historically observed the festival, at least through the 19th century, and it is known as Hola in historical texts, also there are historical traces of Jains participating in the festival. The Holi festival is viewed as an opportunity to patch up relationships with others, settle conflicts, and purge emotional impurities.
FAQ
What is the original story of Holi?
There are different stories related to Holi, however the most important is Hiranyakashipu and Prahlada instance. In an attempt to burn Prahlada, Holika sat with him on a pyre while wearing a cloak that protected her from the fire. But the cloak protected Prahlada instead, and Holika burned. Later that night Vishnu succeeded in killing Hiranyakashipu, and the episode was heralded as a triumph of good over evil.
Why do we celebrate Holi?
Holi Festival is celebrated as a way to welcome in spring, and also is seen as a new beginning where people can release all their inhibitions and start fresh.
What is Holi?
Holi is an ancient Hindu tradition celebrated in the month of February or March.