World Civil Defence Day 2023: Date, Theme, History, Significance, Celebrations & More
World Civil Defence Day 2023: World Civil Defence Day is an important event observed on 1st March globally. It is observed to promote the value of being prepared for emergencies and to increase public awareness of civil defence and emergency management.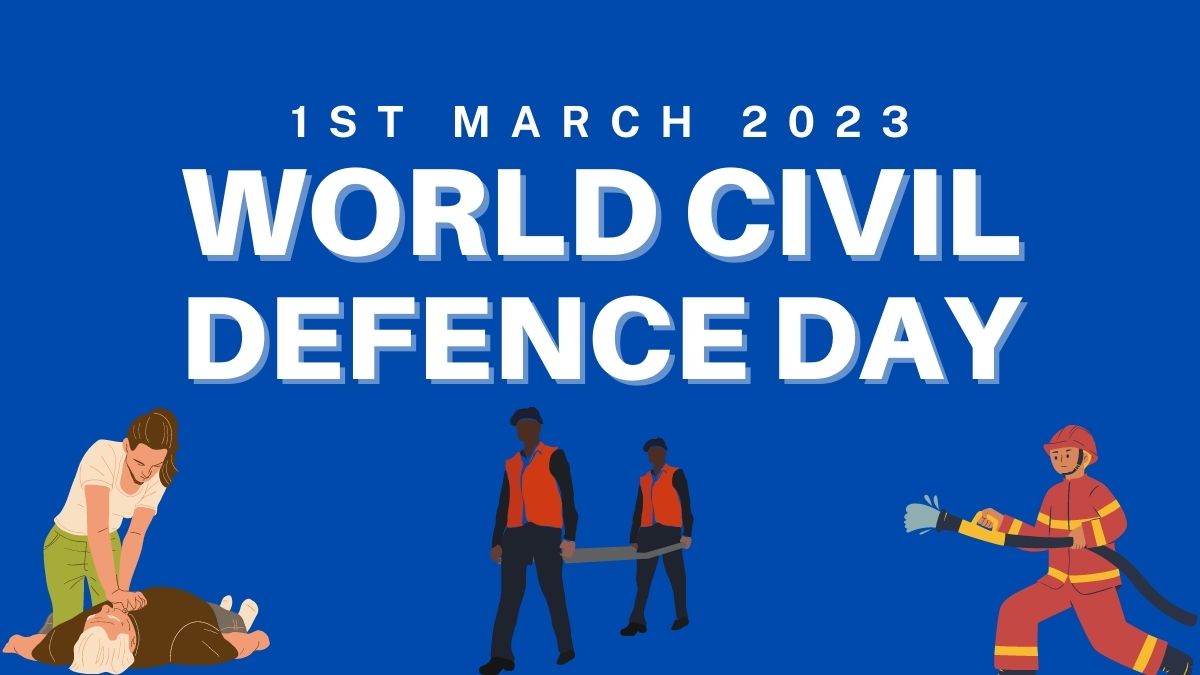 World Civil Defence Day 2023
World Civil Defence Day 2023: March 1st is recognised as World Civil Defense Day throughout the world. The day honours and recognises those who work in civil protection. More people are encouraged to learn about safety precautions and the protective skills they would require in the event of any type of emergency, whether it be man-made or natural.
And before moving to the theme, history and significance of World Civil Defence Day, let's take a hint about Civil Defence. So, an effort to safeguard a state's citizens (typically non-combatants) from both man-made and natural disasters is known as civil defence or civil protection. It makes use of the emergency operations' guiding principles of mitigation, response, emergency evacuation, and recovery.
Also, let's check some tweets for World Civil Defence Day 2023.
The occasion of World Civil Defence Day gives all of us a chance to extend our warm greetings and gratitude towards those who are the reason behind our protection. pic.twitter.com/qSfcFSTJ7y

— Shripad Y. Naik (@shripadynaik) March 1, 2023
World Civil Defence Day is an annual event celebrated on March 1st to raise awareness about the importance of civil defence and emergency preparedness. pic.twitter.com/l1zySnRM7V

— CMO Punjab (@CMOPb) March 1, 2023
World Civil Defence Day 2023: Theme
Every year, a different aspect of civil defence and emergency preparedness is highlighted by the World Civil Defence Day theme. "Uniting the world's leading industry specialists for the safety & security of future generations" is the theme of this year's World Civil Defence Day.
List of Bank Holidays in March 2023
World Civil Defence Day 2023: History
The origins of World Civil Defence Day can be found in the middle of the 20th century, a time when the world was going through a rapid transition in terms of technology, social structures, and political environments. The emergence of the Cold War and the development of nuclear weapons during this time period raised questions about the safety and security of people all over the world.
In order to promote and coordinate civil defence efforts globally, the United Nations created the International Civil Defence Organization (ICDO) in 1950 in response to these worries. The ICDO is a specialised agency of the UN, and Geneva, Switzerland serves as its base of operations.
To celebrate the founding of the organisation and to spread awareness of civil defence and emergency management, the ICDO proclaimed March 1st as World Civil Defense Day in 1990. The day was established to honour the work of national services tasked with combating disasters. Additionally, it raises awareness of the necessity of precautionary measures and self-defence in the event of accidents or disasters.
Check Important Days and Dates in March 2023
World Civil Defence Day 2023: Significance
The importance of World Civil Defence Day lies in its capacity to raise awareness of the value of emergency preparedness as well as the part that civil defence organisations play in defending communities and lessening the effects of emergencies. Other significant justifications to observe this yearly occasion include:
World Civil Defense Day honours and recognises the contributions and efforts of these unsung heroes who have repeatedly saved lives and property.

The Day gives them a chance to know about the tools they need to safeguard lives. Hundreds of people take advantage of World Civil Defense Day to learn first aid and C.P.R., two fundamental skills that are crucial in an emergency.

Additionally, it encourages cooperation between the many parties involved in emergency management, such as governmental bodies, civil defence agencies, first responders, and local communities. This cooperation helps to ensure that resources are deployed effectively and efficiently when emergencies arise, which is essential for effective emergency preparedness and response.

The worldwide incident serves as a reminder of the difficulties that civil defence organisations encounter when dealing with emergencies, including a lack of funding, inadequate infrastructure, and a lack of public knowledge and understanding. The day aids in motivating governments, organisations, and people to take action to address these issues by bringing attention to them.
The annual observance of World Civil Defence Day serves as a poignant reminder of the vital function that civil defence agencies perform in protecting our safety and wellbeing. The day encourages action to fill the gaps and flaws in emergency management procedures while also fostering collaboration, highlighting difficulties, celebrating successes, and doing so. Additionally, by uniting and taking action, we can make sure that we are ready for emergencies and can defend ourselves and our surroundings.
Also, Read about Zero Discrimination Day 2023