World Press Freedom Index 2020: India's rank, parameters, and facts
The World Press Freedom Index is an annual ranking of countries on the basis of press freedom to news organisations, journalists, and netizens in the country. In World Press Freedom Index 2020, India ranked 142 out of 180 countries.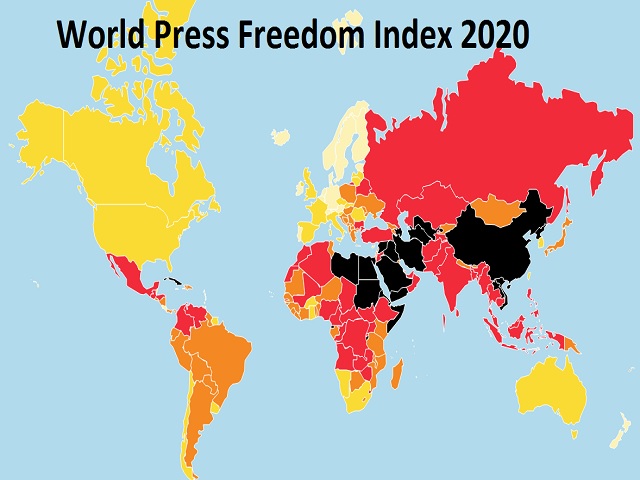 World Press Freedom Index 2020
Media is called the fourth pillar of democracy in a democratic country like India. It is believed that whenever a democratic government tries to be autocratic the media comes in the light to safeguard the interests of the citizens and netizens.
About the World Press Freedom Index:-
This freedom index is published annually since 2002 by Reporters Without Borders (RSF). The World Press Freedom Index is an important advocacy tool based on the principle of emulation between states.
In 180 countries, the degree of freedom available to journalists is determined by pooling the responses of experts to a questionnaire that is devised by the RSF. This qualitative analysis is combined with quantitative data on abuses and acts of violence against journalists during the period evaluated.
About the Questionnaire
An online questionnaire has been developed by the RSF to compile the Index and it consists of 87 questions that are focussed on the below-mentioned parameters. It is translated into 20 languages including English, Arabic, Chinese, Russian, Indonesian, etc. The questionnaire targeted media professionals, lawyers, and sociologists who are asked to complete it.
Further, scores are calculated based on the responses of the experts selected by the RSF combined with the data including abuses and violence against journalists during the period evaluated.
The ranking of the participating countries is done based on some parameters.
The parameters to decide the Press freedom include:-
1.Media independence
2. Pluralism
3. Media environment and self-censorship
4. Legislative framework
5. Transparency in the news
6. Quality of the infrastructure that supports the production of news and information
Key points of World Press Freedom Index 2020:-
1. A total of 180 countries evaluated.
2. Norway is ranked top in the Index for the fourth consecutive year while Finland and Denmark in second and third place.
3. North Korea is at the bottom-ranked at 180th.
4. This year India's ranking is 142.
5. South Asian countries performed very poorly in this index. China ranked 177th, Pakistan at 145th, and Bangladesh at 151.
6. Top 5 positions are occupied by the European Countries namely Norway, Finland, Denmark, Sweden, and the Netherlands.
Source: rsf.org
International Reports and India's Rank in various indexes 2019-20