World Sparrow Day 2023: Date, Theme, History, Significance, Facts & More
World Sparrow Day 2023: It is observed on March 20 annually. Sparrows are beautiful birds with smooth, round heads and rounded wings. They have beautiful voices, their chirping and singing sound heard all over. A special day is dedicated to these beautiful birds known as World Sparrow Day. Know more about the day here.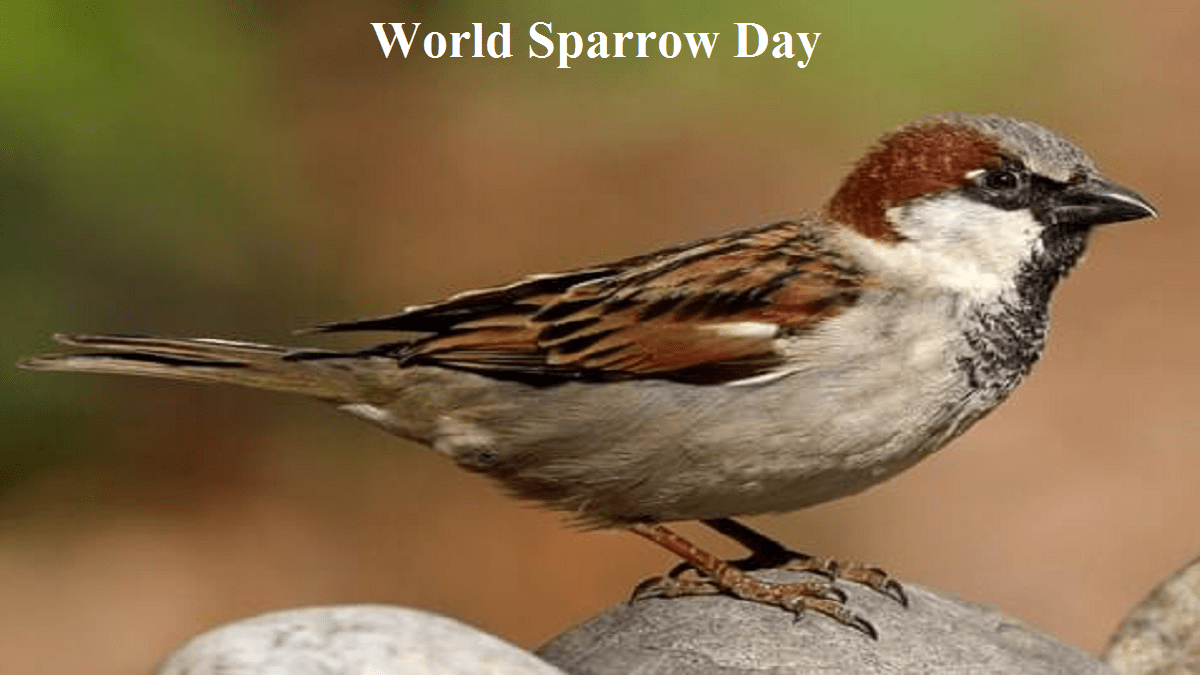 World Sparrow Day
World Sparrow Day 2023: One of the most ubiquitous birds on earth is the sparrow, mainly the common house sparrow. It is one of the oldest companions of human beings. Over a period of time, they evolved with us. Sparrows were once a common bird all over the world, but in recent years, this bird has been on the verge of extinction across much of its natural range, both in urban and rural habitats. Their decline is an indicator of the continuous degradation of the environment around us.
On 20 March, World Sparrow Day is observed every year to raise awareness. We hope that on this day individuals, various government agencies, and scientific communities would come up with measures to save them. In this way, we will be able to save biodiversity also. It is necessary to find out the reason why our oldest companions are on the verge of extinction.
READ| International Day of Happiness 2023: Wishes, Quotes, Messages, Theme, Significance, Celebration, and More
World Sparrow Day 2023: Theme
World Sparrow Day is celebrated on 20 March every year in many countries around the world. Every year celebration is organized according to the theme. The theme for World Sparrow Day is "I LOVE Sparrows" and is pictured like " I ♥ Sparrows". It is hoped that with this theme more people will join several events and campaigns to protect the sparrows. We all have had some kind of special bond with sparrows since our childhood. Theme "I Love sparrow" will remind people of the love and bond with sparrows and encourage them to come forward.
READ| World Oral Health Day 2023: Quotes, Slogans, Wishes, Messages, Theme, Significance, and More
World Sparrow Day 2023: History
First World Sparrow Day was celebrated on March 20, 2010. Every year, this day is celebrated all over the world to raise awareness about house sparrows and other common birds affected by the environment. The Nature Forever Society (NFS) in India started an international initiative to celebrate World Sparrow Day. This society works in collaboration with the Eco-Sys Action Foundation from France. The Nature Forever Society was founded by an Indian conservationist, Mohammed Dilawar, who started his work by helping the house sparrows in Nasik. For his efforts, he was named "Heroes of the Environment" for 2008 by TIME Magazine.
World Sparrow Day 2023: Significance
A symbol of loyalty in Japan, sparrows are known for their friendliness and propensity for living in groups. The goal of World Sparrow Day, which is observed on March 20 each year, is to raise awareness about the population decline of sparrows and to encourage conservation. It aims to strengthen and broaden conservation efforts to safeguard the bird and increase public understanding of the value of sparrows to our ecosystem.
Interesting facts about Sparrows
1. Do you know the main difference between male and female sparrows? The females have brown backs with stripes, while the males have reddish backs with black bibs. Also, a male sparrow is slightly larger than a female.
2. Sparrows live in colonies known as flocks.
3. If they sense danger, they can swim at a fast pace.
4. Sparrows are not territorial in nature; they are protective and build their nests.
5. Male sparrows construct nests to attract their female counterparts.
6. The house sparrow (Passer domesticus) is a bird of the sparrow family Passeridae.
7. House sparrows can live in urban or rural settings as they are strongly associated with human habitations.
8. They are found in widely varied habitats and climates, not in woodlands, deserts, forests, and grasslands.
9. The average life expectancy of the wild sparrow is under 10 years and is mainly closer to 4 to 5 years.
10. The flight of house sparrows is direct with continued flapping and no periods of gliding, averaging 45.5 km/h (28.3 mph) and about 15 wingbeats per second.
So now we come to know that World Sparrow Day is observed on March 20 every year around the world to raise awareness among the people and countries to save these social chirping birds, which are on the verge of extinction.
Let's scroll through some tweets to witness the celebration of World Sparrow Day 2023.
समस्त देश व प्रदेश वासियों को विश्व गौरैया दिवस की हार्दिक शुभकामनाएं।

आइये, गौरैया दिवस के अवसर पर नन्ही गौरैया को इस धरा पर चहकने के लिए आदर्श वातावरण देने का संकल्प लें, जिससे इनका संरक्षण और संवर्धन हो सके।#WorldSparrowDay_2023 pic.twitter.com/qeIPkAk3az

— Diya Kumari (@KumariDiya) March 20, 2023
Climate change is a reality of our times,let us save the Sparrow before its too late.
आज जागतिक चिमणी दिवस. 'पुन्हा होऊ देत चिवचिवाट'... चिमण्या वाचवण्यासाठी जागृती करुया,अन्नसाखळीतले त्यांचे महत्व समजून घेत त्यांच्या संरक्षणासाठी साखळी उभारुया…#WorldSparrowDay #SaveTheSparrow pic.twitter.com/ih3AikHfhJ

— Devendra Fadnavis (@Dev_Fadnavis) March 20, 2023
Every living creature has its own importance in the ecosystem, and so do the sparrows. It has a very special and affectionate place in the lives of human beings. On this World Sparrow Day, I convey my best wishes to everyone working towards protecting the species. pic.twitter.com/cAQajGsJFR

— Pralhad Joshi (@JoshiPralhad) March 20, 2023

Today is #WorldSparrowDay! Let's recognize and celebrate the sparrow's place in our natural world. The sparrow plays an important role in helping to maintain a healthy ecosystem. pic.twitter.com/CJDefM6oJ0

— Poonamben Maadam (@PoonambenMaadam) March 20, 2023
Also, Read