World Sparrow Day 2023: Wishes, Messages, Greetings, WhatsApp & Facebook Status, Quotes & More To Share On This Day
World Sparrow Day 2023: World Sparrow Day is observed on 20th March globally. The day aims to spread the message of conservation about the oldest companions of mankind, little Sparrows.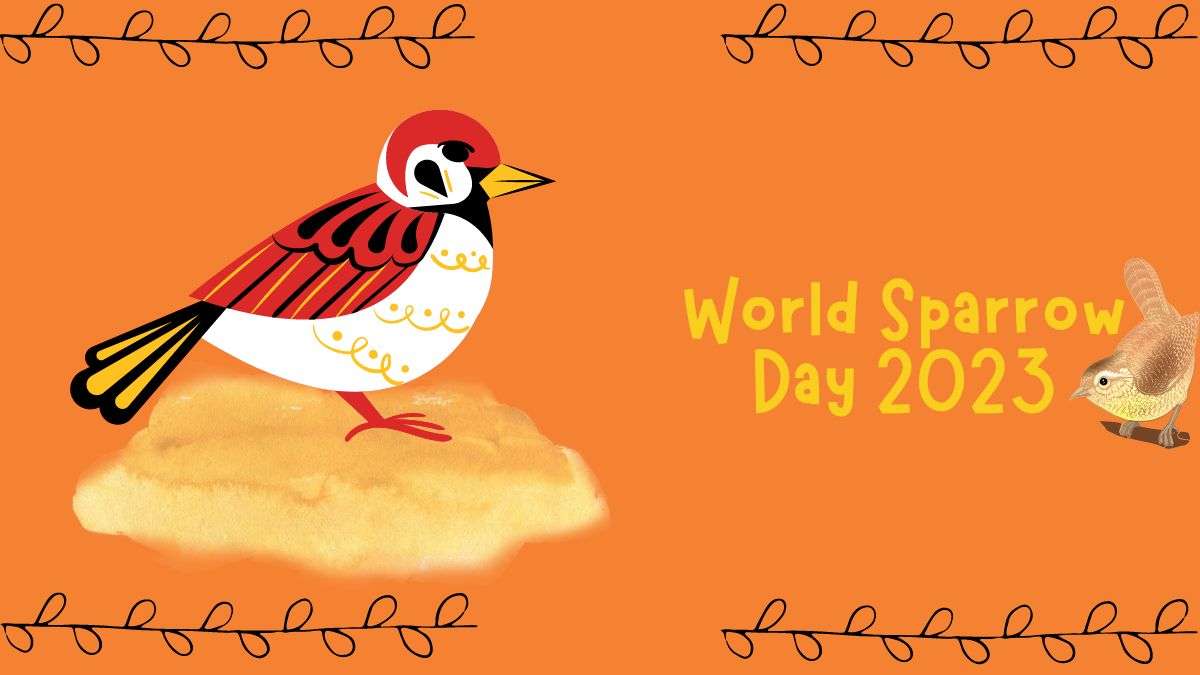 Let's Pledge to Save the Small Chirpy Bird.
World Sparrow Day 2023: The day to spread awareness about the extinction of the little chirping sparrow is celebrated on 20th March every year. The special initiative by Nature Forever Society of India and the Eco-Sys Action Foundation of France, this year is being observed on the theme, 'I Love Sparrows'.
Mohammed Dilawar, the founder of Nature Forever Society together with Eco-Sys Action Foundation from France started the initiative to save house sparrows. World Sparrow Day was first observed on March 20, 2010. The goal is to protect and conserve the bird which is now on the verge of extinction. Also, it aims to bring together people who share their love for sparrows and admire their beauty.
World Sparrow Day 2023: Date, Theme, History, Significance, Facts & More
To contribute on your end to this great cause, use these messages, slogans, and wishes to share with your friends and families on Whatsapp and Facebook, and other social media platforms.
World Sparrow Day 2023: Wishes & Messages
The alarming rate at which sparrows are disappearing from our surroundings must cause us to wake up. Greetings on World Sparrow Day.

"We used to enjoy playing in our gardens or relaxing on our balconies because of the sparrows. Best wishes on International Sparrow Day.

"Before it's too late, we can still save them. They are watching for us to take action to safeguard them. Happy World Sparrow Day, everyone!

The most adorable house birds we have ever seen growing up are sparrows. Let's keep them around by saving them. Greetings on World Sparrow Day.

Every person is special and significant. Stop the extinction of the sparrows in our world by saving them. I'd like to wish you a happy World Sparrow Day.
World Sparrow Day 2023: WhatsApp & Facebook Status
"The chirping of the sparrows always brought us joy. It's time to protect our amiable indoor birds. Greetings on World Sparrow Day."

"Let's work together to create a healthier and happier environment for sparrows to live in. Best wishes on International Sparrow Day."

"We must respond to the perishing sparrows on the occasion of World Sparrow Day. It's time to safeguard them by providing a secure environment in which they can live happily."

"Let's contribute to providing sparrows with a healthy habitat so they can wake up each morning and fill the air with their endearing chirping. Greetings on World Sparrow Day."

"On this World Sparrow Day, keep in mind the lovely chirping sound of a sparrow in your heart and take action to save them."

"It is blissful to wake up to the sweet chirps of the sparrow. On this World Sparrow Day, help bring it back by reducing pollution and protecting sparrows."
World Sparrow Day 2023: Slogans
Let us give them a friendly environment to grow.

Sparrows need humans to help them survive.

Let us save their habitat before it's late. Let us save sparrows.

Sparrows need our love, attention, and healthy habitat.

Don't let sparrows become a memory.

Save sparrows to Save World.

"Give a hoot, protect the sparrow's habitat.
World Sparrow Day 2023: Famous & Motivational Quotes
"In this world of ours, the sparrow must live like a hawk if he is to fly at all."- Hayao Miyazaki

"The sparrow is sorry for the peacock at the burden of its tail."- Tagore, Amitendranath

"To become a sparrow you don't have to be a crow."- Munia Khan

"As there is a special providence in the fall of a sparrow,

Similarly, there is a special providence in the fall of a HERO!"- Md. Ziaul Haque

"Look at the sparrows; they do not know what they will do in the next moment. Let us literally live from moment to moment."- Mahatma Gandhi
Let's scroll through some tweets to witness the celebration of World Sparrow Day 2023.
समस्त देश व प्रदेश वासियों को विश्व गौरैया दिवस की हार्दिक शुभकामनाएं।

आइये, गौरैया दिवस के अवसर पर नन्ही गौरैया को इस धरा पर चहकने के लिए आदर्श वातावरण देने का संकल्प लें, जिससे इनका संरक्षण और संवर्धन हो सके।#WorldSparrowDay_2023 pic.twitter.com/qeIPkAk3az

— Diya Kumari (@KumariDiya) March 20, 2023
Climate change is a reality of our times,let us save the Sparrow before its too late.
आज जागतिक चिमणी दिवस. 'पुन्हा होऊ देत चिवचिवाट'... चिमण्या वाचवण्यासाठी जागृती करुया,अन्नसाखळीतले त्यांचे महत्व समजून घेत त्यांच्या संरक्षणासाठी साखळी उभारुया…#WorldSparrowDay #SaveTheSparrow pic.twitter.com/ih3AikHfhJ

— Devendra Fadnavis (@Dev_Fadnavis) March 20, 2023
Every living creature has its own importance in the ecosystem, and so do the sparrows. It has a very special and affectionate place in the lives of human beings. On this World Sparrow Day, I convey my best wishes to everyone working towards protecting the species. pic.twitter.com/cAQajGsJFR

— Pralhad Joshi (@JoshiPralhad) March 20, 2023

Today is #WorldSparrowDay! Let's recognize and celebrate the sparrow's place in our natural world. The sparrow plays an important role in helping to maintain a healthy ecosystem. pic.twitter.com/CJDefM6oJ0

— Poonamben Maadam (@PoonambenMaadam) March 20, 2023
House sparrows were a frequent sight and were easily located in the backyards of our homes. However, it has become more challenging to find common house sparrows in the city in recent years. On World Sparrow Day, if you see a sparrow, make sure to give it some food and water and strictly refrain from using any electronic devices because it has been suggested that this could harm the bird.