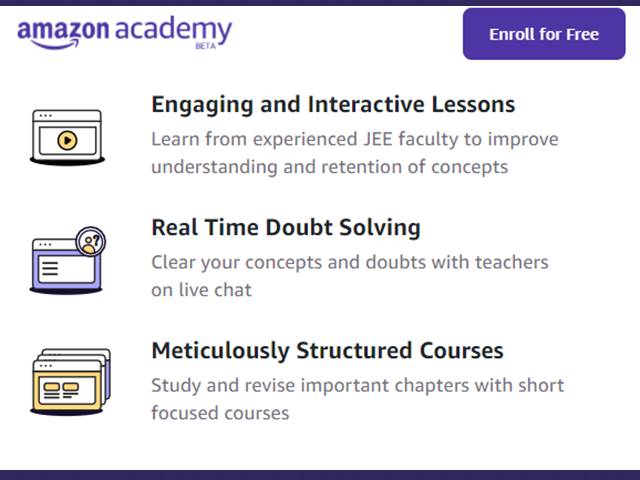 Amazon Academy Ed-Tech Platform Launched: Amazon India ventured into the Ed-Tech business with the launch of 'Amazon Academy' platform which is aimed at providing JEE Coaching to aspirants for cracking engineering entrance exams. As per the official announcement, the Amazon Academy will offer curated learning material, live lectures and comprehensive assessments in Math, Physics and Chemistry. For now, the academy offers coaching material limited to engineering entrance exam, but the offering are likely to be expanded soon to cover other domains, streams and subjects as well.
Online Coaching Platform
The tech-giant's leap into the Ed-tech business comes at the start of the season for engineering entrance exam. With the pandemic situation still serious, most of the aspirants have opted for online coaching classes and test preparation for the upcoming engineering entrance exam. At such time, Amazon Academy offers free online courses, study material and assessment modules to the students.
As per the statement issued by Amazon India, all the learning material and exam content available on its platform, has been developed by expert faculty from across the country, it said. In addition to the JEE, those preparing for BITSAT, VITEEE, SRMJEEE, and MET exams will also benefit from the quality content resources available.
Free Courses Launched
Launched in its Beta phase, Amazon Academy is currently available on desktop via website and on mobile via android app which can be downloaded through Google Play Store. For now, content on Amazon Academy has been made available to the registered candidates for free and it is expected to remain free for the coming months as well.
Resources Available @ Amazon Academy
For now, the Amazon Academy offers a plethora of JEE preparatory resources which include mock tests designed and developed by industry experts with over 15000 questions. These questions are accompanied with detailed explanations, hints and step-by-step solutions that will help aspirants practice for the upcoming entrance exams. The mock tests available on the platform cover chapter-wise tests, part tests and full tests. Moreover, to help candidates evaluate their performance, Amazon Academy also offers personalized report and results highlighting chapter-wise time and strength analysis. Moreover, the academy also offers an All-India Rank after attempting the mock tests, which helps aspirants understand their overall standing among the competition.