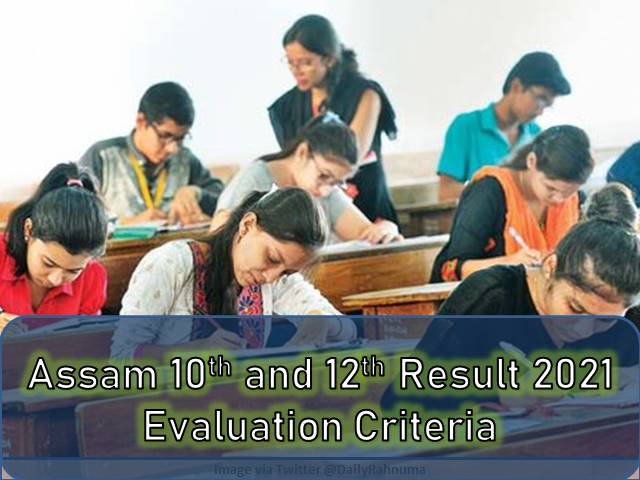 Assam HSLC and HS Result 2021 Evaluation Criteria: As per the latest update, the Assam State Government is expected to announce the Evaluation Criteria for compilation of Assam 10th and 12th Result 2021 today. Reports have hinted that the alternative assessment scheme for SEBA HSLC Result 2021 and AHSEC HS Result 2021 will be announced by the State Education Department Today. Today, Assam Education Minister Ranoj Pegu is expected to present the proposal shared by two Expert Comittees appointed by the State Government for the preparation of evaluation criteria, before the Assam CM Himanta Biswa Sarma. After his approval the same would be shared by the respective schools, so that they can start compilation of result data.
Tentative Details about Evaluation Criteria
As per media reports, the reports submitted by two expert committees, in way a recommend adoption of a similar evaluation criteria as announced by the CBSE Board for 10th and 12th Results 2021. In case of AHSEC HS Result 2021 for Class 12 students, the tentative criteria suggests taking into consideration the marks obtained by the students in class 10, 11 and class 12 internal exams. For SEBA HSLC Result 2021, the evaluation criteria will consider the marks obtained in Class 9 and Class 10 internal exams.
Special Exams for Unsatisfied Students
Apart from prescribing the evaluation criteria, the expert panels have also recommended holding of special exams for Class 10 and 12 students, in case anyone is not satisfied with the result announced for them on the basis of the evaluation criteria. These special exams would be held by the board in offline written format and would be organized once the situation around the pandemic normalises.
Result to be Declared by 31st July
SEBA and AHSEC have expedited the process of compilation of Assam 10th and 12th Results 2021 after the apex court issued a deadline of 31st July 2021 as the deadline for the declaration of Board Exam Results for session 2021. In line with this, the Secondary Education Board, Assam (SEBA) and the Assam Higher Secondary Education Council (AHSEC) have also reached out to their respective affiliated schools to start preliminary preparations for the marks tabulation process. Once the evaluation criteria is announced officially by the board, schools will begin the processing of result data and submit the same to the board for preparation of final Assam 10th and 12th Result 2021.