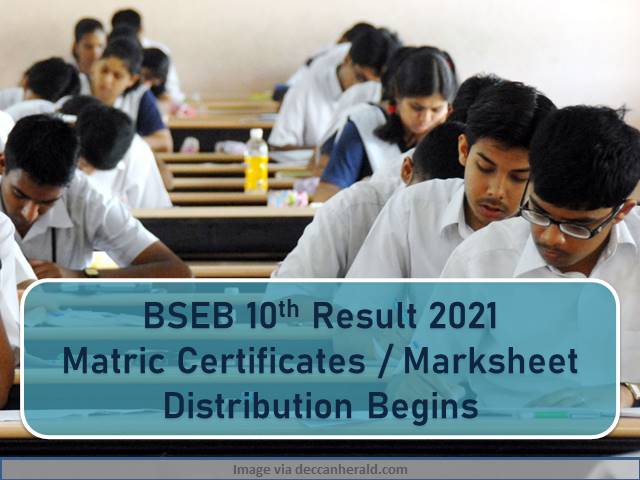 Bihar Matric Result 2020 Certificate Distribution: As per the latest update, the Bihar School Examination Board (BSEB) has announced that it will start the Bihar 10th Result 2020 Marksheets, Matric Certificates distribution among the students from 26th June 2020. Apart from the Madhyamik Exam 2020, the Board will also start distribution of BSEB Matric Compartmental Exam 2019 as well from today onwards. Students who have received the digital copies of BSEB 10th Result 2020 Scorecard can now obtain the original certificate and marksheet for the same from their respective schools.
News Confirmed via Twitter
To avoid any confusion and to steer clear or rumours, the BSEB formally conveyed the news about the distribution programme of Bihar Matric Marksheets and Certificates to the students via its official twitter handle. In a post put-up by the Board on Twitter, BSEB noted that "Certificates of students who have passed the annual Madhyamik examination 2020 and Madhyamik compartment exam 2019 are being sent to the offices of district officers, and these will be distributed from June 26."
Important Points for Collection of BSEB Matric Marksheets or Certificates
With the marksheet and certificate distribution programme for Bihar Board 10th Result 2020 beginning today, the board has issued some important guidelines or points that students need to keep in mind. The same are listed below:
Available via School: Physical Copies of Marksheets and Certificates for Bihar 10th Result 2020 will be made available to the students via their respective schools from where they had registered for the examination.
Physical Collection or Be Sent: Students will have the option of collecting these certificates by either physically visiting their respective school or asking the school authorities to send it to them via Courier or Post
Cross-verify Details: After receiving the Bihar 10th Result 2020 Marksheet and Certificates, students are advised to cross-check and verify it against the digital scorecard issued to them earlier.
Escalate Discrepancies if any: Students have also been directed by the BSEB to escalate the issue to the board via relevant channels, in case the details provided in the physical certificate is different from the ones provided in digital scorecards issued earlier.