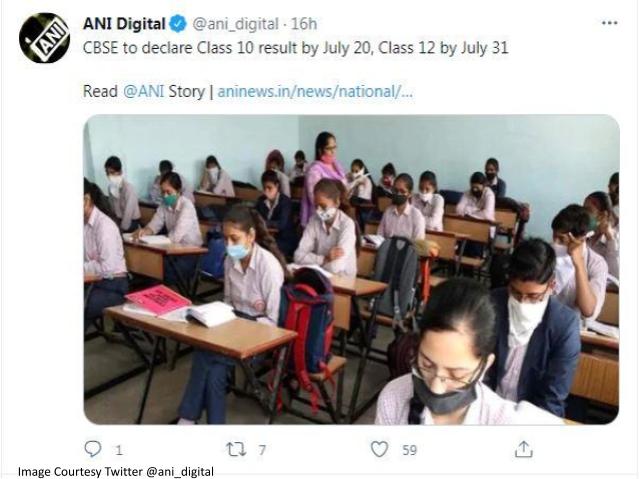 The Central Board of Secondary Education will be announcing the CBSE Class 10 results 2021 by July 20, 2021, and Class 12 results by July 31, 2021, as per media reports. The CBSE class 10 and 12 board examinations were cancelled by the board due to the COVID-19 pandemic and lockdown situation prevalent in the country at present. The students who were to appear for the exams will be able to check the CBSE Class 10 and 12 results 2021 by clicking on the result link which will be available on the official website.
The CBSE, when announcing the cancellation of class 10 and 12 exams, had also announced that the students will be evaluated based on an assessment pattern prescribed by the board. According to this, the CBSE recently submitted its report on the CBSE class 12 evaluation criteria in the Supreme Court yesterday.
CBSE Class 10 Evaluation
According to the class 10 evaluation scheme, the students will be assessed out of 100 marks for each subject with 20 marks for internal assessment and 80 marks will be allotted by the schools based on the marks secured by the students in the different tests/exams conducted by the school during the year. The marks allotted by the schools are to be in consonance with the past performance of the school in Class X Board examinations.
CBSE Class 12 Evaluation
According to the evaluation criteria reports submitted the results of the CBSE class 12 students will be calculated using the 30:30:40 ratio where 30 percent weightage will be given to the class 10 best three performance out of five main theory subjects and the class 11 final examinations respectively while 40 percent weightage will be given to the Class 12 Unit Test/ Mid-Term and Pre-Board examination marks.
CBSE Examination Controller Snyam Bharadwaj stated that the students who are not happy with the marks will be able to appear for the physical exams for which the online registrations will commence to know the exact number of applicants. A result committee will also be formed to rule out advantages to students in a few schools.
Also Read: CBSE Class 12th Result 2021: Education Minister Ramesh Pokhriyal welcomes SC order on CBSE Class 12 Evaluation Criteria