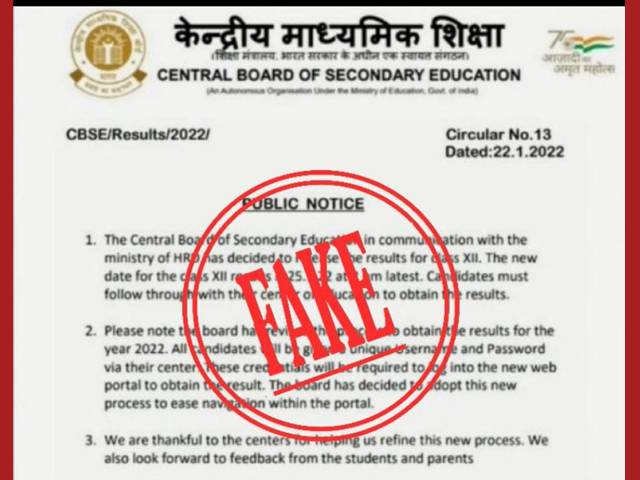 CBSE Term 1 Result – Fake Notice Goes Viral: With anxious students running from pillar to post to get an update about CBSE 10th and 12th Result Term 1 Exam, several rumours and speculations have been going around. Adding salts to the wounds of the students who are already edgy, recently a fake circular which was designed to look like an official CBSE notice went viral on social media giving a wrong update about CBSE Term 1 Result 2021 Date. The Fake CBSE notice that went viral claimed that CBSE Class 10 and Class 12 Results for Term 1 Exams will be declared by the board on 25th January 2022 – Tuesday. After this going viral, several students reached out to the board for clarification following which board's spokesperson Rama Sharma said that the circular is indeed 'FAKE' and advised students to not follow any such speculative information.
CBSE 10th and 12th Term 1 Results - What does Fake Circular Say?
One of the reasons which raised immediate red flags about the fake notice about CBSE Results for Term 1 Exam was the result checking or obtaining process mentioned therein. Along with claiming that CBSE Term 1 Results will be declared on 25th January, the circular also said that students will issued unique username and password via their centres, using which CBSE Class 10 and Class 12 Results for Term 1 exams will be available. The notice also claimed that a new portal is being launched by CBSE to publish Term 1 Exam Results to enable students to check their score. The circular claimed that the change in the process of checking CBSE Class 10 and 12 Term 1 Result 2021-22 was implemented to "to ease navigation within the portal".
Also Read: CBSE Term 1 Result 2021 – Latest Updates
CBSE busts Fake Circular, Advised Students to Only follow Official Sources
Soon after the circular going viral, several concerned students and parents reached out to the board as well as their respective schools to obtain the unique id to check CBSE Term 1 Result 2022. Following this, the board took notice of the same and bust the Fake Notice saying that there has been no change in the process of checking Term 1 CBSE Results.
Furthermore, with speculations and rumour mills churning out new CBSE Term 1 Result Date every few hours, the board has also advised student to steer clear or any such misleading information. Instead, students have been advised to follow genuine sources of information including official website of CBSE Board i.e. cbse.nic.in, cbse.gov.in and cbseresults.nic.in, for verified updates on CBSE 10th and 12th Result Date. Alternatively, they can also log onto jagranjosh.com to get latest updates and news about CBSE Term 1 Results as well.
As and when CBSE Term 1 Results are declared, they would be made available to all the students at the same time via official result checking portal i.e. cbseresults.nic.in. Alternatively, CBSE Class 10 and 12 Term 1 Results will also be available on DigiLocker and Umang App as well.
Also Read: CBSE Class 10, 12 Term 1 Result 2022 Soon on DigiLocker