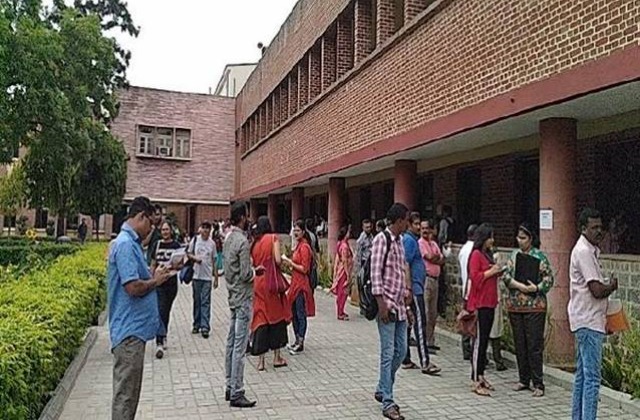 DU Admissions 2021: The University of Delhi will formally conclude the admission process under the DU 1st Cut-off List 2021 released on 1st October today. The application process to various programmes offered by the university through its affiliate colleges as per the 1st Cut-off List, was started on from 4th October 2021. Due to the good CBSE 12th Result 2021 declared this year, in the first cut-off list, eight DU colleges including Miranda house, Hindu College among others have demanded 100 per cent marks for 10 courses. Despite the high cut-offs, until Day 2 of the admission process, colleges affiliated to the varsity have received over 47,291 Applications Received for admission to different undergraduate courses.
47 Thousands Applications Received by Day 2
As reported earlier, a total of 47,291 applications for its undergraduate (UG) admission process have been received by the university and its affiliated colleges until end of applications on 5th October 2021 i.e. Day 2. Today i.e. 6th October is the last day as far as application process under 1st Cut-off list is concerned. As per the details shared by the officials, 9,114 applications have been approved by the DU principal and 7,167 students have made the payment till 7:45 pm on Day 2 i.e. 5th October 2021. Prior to this, on the day one of Delhi University Admissions, the university has received roughly 30,554 applications for the undergraduate programmes.
Colleges to Approve Admissions by 7th October
Following the completion of the Delhi University admission application process today, colleges will undertake the document verification process. Along with this, collees will also have to approve admission applications of the students who have applied for various courses by tomorrow i.e. 7th October 2021. After approval, students will be required to complete all the necessary admission formalities including payment of admission fees to confirm their seats. After this process is completed, the university will release the DU second cut-off list 2021 9th October 2021, for seats that remain vacant in the 1st round.
Also Read: Delhi University Admissions 2021: 30 Thousand Applications Received on Day 1