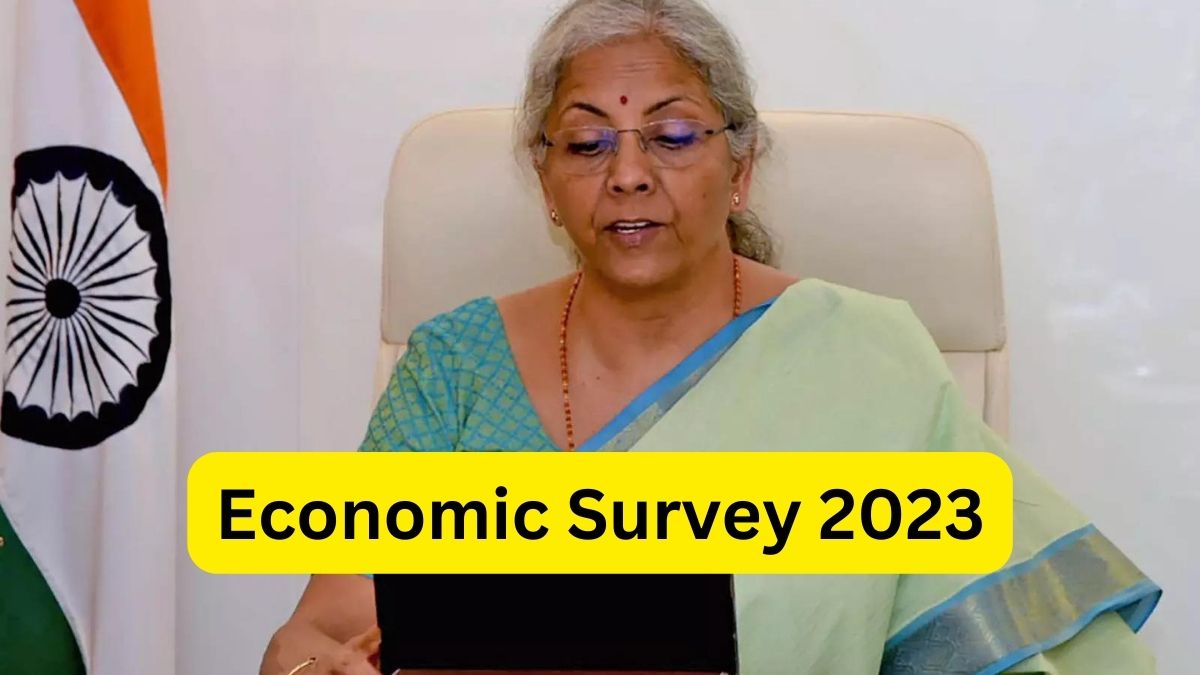 Budget Economic Survey 2023-24 Live Updates: The Economic Survey has been released. According to the Economic Survey 2023, the economic growth forecast for FY24 of the country stands at 6-6.8 per cent. Check here the key points and highlights given by Chief Economic Adviser V Anantha Nageswaran on the Economic Survey 2023.
📡📡 WATCH LIVE 📡📡

CEA Dr V. Anantha Nageswaran will address a Press Conference on 31st Jan. 2023, at 2:00 PM in New Delhi after the presentation of Economic Survey 2022-23 by FM in Parliament.

Watch here👇

📺 https://t.co/j6Ytaav4vu@nsitharamanoffc @PIB_India @DDNewslive

— Ministry of Finance (@FinMinIndia) January 30, 2023
Economic Survey 2023: Key Points
Indian economy staging a broad-based recovery across sectors, positioning to ascend to pre-pandemic growth path in FY23

Retail inflation is back within RBI's target range in November 2022

Direct Tax collections for the period April-November 2022 remains buoyant

Enhanced Employment generation seen in the declining urban unemployment rate and in the faster net registration in Employee Provident Fund

Creating public goods to enhance opportunities, efficiencies and ease of living, trust-based governance, enhancing agricultural productivity and promoting the private sector as a co-partner in development is the focus of the government reforms

Cleaner balance sheets led to enhanced lending by financial institutions

Growth in credit offtake, increased private capex to usher virtuous investment cycle

Non-food credit offtake by Scheduled Commercial Banks growing in double digits since April 2022

Gross Non-Performing Assets (GNPA) ratio of SCBs has fallen to a seven-year low of 5.0

Social sector expenditure (Centre and States combined) increases to Rs. 21.3 lakh crore in FY23 (BE) from Rs. 9.1 lakh crore in FY16

Central and State Government's budgeted expenditure on health sector touched 2.1% of GDP in FY23 (BE) and 2.2% in FY22 (RE) against 1.6% in FY21

More than 220 crore COVID vaccine doses administered

Survey highlights the findings of the 2022 report of the UNDP on Multidimensional Poverty Index which says that 41.5 crore people exit poverty in India between 2005-06 and 2019-20

India declared Net Zero Pledge, to achieve net zero emissions goal by 2070

A mass movement LIFE– Lifestyle for Environment launched

National Green Hydrogen Mission to enable India to be energy independent by 2047

Private investment in agriculture increases to 9.3% in 2020-21

Free foodgrains to about 81.4 crore beneficiaries under the National Food Security Act for one year

About 11.3 crore farmers were covered under PM KISAN in its April-July 2022-23 payment cycle

India stands at the forefront to promote millets through the International Year of Millets initiative

Investment of ₹47,500 crores under the PLI schemes in FY22- 106% of the designated target for the year

India's e-commerce market is projected to grow at 18 per cent annually through 2025

Merchandise exports of US$ 332.8 billion for April-December 2022

India is the largest recipient of remittances globally receiving US$ 100 billion in 2022

PM GatiShakti National Master Plan creates a comprehensive database for integrated planning and synchronised implementation across Ministries/ Departments

UPI-based transactions grew in value (121 per cent) and volume (115 per cent) terms, between 2019-2022, paving the way for its international adoption
For more information regarding the Economic Survey 2023 Click on the links provided below.
| | |
| --- | --- |
| Economic Survey 2022-23 - Official Documents | File Link |
| Preface | Click Here |
| State of the Economy 2022-23: Recovery Complete | Click Here |
| India's Medium-term Growth Outlook: With Optimism and Hope | Click Here |
| Fiscal Developments: Revenue Relish | Click Here |
| Monetary Management and Financial Intermediation: A Good Year | Click Here |
| Prices and Inflation: Successful Tight-Rope Walking | Click Here |
| Social Infrastructure and Employment: Big Tent | Click Here |
| Climate Change and Environment: Preparing to Face the Future | Click Here |
| Agriculture & Food Management: From Food Security to Nutritional Security | Click Here |
| Industry: Steady Recovery | Click Here |
| Services: Source of Strength | Click Here |
| External Sector: Watchful and Hopeful | Click Here |
| Physical and Digital Infrastructure: Lifting Potential Growth | Click Here |
Economic Survey Press Conference commence
The press conference with CEA Dr V Anantha Nageswaran. The updates regarding the Economic Survey 2023 will be updated here.
FM Nirmala Sitharaman to present the Economic Survey Report shortly
President Droupadi Murmu has concluded her address at the joint parliament session today. Finance Minister Nirmala Sitharaman will be presenting the Economic Survey 2023 Shortly.
Economic Survey 2023: President Addresses Parliament Session
President Droupadi Murmu speaking to the joint session of the parliament stated that due to the decisions of the government in the interest of the nation the country is in a better position as compared to other countries. She further added that the e-marketplace has seen transactions worth over Rs. 3 Lakh Crore and taxpayers are getting refunds within days of filing IT Returns.
Ayushmaan Bharat scheme created Rs 80,000 Crore of savings for the poor
Other points mentioned by the President include
11 Crore Small Farmers priority of the Government
36,000 Adivasi Families covered under Adivasi Ekta Mission
Government spends more than Rs. 2.5 Crore under PM Kissan Scheme
India Fastest Growing Economy
*IMF Growth Projections: 2023: India to be fastest growing economy.
USA🇺🇸: 1.4%
Germany🇩🇪: 0.1%
France🇫🇷: 0.7%
Italy🇮🇹: 0.6%
Japan🇯🇵: 1.8%
UK🇬🇧: -0.6%
China🇨🇳: 5.2%
India🇮🇳: 6.1%
Russia🇷🇺: 0.3%
Brazil🇧🇷: 1.2%
Mexico🇲🇽: 1.7%
KSA🇸🇦: 2.6%
Nigeria🇳🇬: 3.2%
RSA🇿🇦: 1.2%

— Rajdeep Sardesai (@sardesairajdeep) January 31, 2023
Economic Survey 2023 Live: President Murmu addresses joint session of Parliament
President Droupadi Murmu in her address to the joint house stated that by 2047 we have to build a nation which will be connected to the pride of the past and has all the golden chapters of modernity. She emphasised the need to build an India which will be 'Aatmanirbhar' capable of fulfilling its humanitarian duties.
Economic Survey 2023 LIVE: What is included?
The Economic Survey 2023 will include the state of India's Economy in the current fiscal year 2022-23. The Survey will be divided into two parts which will conduct Major Economic Developments in the years and also contain a broad view of the economy. The second part of the Economic Survey will include specific issues like social security, poverty, education, healthcare, human development, and climate change. The survey will also contain details on the GDP growth outlook, inflation rate and projections, Forex Reserves and Trade Deficits.
Economic Survey 2023: Theme for the Economic Survey
The 2023-24 Economic Survey will contain the economic vision of India. The Survey will bring up the points related to India's Inflation levels, and pressure on the Rupee due to the tight RBI Monetary policy.
The survey will also touch upon employment conditions, private investment, infrastructure spending and improvement in the financial health of the banking sector.
What is the Economic Survey
Economic Survey is an annual document issued by the Ministry of Finance based on a review of the developments in the India Economy river over the past year.
The survey report is divided into two parts - Part A - which includes a complete review of the current economic condition of the country and Part B will consist of other issues such as health, poverty, climate change and the Human Development Index.
Also Read: Economic Survey 2023: Know Why survey report is published before the Budget