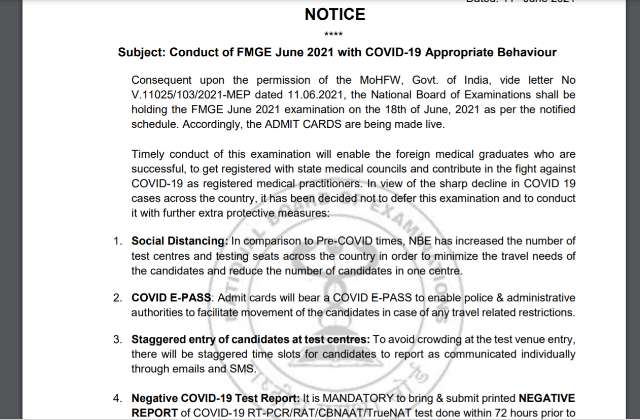 FMGE June Session 2021: The National Board of Examinations (NBE) will conduct the Foreign Medical Graduate Examination (FMGE) tomorrow, on 18th June 2021. The exam conducting body has released the admit card for 17,682 candidates along with the COVID-19 guidelines to be followed by candidates.
As per the notice, because of the decline in COVID cases across the nation, NBE will follow the COVID-19 protocols like social distancing, staggered entry and exit of candidates, isolation labs and wearing masks. Apart from this, the FMGE exam day guidelines are being mailed to the aspirants appearing for the screening test.
FMGE June Session 2021: COVID-19 Guidelines To Appear in the Exam
COVID E-Pass - The FMGE admit card also contains a COVID E-pass to enable police and administrative authorities to facilitate the movement of the candidates in case of any travel restrictions.
Negative COVID-19 report - It is compulsory to carry a negative COVID-19 report. The report must be taken within 72 hours before the test.
Social Distancing - NBE has increased the number of test centres and testing seats across the country to minimize the travel needs of the candidates and reduce the number of candidates in one centre.
Staggered entry and exit of candidates - To avoid crowding at the exam centre, the entry and exit will be done in staggered slots. The timing will be sent to the candidates via SMS or mail.
Use of face mask - No one will be permitted to enter the FMGE test centre without a face mask. Anything other than FMGE admit card and relevant documents will not be allowed.
COVID-19 protective gear safety fit - All FMGE test-takers will be provided with a protective gear safety kit consisting of a face shield, a face mask and five hand sanitiser sachets. Protective gear kits provided in the morning shifts must be preserved for use in the afternoon shift.
Isolation labs - Candidates with negative reports will also be checked at the entry point. In case any of them detected more than normal temperature or any other COVID-19 symptoms, they will be allowed to take the exam in a separate isolation lab.
Refrain from attending the exam - If any candidate is unwell or has COVID-19 symptoms, they are advised to refrain from attending the FMGE June 2021 screening test.
FMGE Exam 2021
The Foreign Medical Graduate Examination (FMGE) June session will be conducted on 18th June 2021 across the country. On the day of the exam, candidates are only allowed to carry their FMGE admit card with a photograph pasted on it. Along with that, they must also carry an original photo ID proof (PAN card/Driving license/Voter ID/Passport) and a COVID-19 negative report.