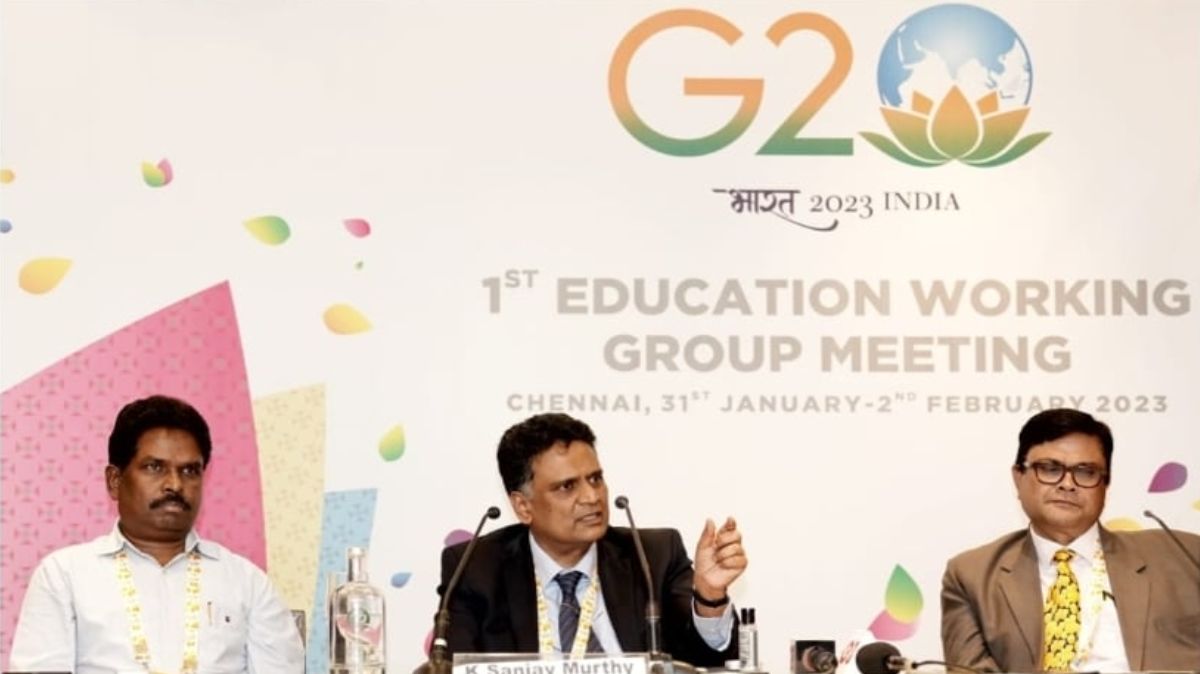 The G20 Education Working Group meeting has been concluded in Chennai on February 2, 2023 (Thursday). This was the first-ever conference held with the G20 member countries. It aimed at collaborating with prestigious universities across the globe to enhance technology-enabled learning.
As per the official notification, India Chair of the G20 Education Working Group along with Secretary of Higher Education, K Sanjay Murthy talked about media persons on the outcome of the 2-day conclave by stating collaboration with universities across the globe was the major outcome of the deliberations of the Chennai event.
G20 Event Participants
At the conference, delegates were invited from all over the world. There were 80 delegates from around 30 countries as well as representatives from international institutions from member nations besides special invitees who participated in this educational programme.
The best practices and techniques in tech-related education were discussed thoroughly among member countries were discussed. Additionally, all G20 member nations expressed willingness to promote the life-long learning processes in the context of the future of the working atmosphere.
Objectives of G20 Meet 2023
The main goal of organizing the meeting was to discover a durable sustainable solution to several educational challenges that are faced by member countries in different geographies across the globe. Also, there was detailed areas were brought up by the officials for an inclusive, equitable, relevant and quality education and lifelong learning opportunities for all students, as stated by Murthy.
The outcome of the meeting will be recorded and taken forward in the next G20 meeting which will be held between March 15 to March 17, 2023, in Amritsar, Punjab. There would be 3 additional meetings of the education group before arriving at a broad consensus in the month of June this year.
Under the National Education Policy (NEP 2020) about 50 per cent of school students will be fully skilled in the coming future. The Diksha platform & other education-related initiatives were appreciated by the member countries.
The Secretary of the Ministry of School Education, Sanjay Kumar introduced ways to strengthen literacy at the school level and the use of digital technology in enhancing education was deliberated intensely by the delegates. The Education Working Group provided a platform to highlight best practices being followed by member countries.
Also Read: Delhi University Asked to Make Changes in Admission Eligibility Criteria, Check Details Here