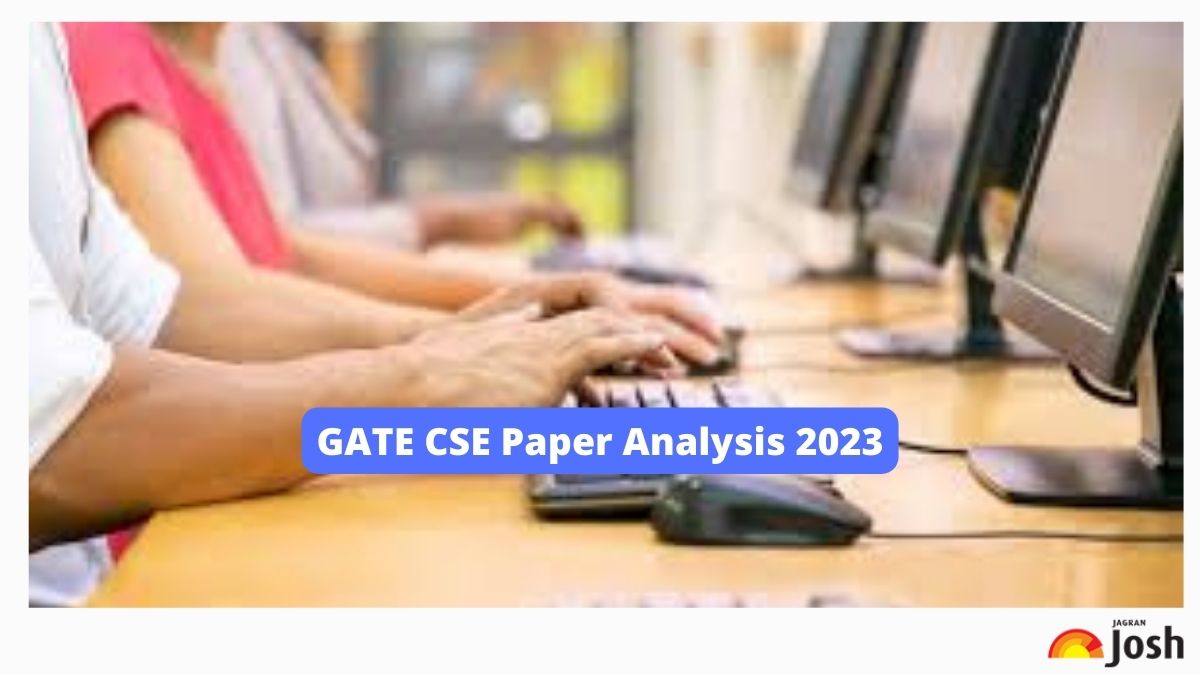 GATE CS Analysis 2023: Indian Institute of Technology (IIT) Kanpur is conducting the Graduate Aptitude Test in Engineering (GATE) exam 2023 for M. Tech/Ph.D courses and PSU jobs through GATE. GATE 2023 exam is being held on February 4, 5, 11, and 12 in computer-based mode. As per the schedule, the GATE exam is being held in two shifts - Morning (8:30 to 10:30 am) and Afternoon (2:30 to 05:30 pm) for various engineering disciplines. Candidates appearing for GATE must carry their GATE admit card 2023 and follow dress code for GATE exam and other specified documents.
GATE CS exam was held in a single shift from 9:30 AM to 12:30 PM on February 4. Jagran Josh has provided you with the detailed GATE Computer Science analysis 2023 based on the candidate's feedback. GATE Computer Science exam analysis includes the difficulty level of the sections, weightage of the topics, test pattern, number of good attempts and GATE CSE expected cut-off. Candidates can check the detailed GATE CSE exam analysis 2023 here.
GATE CS Paper Analysis 2023, February 4
As per the candidate's feedback, the difficulty level of the GATE CS 2023 paper was moderate to tough. There were theoretical and conceptual questions asked in the paper this time. Data Structures & Programming carried the highest marks weightage in the exam. There were 34 MCQs, 15 MSQS and 15 NATs asked in the examination. More weightage was given to MCQs by IIT Kanpur. Also, descriptive questions were asked this time.
To appear for the GATE CSE 2023 exam, candidates had to appear at the exam hall by 8:30 AM. A virtual calculator was provided to the candidates, hence, candidates are not allowed to carry their own calculators. After the completion of GATE exam, candidates will be able to check the official GATE answer key on IIT Kanpur website.
GATE CS Paper Analysis 2023, February 4 - Topic Wise Weightage
With the conclusion of GATE CS paper on 4 February 2023, Saturday, we have the topic wise questions asked in today's GATE exam. Check out the topics along with marks weightage below in the table:
GATE CSE Topics

Questions Asked

Total Marks

1 Mark

2 Marks

Databases

1

2

5

Operating Systems

3

3

9

Discrete Mathematics

1

4

9

Digital Logic

4

2

8

Computer Networks

2

3

8

Computer Organisation

3

2

7

Data Structures & Programming

2

4

10

Algorithm

2

2

6

Theory of Computation

3

3

9

Compiler Design

1

3

7

Engineering Mathematics

3

2

7

General Aptitude

15

5

15
Also read the following GATE exam-related article:
GATE Exam Analysis 2023: All Papers
GATE CSE Exam Analysis 2023, February 4 - Questions Asked in Today's GATE CS Paper
Along with the GATE CSE paper review, candidates can also check GATE memory-based questions asked in questions on February 4 as per the feedback received from those who appeared for the exam. With the help of GATE CSE memory-based questions, they will be able to know the actual questions that were asked in the exam. Check the GATE CSE paper analysis and question paper review here.
Also Read: GATE 2023 Exam Starts from Today, Check Last Minute Preparation Tips Here