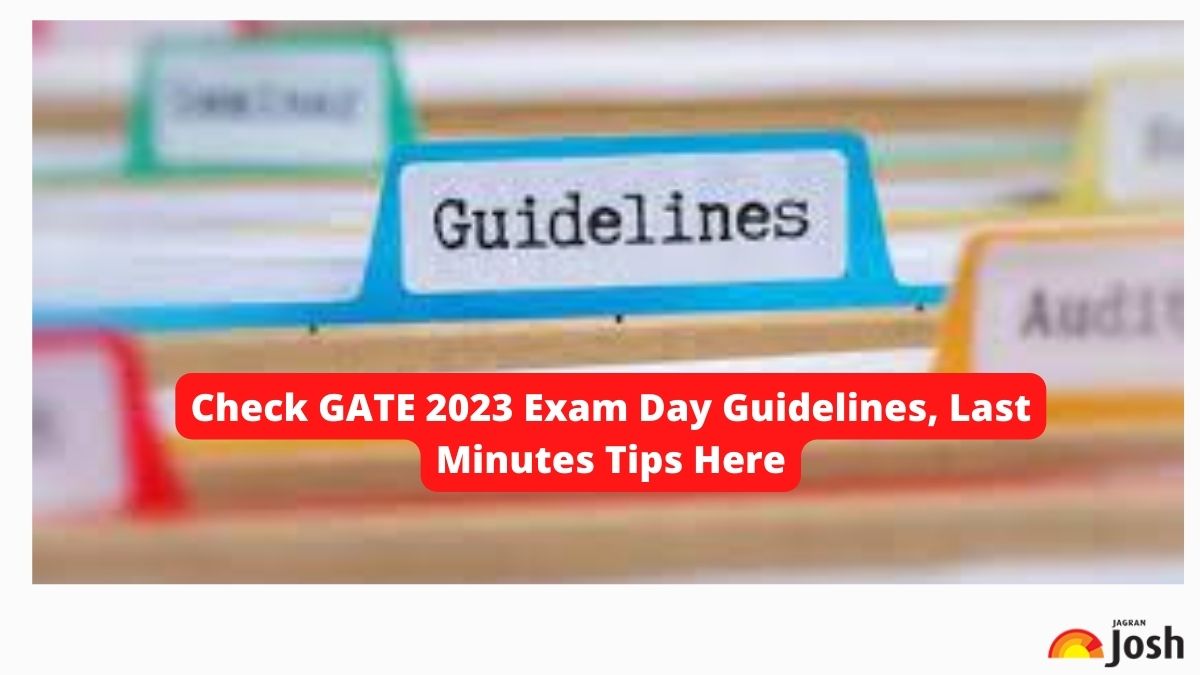 GATE Exam 2023: Indian Institute of Technology (IIT) Kanpur conducts the Graduate Aptitude Test in Engineering (GATE) exam 2023 for admission to PG engineering courses. The GATE scores are also taken into consideration during PSU recruitments. GATE 2023 for GG, IN, MA, PE, XE, XL, AE, AG, BT, CH, EY, GE, MT, NM, PH, PI, TF will be held on February 11 whereas for CE1, ST, CE2, MN, the exam will be conducted on February 12 in computer-based mode. Earlier, the other papers of GATE were conducted on February 4 and 5 in two shifts.
Those appearing for the PG engineering exam must download GATE admit card 2023 in order to appear for the exam. Without carrying the GATE exam 2023 admit card, they will not be allowed to sit for the exam. Along with this, they must follow GATE guidelines and instructions while appearing for the entrance exam. Here, they can check details on GATE exam day guidelines, timings, admit card and last-minute tips.
GATE Exam
The GATE exam is conducted jointly by the seven IITs (Bombay, Delhi, Guwahati, Kharagpur, Madras, Roorkee, and Kanpur) and the Indian Institute of Science (IISc), Bangalore every year. As per reports and previous year's data, a total of 7,11,542 candidates had appeared for the GATE exam. Out of these candidates, 1,26,813 candidates qualified in GATE results. Alos, a total of 98,732 male and 28,081 female candidates qualified in the GATE exam.
GATE 2023 Exam Dates and Timings
Date

Time

Papers

February 4, 2023 (Saturday)

9:30 am to 12:30 pm

CS

2:30 to 05:30 pm

AR, ME

February 5, 2023 (Sunday)

9:30 am to 12:30 pm

EE, ES, XH

2:30 to 5:30 pm

BM, CY, EC

February 11, 2023 (Saturday)

9:30 am to 12:30 pm

GG, IN, MA, PE, XE, XL

2:30 to 05:30 pm

AE, AG, BT, CH, EY, GE, MT, NM, PH, PI, TF

February 12, 2023 (Sunday)

09:30 am to 12:30 pm

(Forenoon Session – FN)

CE1, ST

2:30 to 5:30 pm

CE2, MN
GATE 2023 Exam Day Guidelines
Those going to appear for the GATE exam must follow the guidelines and other instructions given by the invigilators. Also, exam day guidelines will be mentioned on GATE admit card 2023. They can go through some of the GATE exam day 2023 guidelines provided below -
While going for the exam, candidates must carry their GATE admit card 2023.

Along with admit card, they must also carry any one original photo Identity Document - Aadhaar-UID, Passport, PAN card, Voter ID and Driving Licence to the exam centre.

They must reach to the GATE exam centre 90 minutes before the commencement of exam. Also, they will not be allowed to log in 30 minutes after the exam starts.

They are allowed to log in and read the instructions 20 minutes before the exam starts.

Candidates must carry their own pen, pencil, transparent water bottle, mask, and pocket-sized hand sanitiser.

They must read the question paper so that they can decide and plan the sequence of the sections they need to attempt.
GATE 2023 Last Minute Tips
Candidates must be all set to appear for the GATE exam tomorrow, they can go through some last-minute tips to avoid any mistakes during the exam day. Check below some GATE 2023 last minute tips -
They must be aware of GATE exam pattern. It is important to know what kind of questions are asked in the exam.

They must use the virtual calculator and its working conditions just in case they need to use it on the exam day.

At this time, they should practice, analyze and revise.

Also, go through GATE test papers and the previous year's question papers.

Candidates can go through the short notes that they prepared during the preparation stage.

Also, take a break in between and sleep well before the GATE exam day.
GATE 2023 Pre-Exam Instructions
Candidates will be allowed to log in 20 minutes before the actual GATE exam 2023 starts.

They must go through the necessary instructions during the allotted time. However, they will not be allowed to start answering till the specified time.

Candidates must use the time to understand the provided instructions.

Also, scribble pads for rough work will be provided at the exam centre. Candidates have to return the scribble pad after completing the exam.

All candidates must write their name and registration number on the scribble pad before they start using it.
GATE 2023 Exam Pattern and Marking Scheme
| | | | | |
| --- | --- | --- | --- | --- |
| GATE Paper Code | General Aptitude (GA) Marks | Subject Marks | Total Marks | Total Time (Minutes) |
| AE, AG, BM, BT, CE, CH, CS, CY, EC, EE, ES, EY, IN, MA, ME, MN, MT, NM, PE, PH, PI, TF, ST | 15 | 85 | 100 | 180 |
| AR [Part A + Part B (B1: Architecture or B2: Planning)] | 15 | 60 + 25 | 100 | 180 |
| GE [Part A + Part B (Section I or Section II) | 15 | 55 + 30 | 100 | 180 |
| GG [Part A + Part B (Section 1: Geology or Section 2: Geophysics)] | 15 | 25 + 60 | 100 | 180 |
| XE (Section A + Any TWO Sections) | 15 | 15 + (2 x 35) | 100 | 180 |
| XH (Section B1 + Any ONE Section) | 15 | 25 + 60 | 100 | 180 |
| XL (Section P + Any TWO Sections) | 15 | 25 + (2 x 30) | 100 | 180 |
Also Read: GATE Exam Centres 2023 (Out): Check Zone Wise List of Exam Cities for GATE