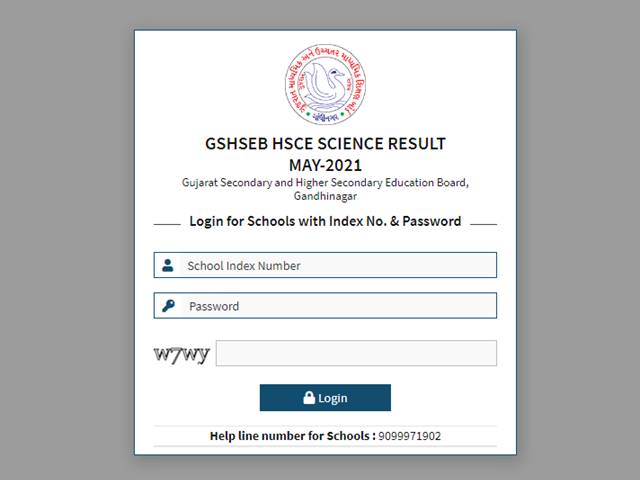 GSEB HSC Science Result 2021 Declared: As per the latest update, the Gujarat Board has finally published the GSEB HSC Result 2021 for Science stream students today morning at 8 AM. In line with the official notification, the Gujarat 12th Science Results have been published at School Login and made available only to School administrators and principals via gseb.org website. Initial reports have hinted that a total of 1.4 lakh students from Science stream have received their GSEB 12th Class Results today morning. But, unlike previous years, the GSEB results can't be checked individually by the students via the website using their exam roll number. To help students understand the process of how Schools will download and provide them with HSC / Class 12 Results scorecard, a direct link to School Login page has been placed below:
Check Gujarat GSEB HSC Result 2021 – Direct Link (Live Now)
Result Expected by 1.4 lakh Students
The declaration of Gujarat Class 12 Result 2021 for science stream will end the long wait for nearly 1.4 lakh students who have been waiting for the same since quite a long time. For 2021 session, the GSEB HSC Science Result 2021 has been compiled on the basis of an alternative evaluation policy after exams were cancelled due to COVID-19 pandemic. The GSEB 12th Result evaluation policy takes into account performance of students in their previous classes as well. Students must ensure that they have achieved Grade D in individual subjects as well as overall in order to pass the examination. Moreover, the Board will also conduct a special exam later on to given chance to students to improve their score if they are not satisfied with current result.
Gujarat 12th Science Result Tomorrow - Read Official Circular Here
HSC Science Stream Results @ School Login
The official notification released by the Gujarat Board has also confirmed that unlike previous years, when the Gujarat 12th Science Result 2021 was published individually for students online via the website; this year, the result will be published only for schools. Schools will have to download GSEB HSC Class Result 2021 for all science stream students combined via the official website. School Administrators and Principals will be able to download the result by entering their School Index Number and Password on the official website. Thereafter, students will be able to find out their Gujarat 12th Science results only by contacting their schools.