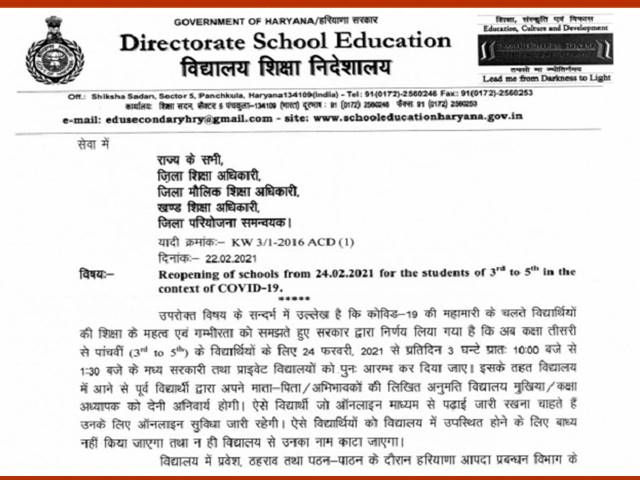 Haryana School Reopening News: As per the latest update, the Directorate of School Education, Haryana, has formally issued a notification permitting schools to reopen for Class 3 to 5 students from this Wednesday i.e. 24th February 2021 onwards. As per the official govt circular, regular classes for Class 3 to 5 students would be held only for three hours daily amid strict adherence to COVID-19 guidelines and SOPs. Details provided in the government's order says that regular classes for primary school students of 3rd to 5th standard can be held from 10 AM to 1:30 PM in the afternoon. The decision to reopen schools for primary students was taken by the state government keeping in mind the academic priorities of the students in the wake of the upcoming annual assessment and examinations.
Haryana Schools to Reopen for 3rd to 5th Class Students – Read Official Circular Here
Online Classes to Continue
With schools slated to reopen for Class 3 to 5 students in the state, the state government has also assured that online classes and education for the students of these classes will continue seamlessly along with regular classes. The decision to reopen schools has been taken keeping in mind the wider benefit for students who do not have regular or convenient access to digital means to attend online classes. Such students can resume regular classes at their respective schools and fulfil their academic goals through them.
Guidelines and SOPs to be Followed
According to the official circular issued by the Directorate of Education, Haryana Government, all schools who are reopening for Class 3 to 5 students will have to ensure strict compliance with the COVID-19 guidelines and SOPs. The Standard Operating Procedures that have been put forth by the health ministry and the education department will have to be implemented thoroughly. As part of these measures, schools will be required to ensure that students attending the classes undergo thermal scans to check for any students suffering from COVID-19 symptoms. Moreover, students will also have to wear facemasks and ensure social distancing while they are on campus.