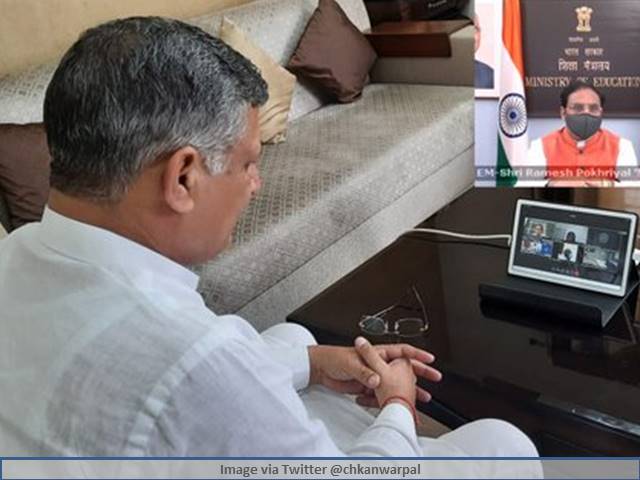 Haryana BSEH 12th Exam 2021 Update: In much needed relief, the Haryana Education Minister Kanwar Pal has said that the HBSE 12th Exam 2021 for Class 12 Students of the state is likely to be held from 15th June 2021 onwards. Mr Pal said that the Board of Secondary Education, Haryana (BSEH) has shown preparedness to hold the Haryana 12th Exam 2021 from 15th to 20th June 2021 with all necessary COVID-19 guidelines. Earlier, the Haryana Board of School Education, HBSE had said that Class 12 Board Exams for Senior Secondary Students may be held from 1st June 2021, but it is likely to be changed and postponed by 15 days now in the wake of current situation. The Haryana, HBSE 12th Board Exam 2021 date sheet will be released 20 days prior to the start of the examination.
Informed Union Education Minister About Exam Dates
The details about the state government's decision to hold BSEH 12th Exam 2021 from mid-June was formally announced by the Haryana Education Minister Kanwar Pal at the high-level meeting convened yesterday. In the meeting, Mr Pal informed Union Education Minister Ramesh Pokhriyal 'Nishank' that the state plans to hold Class 12 Board Exams from 15th to 20th June once the 2nd WAVE of COVID-19 is under reasonable control. State Education Minister Kanwar Pal added that the state is fully prepared to conduct the Haryana, HBSE 12th Board Exam 2021.
At the high-level meeting, Haryana Education Minister also noted that while many states have proposed curtailing the time-frame for holding of the exams, Haryana state doesn't back it. He said that if students are visiting exam centres for any reason, there is no point in reducing the exam time as it would only further create more pressure on the students and would need additional preparation for the same at board's end.
Re-Exam Planned Later
With the COVID-19 pandemic situation still being quite serious, the state government realizes that not all students will be able to appear for HBSE 12th Exam 2021 which is scheduled to be held from 15th June 2021. Talking about this point, Mr Pal noted that for students who are unable to appear for Class 12 Board Exams right now, re-exam would be held at a later stage by BSEH.