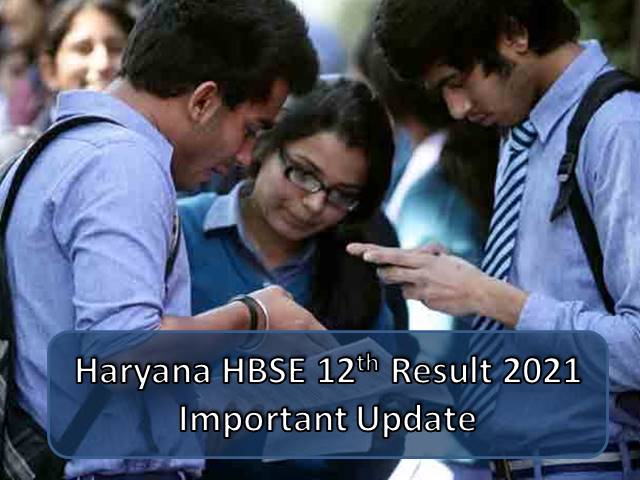 HBSE 12th Result 2021 Update: The Board of Secondary Education, Haryana (BSEH) has asked all affiliated schools to expedite the HBSE Class 12 Result 2021 Preparation Process in order to ensure timely declaration. As part of this, all schools have been instructed by the board to upload the final marks for Sr Secondary students for Haryana Board 12th Results 2021 on the board's dedicated portal by 6th July 2021.
Marks Upload Window to Open from 28th June
As per the latest update, the Haryana Board of Secondary Education (BSEH) is planning to expedite the process of preparation of HBSE 12th Class Result 2021 based on internal assessment evaluation criteria announced earlier. As part of the Haryana Class 12 result compilation process, the Board is going to open the window for submission of Class 12 Marks by respective schools from 28th June 2021 onwards. Schools will be given time of 1 week i.e. until 5th July 2021 to upload the Class 12 Marks of the students who are registered for the Senior Secondary Examination under their aegis.
BSEB Chairman asks Schools to Upload Students' Data
Confirming the development, BSEH chairman noted that BSEH president, Jagbir Singh said that the schools must submit the students' marks on the board's official website from June 28-July 6 using the official login id and password. In addition to this Mr Singh also said that the lists of secondary students whose records are to be uploaded by the schools are being sent on the e-mail of the schools. The respective schools, from where the student has registered for the HBSE Class 12 Exam 2021, will need to prepare marks data and upload the same on or before the deadline of 5th July 2021.
Action Against School in Case of Errors
As part of the evaluation criteria prepared by HBSE, the Haryana 12th Result 2021 will be based on marks secured by Class 12 students in Class 10 as well as Class 11 Examinations. Therefore, respective schools will have to compile data for the same and upload on the Board's website, after which the final result will be processed and announced by the Board. Mr Singh also warned schools about any mistakes or errors in students' data, saying that "school itself would be responsible for any kind of mistake and departmental action would be taken against such schools as per the affiliation regulations."