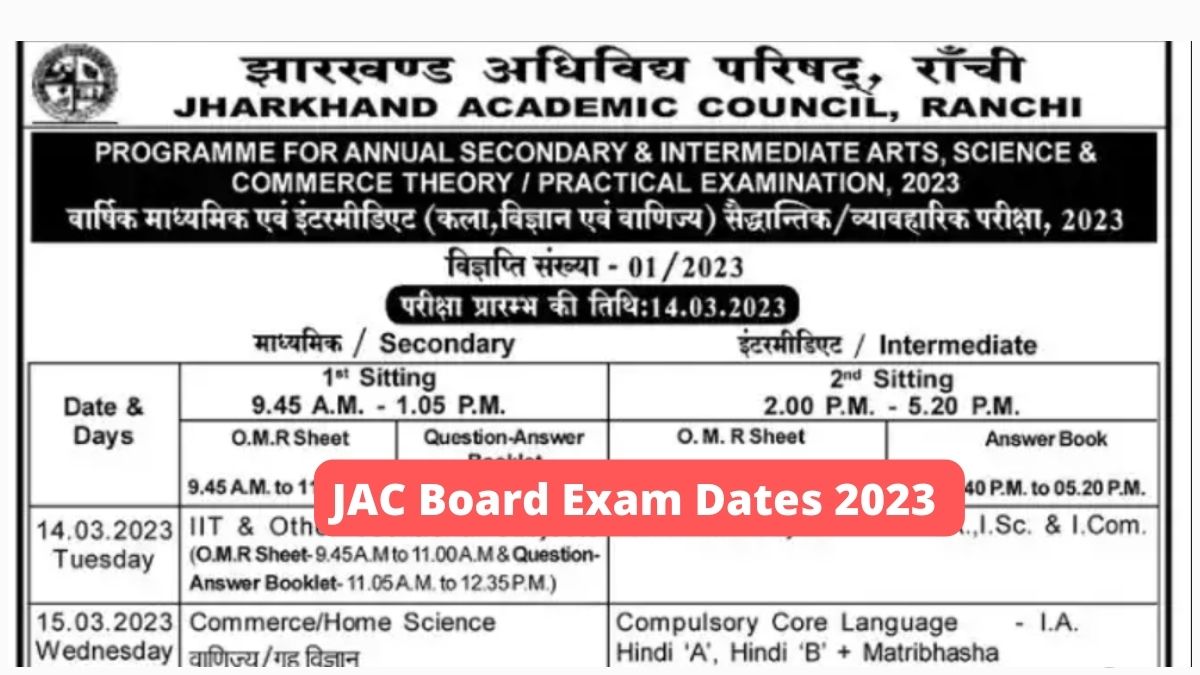 JAC Board Exams 2023: As per media reports, the Jharkhand Academic Council (JAC) has announced the JAC board exam dates 2023 for classes 10 and 12. As per the released date, the JAC board exam for classes 10 and 12 will commence from March 14, 2023 onwards. The Jharkhand JAC board exam date 2023 provided here has been announced by JAC Ranchi in regional newspapers.
Also, as per updates, the Jharkhand Board practical exams for JAC classes 10th and 12th will be held from February 2 to March 4, 2023. The admit card for JAC 10th, 12th board exams will be released on January 28 and 30, 2023 respectively.
JAC 10th, 12th Exams 2023 are scheduled to be held in the month of March. The board is expected to release the JAC board time table 2023 for classes 10th and 12th board exams soon. JAC board exam date 2023 PDF will be made available on the official website - jac.jharkhand.gov.in.
Jharkhand JAC Date Sheet 2023 Image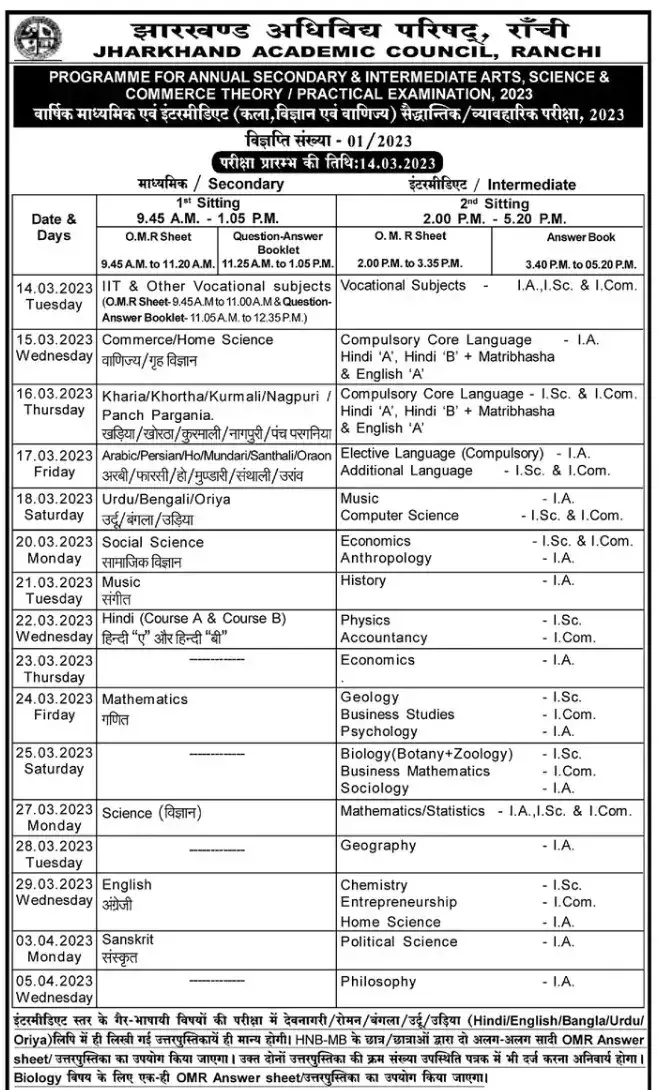 JAC Board Exam Date Sheet 2023 for Class 10
| | |
| --- | --- |
| Dates | Subjects |
| March 14, 2023 | ITI and other vocational subjects |
| March 15, 2023 | Commerce, Home Science |
| March 16, 2023 | Kharia, Khortha, Kurmali, Nagpuri, Panch Pargaia |
| March 17, 2023 | Arabic, Persians, Ho, Mundari, Santhali, Oraon |
| March 18, 2023 | Urdu, Bengali, Oriya |
| March 20, 2023 | Social Science |
| March 21, 2023 | Music |
| March 22, 2023 | Hindi Courses A and B |
| March 23, 2023 | NA |
| March 24, 2023 | Mathematics |
| March 25, 2023 | NA |
| March 27, 2023 | Science |
| March 28, 2023 | NA |
| March 29, 2023 | English |
| April 3, 2023 | Sanskrit |
JAC Board Exam Date Sheet 2023 for Class 12
| | |
| --- | --- |
| Dates | Subjects |
| March 14, 2023 | Vocational Subjects for Arts, Science and Commerce stream |
| March 15, 2023 | Core Language - Hindi A, Hindi B, Mathribhasha and English A (Arts) |
| March 16, 2023 | Core Language - Hindi A, Hindi B, Mathribhasha and English A (Science and Commerce) |
| March 17, 2023 | Elective language (Arts), Additional Language (Science and Commerce) |
| March 18, 2023 | Music, Computer Science |
| March 20, 2023 | Economics, Anthropology |
| March 21, 2023 | History |
| March 22, 2023 | Physics, Accountancy |
| March 23, 2023 | Economics |
| March 24, 2023 | Geology, Business Studies, Psychology |
| March 25, 2023 | Biology, Business Mathematics, Sociology |
| March 27, 2023 | Mathematics/Statistics |
| March 28, 2023 | Geography |
| March 29, 2023 | Chemistry, Entrepreneurship, Home Science |
| April 3, 2023 | Political Science |
| April 5, 2023 | Philosophy |
Also Read: Uttarakhand UBSE 10, 12 Date Sheet 2023 (OUT): Check UK Board Class 10th 12th Timetable Here
REGISTER FOR RESULTS UPDATES