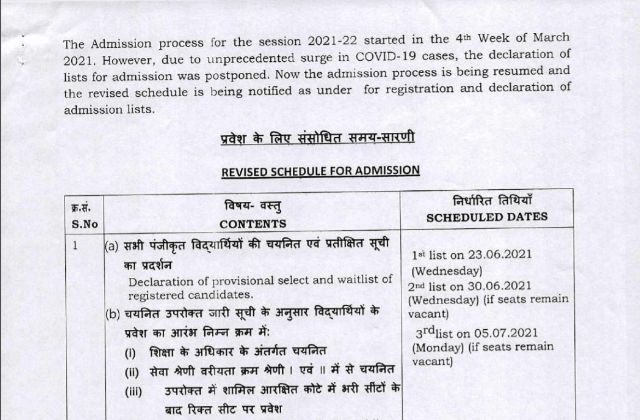 KVS Class 1 Admission 2021: The Kendriya Vidyalaya Sangathan (KVS) will release the provisional selection list and waitlist for KVS class 1 admissions 2021-22 on 23rd June. In case seats remained unfilled from the first list, then a second provisional list will be released on 30th June. Likewise, if seats remained unfilled even after the release of the second list, then a third provisional list is to be released by KVS on 5th July. The declaration of the provisional list of candidates as per the priority service category for unreserved seats will be from 2nd to 6th July 2021. As per the released notice, if any of the dates happens to be a public holiday, the next working day will be treated as opening or closing dates.
The results or shortlists of admission can be checked by parents and guardians with individual Vidyalayas on the dates announced by KVS/individual Vidyalayas at the official website kvsonlineadmission.kvs.gov.in. Earlier the provisional select list was scheduled to release on April 23, which was postponed due to an unprecedented surge in COVID19 cases.
List of Documents Required for KVS Admission 2021
The list of required documents includes - digital photograph or scanned photograph of the child seeking admission (JPEG file of size at most 256KB), a scan of the child's birth certificate (JPEG or PDF file of size at most 256KB), details of government certificate in case one are applying under the economically weak section, transfer details of parent/grandparent whose service credentials will be used in the application.
KVS Admission 2021 For Class 2
The Kendriya Vidyalaya Sangathan (KVS) has also released the revised schedule for class 2 admission. The declaration of the list of class 2 onwards will be released on 24th June. The admission for class 2 onwards will be conducted from 25th to 30th June 2021. The parents and guardians must know that only the class 1 admission procedure is conducted online while for the other classes, the admission is done offline.