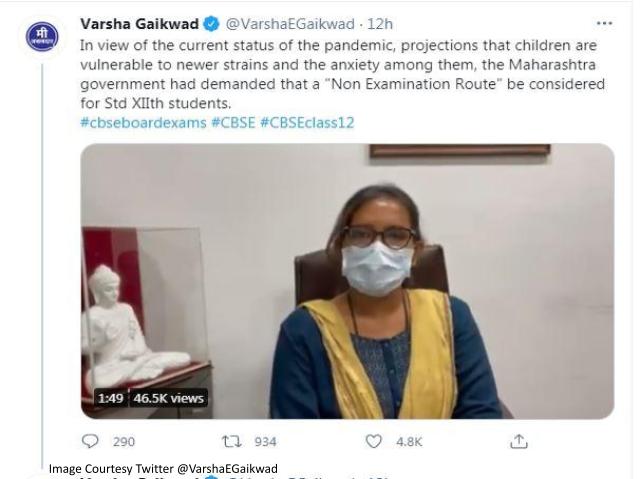 Maharashtra Minister (School Education) Varsha Gaikwad has assured that a decision on the Maharashtra class 12 examinations will be made soon by the state government. While speaking on the CBSE decision to cancel the class 12 board exams, Maharashtra Education Minister stated that the government had demanded a non-examination option for the class 12 students. She further added that the decision regarding the Maharashtra class 12 exams will be taken soon by the department keeping in mind the health and safety of the students.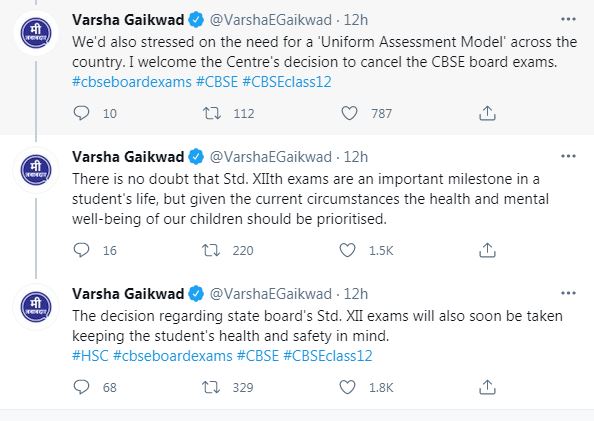 The state education minister in a recorded message stated that the decision on the class 12 exams will be made keeping in mind the safety and mental health of the students. She added that there is no doubt that the class 2 exams are an important milestone for the students and given the ongoing situation the health and well being of the students are a top priority.
CM Asks for Uniform Policy
Maharashtra state Chief Minister Uddhav Thackrey had earlier on asked the Prime Minister to decide on the class 12 board exams asking for uniformity in the policy. With the CBSE class 12 exams being cancelled, the Maharashtra state class 12 exams are also likely to be cancelled by the board. The class 10 Maharashtra Board exams have already been cancelled by the board officials.
CBSE ISC 12th Exams cancelled
The CBSE has announced the cancellation of its class 12 board examinations after a high-level meeting conducted by the Prime Minister. The PM while announcing the cancellation of the class 12 examinations stated that the health and safety of the students are a concern for the government which is why the board examinations have been cancelled.
The ISC Class 2 exams have also been cancelled by the CISCE board. According to board officials, the class 12 students will be evaluated based on assessment criteria which will be announced on the official website soon. Students who were to appear for the ISC class 12 exams are advised to keep visiting the official website for further information.
Also Read: CBSE 12th Exams Cancelled: Education Minister welcomes cancellation of exams, wishing students all the best