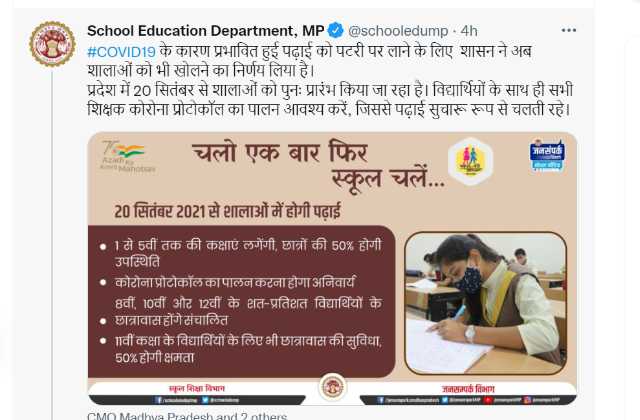 MP Schools Reopening: As per the updates, the School Education Department has permitted schools in Madhya Pradesh to reopen from 20th September 2021. In recent orders, it has been announced that classes from 1st to 5th can start at 50% capacity. However, classes 8th, 10th and 12th can resume offline classes at 100% capacity. In the orders by the School Education Department of MP, it has also been mentioned that students of classes 11 can continue offline classes with 50% capacity. These orders have been released today. Even though Madhya Pradesh schools will reopen for offline teaching, attendance has not been made mandatory. Online classes will continue and no one will be forced to come to campus.
MP Schools Reopening Guidelines
Madhya Pradesh Schools will reopen following all COVID-19 safety protocols. Even though the explicit announcement has been made for resuming these classes, there is no clarity on the remaining ones. Apart from these schools, Madhya Pradesh has also allowed residential schools to operate in the state. These schools have also been allowed to reopen from 20th September and SOPs have to be made to make sure everyone is safe. Everyone is mandated to follow COVID-19 appropriate behaviour and those found not following the rules, will be penalised. The official order even informs that the consent of the District Disaster Management Committee has to be taken on the proposal to reopen the schools, hostels, residential schools, operational under the district.
MP to Reopen Higher Education Institutes from 15th September
Madhya Pradesh Colleges, Universities will be reopening from 15th September. As per the guidelines issued, students will be allowed to attend classes only at 50% capacity, whereas, teaching and non-teaching staff attendance will be 100%. Madhya Pradesh Colleges, Universities reopening announcement was made by Higher Education Minister Dr. Mohan Yadav. He even informed that for classes to resume in offline mode, it will be mandatory for the academic and non-educational staff and students of the college to submit the certificate of the first dose of COVID-19 vaccination.