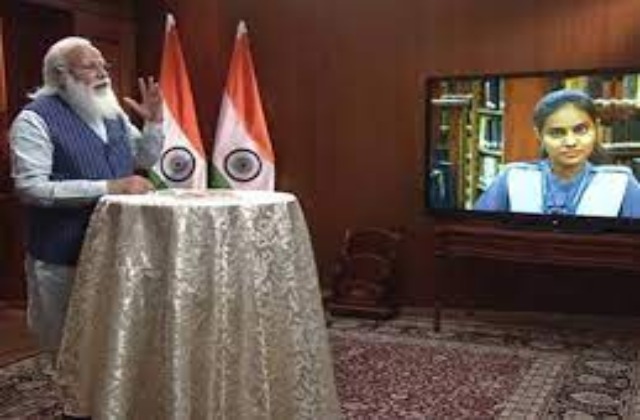 Pariksha Pe Charcha 2021: On Wednesday, Prime Minister Narendra Modi interacted with students, teachers and parents. The fourth edition of Pariksha Pe Charcha was conducted in virtual mode due to the restrictions posed by the COVID-19 pandemic. All the students selected through the Pariksha Pe Charcha contest were allowed to directly ask questions to the prime minister. According to figures by the ministry of education, more than 14 lakh students had registered for Pariksha Pe Charcha 2021. The annual interaction was focused mainly on exams and how to overcome exam stress ahead of the annual board examinations in India. Here are five key takeaways from the suggestions given by PM Narendra Modi to students regarding the board exams:
The pandemic taught us the value of essential things in life - PM Modi said, "While we can say that students have lost a year of their lives due to COVID-19, but they have also learned a lot of lessons. They have learned the true value of many essential things. The pandemic has taught us to fight the unexpected. People have realised the importance of not taking anything for granted like regular school days, attending office. Though COVID-19 forced us to maintain social distancing it strengthened families' emotional bonding."
Marks do not decide the future - PM Modi said, "Unfortunately we have build up so many expectations around marks and examinations that we often forget that they are just stepping stones and not the destination. What you study cannot be the only measure of success and failure in your life. Whatever you do in life, they will determine your success and failure. Therefore, children should come out of the pressure of people, parents, and society. Our marks do not decide your future. An exam is just the beginning of a fruitful career."
Vocal for Local - PM Modi said, "I want to request my young friends that once the examinations are over, make a list of all the things you use and identify how many of those things are local and how many of them foreign."
Celebrating life - PM Modi said, " I am sure all the #ExamWarriors will do well in exams! Study as much as you can, play as much as you can, celebrate life as much as you can, because this is your time, conquer it!"
Reducing the generation gap - He also said, "Connect with your kids, learn their likes and dislike. When you involve yourself in their world, it will reduce the generation gap and they too will understand your point of view. When kids are small, parents act like kids for their children, but when they grow up, parents turn into instructor and inspectors. Don't tell them what to do, be their friends and let them explore the world around them."
Answering Questions From the Students
Apart from the five key takeaways, PM Modi also answered the queries of the students. He also suggested ways to increase memory power. Answering one of the students, he said, "To remember things better, involve, internalize, associate and visualize. One should internalize instead of memorizing." While acknowledging that one cannot be good in everything, He told students to not run away from any subject even if they find it difficult. He added, "taking every subject with the same attitude and energy and with a fresh mind will make easy ones feel even easier. It is not important to be a master of all the subjects even those people who are highly successful who have a firm grasp over one specific subject."
Also, on answering a question of a student over how to use free time during the coronavirus pandemic, he said, "It needs to be kept in mind that what should be avoided in free time, otherwise those things will be consumed all the time. In the end, you will get fed up instead of being refreshed. You will start feeling tired. Free time is the best opportunity to learn new skills. Free time should be used in the activities which bring out the uniqueness of an individual."
He ended his virtual Pariksha Pe Charcha 2021 by motivating the students for the upcoming board examinations. His tips and mantras will help the students in exams so that they can pass the exam with flying colours.