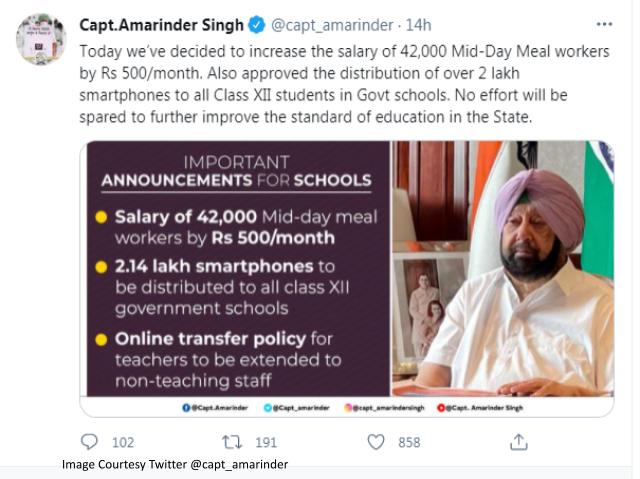 Punjab state government has announced that it will be distributing smartphones to class 12 students in government schools in the state. The smartphones are being distributed in order to help the students with their online classes amidst the rising COVID-19 cases in the state which have increased the chances of conducting online classes for the students. Punjab state chief minister Amarinder Singh approved the distribution of more than 2 lakh smartphones among the students of class 12.
The chief minister stated that the government will make all the necessary efforts to improve the standard of education in the state. On his official Twitter handle the chief minister mentioned that approval has been given for the distribution of 2 lakh smartphones to all the students in class 12 from government schools. He also further added that efforts will be made to improve the education standard in the state.
In the tweet, the state chief minister also mentioned the state government's decision to increase the salary of 42,000 mid-day meal workers by Rs. 500 per month. The online transfer policy for teachers will also be extended to the non-teaching staff members.
Punjab Board exams cancelled
The Punjab State Class 10 examinations along with the final exams of classes 5 and 8 have also been canceled by the state due to the rising COVID-19 cases. The Punjab board class 10 examinations were scheduled to commence on May 4, 2021. The Punjab Board class 12 exams scheduled from April 20, 2021, have also been postponed and the new dates will be announced by the board officials.
Also Read: Sikkim Schools, Colleges to remain closed until April 30 announces state Chief Minister