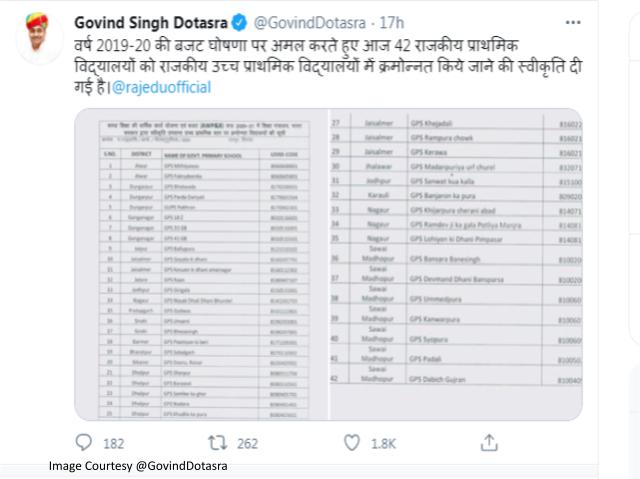 Close to 42 Government Primary Schools in Rajasthan have been approved to be upgraded to Government Upper Primary Schools. The decision to upgrade the government primary schools to upper primary schools was taken after considering the budget announcement for the year 2019-20.
Rajasthan Minister of School Education - Govind Singh Dotasra while making the announcement through his Twitter handle stated that the government is considering the upgradation of the schools based on the 2019-20 budget presented. He further pointed out that 42 government primary schools have been approved to be upgraded to government upper primary schools.
The government Primary Schools considered for the upgraduation include the Primary Schools in Dungarpur, Alwar, Ganganagar Jaipur, Nagaur, Jalore, Jaisalmer, Pratapgarh, Sirohi, and Jodhpur. Six primary schools in Dholpur and Seven schools in Sawai Madhopur districts have been upgraded to Upper Primary Schools.
Sainik School in Rajasthan
The Rajasthan state government recently decided to establish a third Sainik school in the Alwar district after two schools were established in Chittorgarh and Jhunjhunu districts. According to reports a statement was released by Rajasthan Chief Minister Ashok Gehlot approving a proposal for the allotment for free land in Haldina Village of Alwar for the establishment of the Rajasthan Sainik School.
According to the statement released, the land for the school is worth Rs. 41 Crore and will be allocated for free for opening the new Sainik School. As per the statement, the decision will pave the way to introduce quality education and get better opportunities to serve the country by joining the army.
Also Read: UP government to review school syllabus, including environment, local characteristics and national legends work, Check Details Here