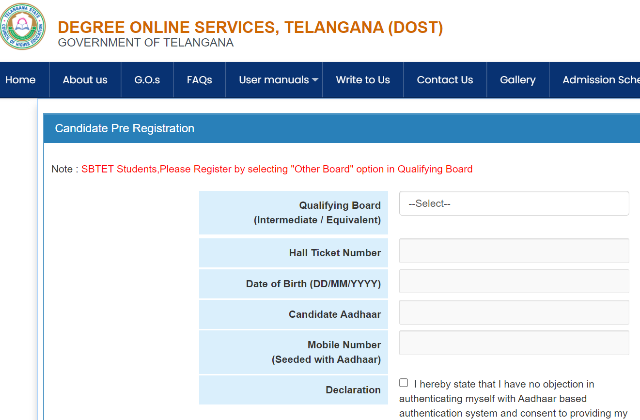 The Telangana State Council of Higher Education has extended the Phase 1 registration and web options dates for the Degree Online Services Telangana 2021. As per the schedule given, the last date for students to complete the registration process for DOST is July 24, 2021. Students yet to complete the TS DOST 2021 Phase 1 Registrations can visit the official website to complete the applications.
Candidates applying must note that the complete application process is being conducted online. The registration link is available on the official website - dost.cgg.gov.in. To complete the TS DOST 2021 registrations for phase 1 students are required to visit the official website and enter the details in the TS DOST 2021 Registration link.
TS DOST 2021 Revised admission schedule
TS DOST 2021 Registration Link
Steps to complete TS DOST 2021 Registrations for Phase 1
Step 1: Visit the official website for TS DOST 2021 Phase 1
Step 2: Click on the Candidate Registration Link
Step 3: Enter the details in the registration fields
Step 4: Complete the TS DOST registration process and submit the application fee
According to the revised schedule provided on the official website, the Seat allotment for Phase 1 will be on July 31, 2021, and the Online self-reporting (by online payment of college fee/seat reservation fee as the case may be) by students will be from August 1 to 5, 2021.
The registration process for TS DOST Phase 2 will commence from August 1, 2021, and students will be able to complete the registration process until August 9, 2021. The Web options for Phase 2 will be from August 2 to 9, 2021. The Phase II Verification of Special Category Certificates will be from August 6, 2021 - PH/CAP/NCC/Extra-Curricular Activities (at All University Help Line Centers ) and the Phase II Seat allotment will be on August 14, 2021.
TS DOST is conducted for the admissions to the Degree programmes offered in the six universities of Telangana which include Telangana University, Osmania University, Mahatma Gandhi University, Satavahana University, and Palamuru University. The admissions are held for the BBA, BCA, BA, BSc, BCom, BSW, BBM programmes offered.