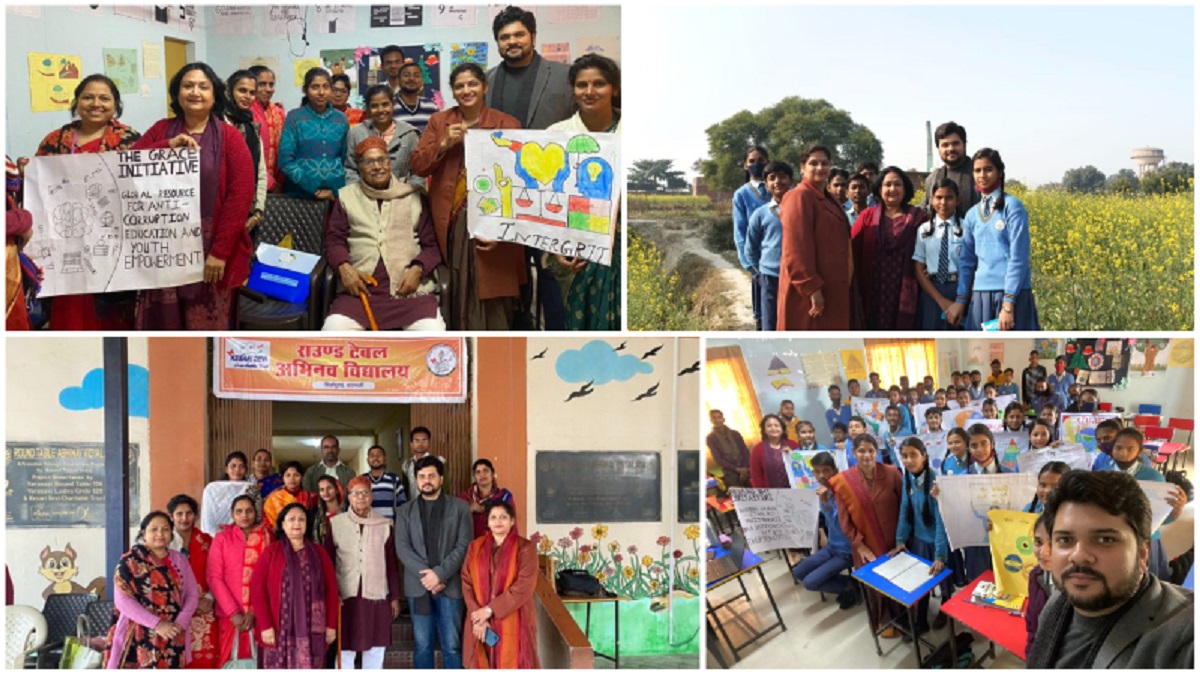 Mr. Samarth Pathak, Communications Officer of UNODC South Asia, visited the Round Table Abhinav Vidyalaya (RTAV) in a small village of Mirzamurad situated near Varanasi in Uttar Pradesh. Mr. Pathak visited RTAV, a rural school run by a small team of educators under the 'Lockdown Learners' series initiated in India in April 2020 by the United Nations Office on Drugs and Crime (UNODC) through a nationwide social initiative called 'The Global Resource for Anti-Corruption Education and Youth Empowerment (GRACE)'.
GRACE is the 'YouthLED' Integrity Advisory Board of 25 talented people across the globe who promotes the objective of advancing education and youth empowerment as a key tool to prevent and fight corruption locally, regionally, and globally. In addition, GRACE also promotes a holistic approach to empowering the next generation of youth to act with integrity and be less tolerant of corruption and unethical practices.
During his visit, Mr. Pathak met with various social activists, rural educators, and secondary-level students to discuss the importance and need for Social Development Goals (SDGs) to achieve a better and more sustainable future for all. During the session, various SDGs goals were communicated to address the solution to global challenges like poverty, inequality, climate change, environmental degradation, crime, peace, and justice.
Loving my work: Making a difference w/ edu & youth empowerment @UNODC (a 🧵):

Located about 40 kms from Varanasi in India's Uttar Pradesh🇮🇳, the Mirzamurad village houses the Round Table Abhinav Vidyalaya (RTAV),run by passionate educators driven to make a change in rural lives. pic.twitter.com/LgjbtwMcKw

— Samarth Pathak (@PathakSamarth) December 27, 2022
Rural educators from across the state participated in the GRACE Training session and learned how to use free-of-cost educational resources developed under UNODC's GRACE Initiative. They were trained on using educational resources to strengthen the socio-emotional resilience of students with meaningful engagement in crime prevention, SDGs, and peace. During the sessions, educators were also trained to engage young people using activities, games, videos, and other social development tools.
Discussions were also focused on ways to provide a positive framework for students in the classroom to learn, think and act in socially responsible ways to prevent crime, discrimination, risky behaviors, misinformation, gender inequality, drug use, etc. The educators emphasized the need for cartoons such as The Zorbs, animated videos, and theatre to promote education on the aspects to minimize the consumption of internet data and to make engagement cost-effective. Also, WhatsApp and audio notes were used to facilitate interactive discussions on social themes.
Ms. Jaya Shukla Tewari, Principal of the RTAV praised the GRACE initiative and said "Education with experience can transform lives. It was helpful to know about the GRACE initiative, and how educational resources can be used in classroom activities to build integrity in students as a core value. Our engagement with UNODC over the last two years has been a story of impact."
Ms. Savita Tripathi, an educator speaks about the intervention measures taken up by GRACE to abridge the gap between teachers and students. "With the GRACE initiative, teachers can act as lighthouses for young minds. To protect and enable them to stay away from risky behaviors, it is important to nurture integrity in every student and educator. I found the session very useful because it is necessary to promote education on social themes in the classrooms," said Ms. Tripathi.
The information and activities overwhelmed students who participated in the GRACE interactive session. They got an understanding of integrity and pledged to be Integrity Guardians to build a safer, peaceful, and inclusive future.
Students were informed about various SDG themes and their requirements. Jahnavi, a student, with her friends Nancy, Himanshu, Mansi, Avinita, and Ayushi echoing similar views said, "Integrity matters, and I am a proud Integrity Guardian. As young people, our actions and voices matter when it comes to building peace in society. With UNODC, I have learned about the SDGs and how these can be used to develop group projects and activities with my friends. Gender equality, education, and peace are themes that I most believe in and using my skills, I want to create social awareness in these areas."
After the session, students invited Mr. Pathak to visit their homes where they discussed addressing the local challenges with the SDGs, and how their actions can make a difference. During the visit, he also met students' parents and heard their insights which were revealing.
The parents praised the initiatives taken by UNDOC-GRACE to help their kids in becoming problem-solvers and strategic thinkers. "Our children now have an emotional connection with UNODC. They are more socially aware and constantly think of developing community-focused projects and networks. This is a true impact," several parents said, reporting behavior changes among students since connecting with UNODC over the last two years.
Seeing the UNDOC-GRACE impact at the grassroots level Mr. Samarth Pathak said "To meaningfully empower and engage young people, the key is to simplify the format, demystify ideas, build emotional connect and amplify youth participation leaving no one behind. That is key to delivering real impact: one that touches lives, visibly and tangibly, as we have done in Mirzamurad."
REGISTER FOR RESULTS UPDATES