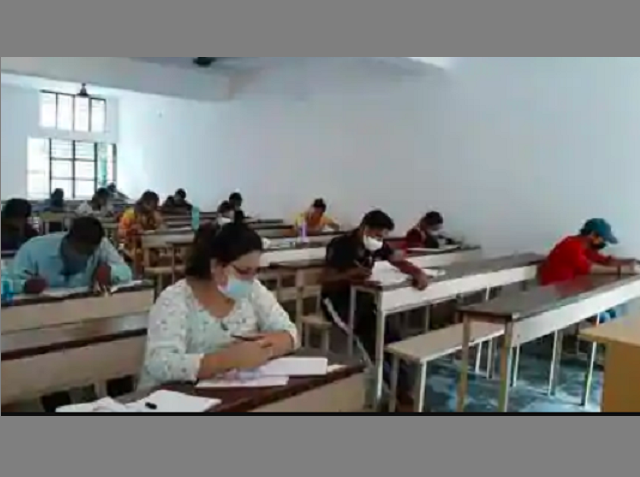 UP Board 12th Practical Exam 2021 Begins: As per the official announcement, UP Board 12th Practical Exam 2021 has commenced from today i.e. 3rd February 2021. As notified by Uttar Pradesh Madhyamik Shiksha Parishad (UPMSP), the first phase of state board's practical exams are being held from today under strict security arrangements and CCTV surveillance to curb malpractices and cheating.
Practical Exams Being Held in Two Phases
As per the official notification released by the UPMSP, the state board plans to hold practical exams in two phases. The first phase of UP Board Class 12 Practical Exams will begin from February 3, 2021, and the second phase from February 13, 2021. The details about which district will hold exams in the first phase and which ones will hold exams in second phase are provided in the table below:
| | |
| --- | --- |
| Phase 1 (3rd to 12th Feb) | Phase 2 - 13th to 22nd Feb) |
| Agra | Aligarh |
| Saharanpur | Meerut |
| Bareilly | Muradabad |
| Lucknow | Kanpur |
| Jhansi | Prayagraj |
| Chitrakoot | Varanasi |
| Faizabad | Azamgarh |
| Mirzapur | Gorakhpur |
| Devipatan | |
| Basti | |
Guidelines and SOPs to be followed for Practical Exams
Taking into account the pandemic situation and to ensure safety, health and well-being of the students, the state government has released detailed guidelines and SOPs for conduct of UP board practical exams for Class 12 students.
Laboratories to be Sanitized: The guidelines call for complete and proper sanitization of laboratories along with all equipment and gadgets where the students will take their practical exams. Moreover, shared transportation facilities including school buses, if used by students, are to be sanitized
Thermal Scanning: Each student and teacher will have to undergo mandatory thermal scanning aimed at ensuring their body temperatures are within acceptable limits to gain entrance to labs.
Hand Hygiene: all labs and toilets would also have hand sanitizers and handwash for students and teachers and all would be granted access to the labs only after properly sanitising their hands.
Strict Vigilance for Symptoms: Keeping in mind the seriousness of the pandemic, any students or teachers found with symptoms associated with Covid-19 infection like fever, cough and sneezing, will be referred to Chief Medical Officer concerned to ensure proper check-up, treatment and care.
Social Distancing Guidelines: Social Distancing has been prescribed as the primary defence against the COVID-19 infection and therefore, maintaining social distancing during the practical exams and seating them at a minimum distance of 6 feet from one another will be followed strictly during the UP Board practical exams.
Separate Entry and Exit Points: To avoid crowding of students at the schools, school administrators have been asked to try and keep separate entry and exit points for students.
Mandatory Face Masks: Use of facemasks has been made mandatory for all students and teachers entering the school campuses. Moreover, school administrators have been asked to extra facemasks available on campus and provide them to students, if and when needed.
CCTV Vigilance: Another important guideline for the upcoming UP Board Practical Exam 2021 is holding the examination under the close watch of CCTV cameras. School Principals have been asked to keep the recording safe for future reference.