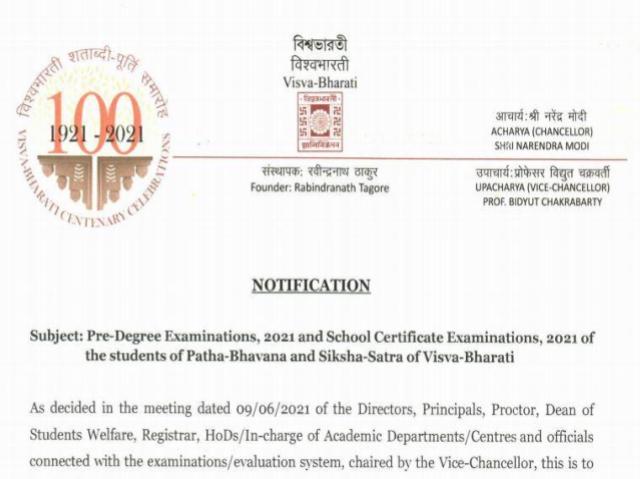 Amidst the COVID-19 pandemic with boards cancelling or postponing the class 10 and 12 examinations, Visva-Bharati University has announced that the pre-degree exams of two of its schools - Patha Bhavana and Siksha Satra will be conducted online from July 5, 2021.
The notification was issued by the university when the West Bengal School Education Department used to bring out an alternative evaluation method for the Class 10 and 12 exams as the exams have been cancelled by the board.
In the meeting conducted by the university Vice-Chancellor with the directors, principals, proctors, dean of student welfare and other officials related to the exams and evaluation process, it was decided that the pre-degree examinations of Patha Bhavana and Siksha Satra will be conducted online from July 5, 2021.
Visva Bharati University Pre-degree exams Official notification
According to the details mentioned in the official notification, the Viva-Voce exams of the students will also be conducted online and will be followed by the school certificate examinations. The university has also added that the schedule of the exams and other modalities will be notified on the official website later.
The exams are equivalent to the final board exams for the class 10 and 12 students of Visva Bharati University. The university offers pre-degree courses in science and humanities through the two schools under the university.
The university on its decision to conduct the pre-degree exams for the two schools stated that the number of students taking the exams in both the schools will not be more than 200 and hence conducting the exams will not be an issue.
Also Read: Delhi 9th and 11th Class Final Exam 2021 Cancelled, Results to be Declared on 22nd June on the Basis of Mid-Term Exams