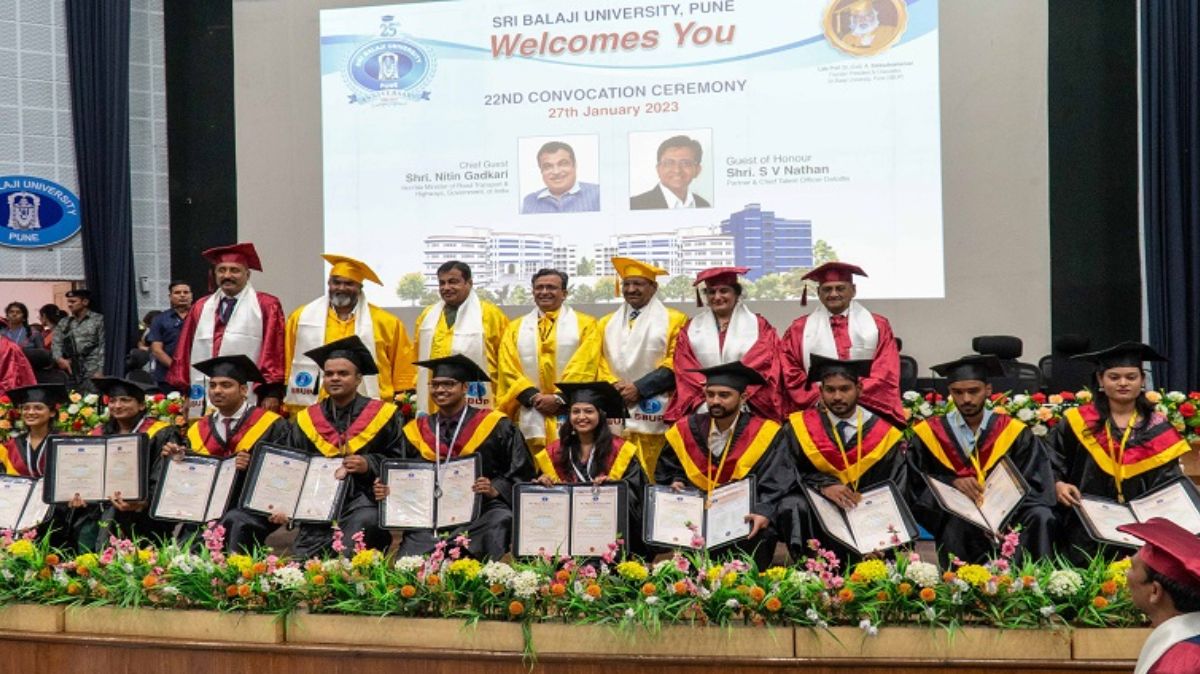 Sri Balaji University, Pune (SBUP) has organised its 22nd Convocation Ceremony today January 27, 2023. As per the official announcement, the event was attended by more than 1,000 students along with their families, friends, as well as faculty members at the varsity premises.
Moreover, the students with the greatest achievements were felicitated by Nitin Gadkari, Minister of Road Transport and Highways of India, and the guest of honour, S V Nathan, Partner and Chief Talent Officer at Deloitte India, National President, National HR Development Network. The convocation ceremony, that was held today in Pune started with an introduction and commemoration of the Late Professor Dr (Col) A Balasubramanian, by unveiling the statue built in his honour.
Success Formula
S V Nathan addressed all people present at the event by sharing the formula for success with the students. He stated that with the five important phoron (5 ingredients) which are Purpose, Integrity, Attitude, Appreciate, and Focus anyone can easily become successful.
Talking about the formula, one should begin with a definite purpose, which defines your journey, and then demonstrate integrity through productive work. Further effectively maintaining the right attitude, appreciating your fellow humans and focusing on your strengths can contribute highly towards your overall goals.
Addressing the Convocation Ceremony of Sri Balaji University and Sliver Jubilee Foundation Day of Sri Balaji Society, Pune https://t.co/0GsTIsKuDs
— Nitin Gadkari (@nitin_gadkari) January 27, 2023
He said that this is the recipe for success in any field or area of work. Nitin Gadkari congratulated the gold medalists and praised them for their hard work. He expressed his heartiest wishes to all the students present there. Also, he said that all students are forthcoming leaders and he has faith in their potential.
Contributions to Human Relations Ecosystem
S V Nathan stated that knowledge is the biggest power that one can possess and turning this knowledge into wealth can lead all students towards success and lofty heights in future and one's professional journey.
By acknowledging S V Nathan's significant contribution to the human relations ecosystem, he further added that Human Relations are the most important aspect in all walks of life. This is the biggest lesson from the institute of entrepreneurship, as put forward by the speakers. This event also concluded with the presentation of medals and merit certificates to more than 1000 students who excelled in their fields of specialization, and the conferral of degrees and diplomas was received by all graduates.
The convocation honoured the academic journey of various students and recognised the efforts and dedication that they showed in gaining mastery over their subjects in a wide range of disciplines offered by the Sri Balaji University of Pune including several streams of Marketing, Finance, HR, Analytics, Operations & Supply Chain Management and International Business.
Also Read: Kerala CM to Initiate Professional Students Summit in February 2023, Check Details Here