The San Francisco 49ers are a venerable professional American football franchise entrenched within the esteemed environs of the San Francisco Bay Area. Inaugurated in the year 1946, the team's genesis coincides with its establishment as a pioneering charter member of the All-America Football Conference (AAFC). The pivotal juncture in their history transpired in 1949 when they seamlessly integrated into the National Football League (NFL) following the momentous merger of the two leagues.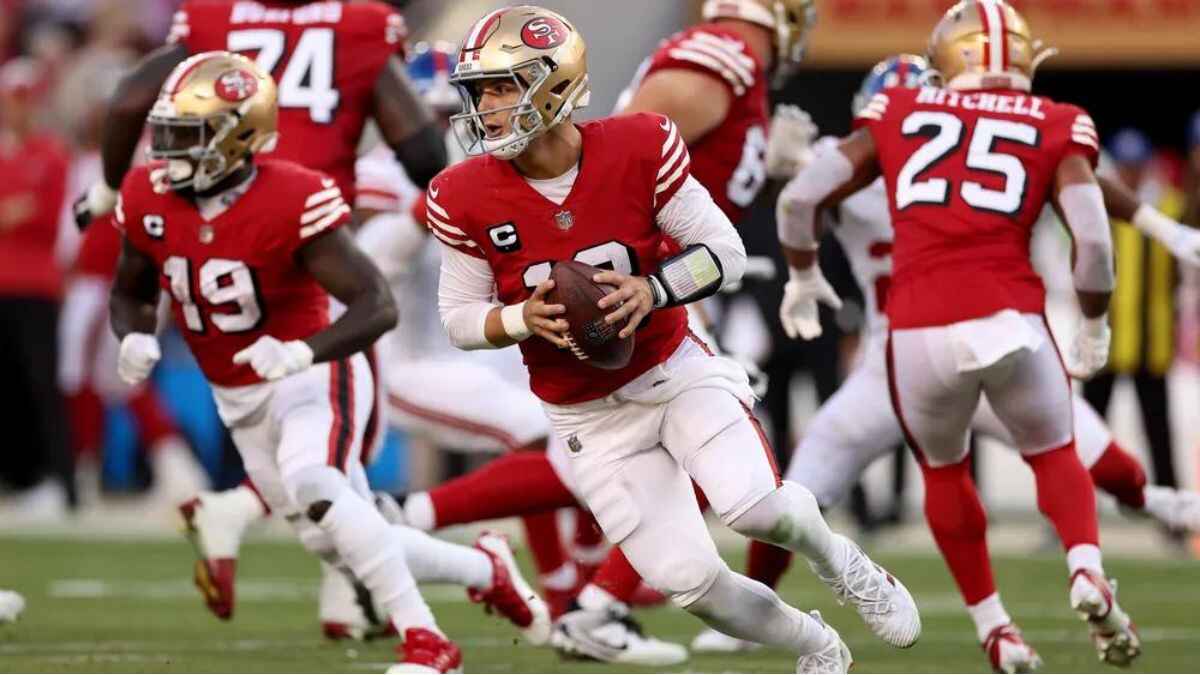 Distinguished as the very first major league professional sports entity to call San Francisco home, the 49ers stand as a testament to the city's sporting legacy. Eclipsing nearly eight decades, they have evolved into the NFL's tenth-oldest franchise, proudly bearing the weight of their storied heritage.
ALSO READ| Most Wimbledon Titles Winners Male - Singles
Year-wise List with Runner-Ups
The 49ers clinched an awe-inspiring quintet of Super Bowl championships during the illustrious period spanning from 1981 to 1994. Four of these triumphs, shining brilliantly within the confines of the 1980s, were masterfully orchestrated by a constellation of Hall of Fame luminaries such as Joe Montana, Jerry Rice, Ronnie Lott, Steve Young, Charles Haley, and Fred Dean.
Not to be overlooked are the astute tutelage of coaching virtuosos Bill Walsh and George Seifert. This pantheon of greatness not only etched their names in history but also enshrined the franchise in the NFL lore.
Here is the List:
Year

Head coach

Super Bowl

Location

Opponent

Score

Record

1981

Bill Walsh

XVI

Pontiac Silverdome (Pontiac, MI)

Cincinnati Bengals

26–21

16–3

1984

XIX

Stanford Stadium (Stanford, CA)

Miami Doolphins

18–1

18-1

1988

XXIII

Joe Robbie Stadium (Miami)

Cincinnati Bengals

13–6

13-6

1989

George Seifert

XXIV

Louisiana Superdome (New Orleans)

Denver Broncos

55–10

17-2

1994

XXIX

Joe Robbie Stadium (Miami)

San Diego Chargers

16–3

16-3
ALSO READ| [Updated] Top 13 Richest Footballers in the World 2023: Net Worth, Career, Salary and More
San Francisco 49ers NFC Titles
The San Francisco 49ers have won National Football Conference (NFC) titles:
Year

Head coach

Location

Runner-Ups

Score

Record

1981

Bill Walsh

Candlestick Park (San Francisco)

Dallas Cowboys

28–27

16–3

1984

Chicago Bears

23–0

18–1

1988

Soldier Field (Chicago)

Chicago Bears

28–3

13–6

1989

George Seifert

Candlestick Park (San Francisco)

Los Angeles Rams

30–3

17–2

1994

Dallas Cowboys

38–28

16–3

2012

Jim Harbaugh

Georgia Dome (Atlanta)

Atlanta Falcons

28–24

13–5–1

2019

Kyle Shanahan

Levi's Stadium (Santa Clara, California)

Green Bay Packers

37–20

15–4
The 49ers have basked in the glory of divisional supremacy on an astounding 21 occasions, spanning the eras from 1970 to the present year of 2022.
ALSO READ|