CBSE Social Science Class 10 Chapter 2 Mind Map: Like many others, If you learn better by looking at pictures or videos then this article has got you covered. Unlike the common misconception, you do not have to spend multiple hours with your Social Science textbook and notes in order to learn the concepts. Instead, you can simply visualise and learn it all in the matter of a few minutes. Mind maps are illustrative flow charts, like networks of concepts from any topic to explain it in brief. In the mind map of CBSE's 2nd chapter from SST, the concepts from this chapter have all been explained in its mind map. This CBSE Class 10 Social Science Chapter 2 Nationalism in India Mind Map will help you understand all its concepts and thus, help you in your studies and revision for CBSE Class 10 board exam 2024..

CBSE Class 10 Social Science Chapter 2
Check the various topics covered under Chapter 2 Nationalism in India from CBSE 10th Class Social Science below:
Introduction
1 The First World War, Khilafat and Non-Cooperation
1.1 The Idea of Satyagraha
1.2 The Rowlatt Act
1.3 Why Non-cooperation?
2 Differing Strands within the Movement
2.1 The Movement in the Towns
2.2 Rebellion in the Countryside
2.3 Swaraj in the Plantations
3 Towards Civil Disobedience
3.1 The Salt March and the Civil Disobedience Movement
3.2 How Participants saw the Movement
3.3 The Limits of Civil Disobedience
4 The Sense of Collective Belonging
Conclusion
Download CBSE Class 10 Social Science Book PDF
CBSE Class 10 Social Science Chapter 2 Mind Map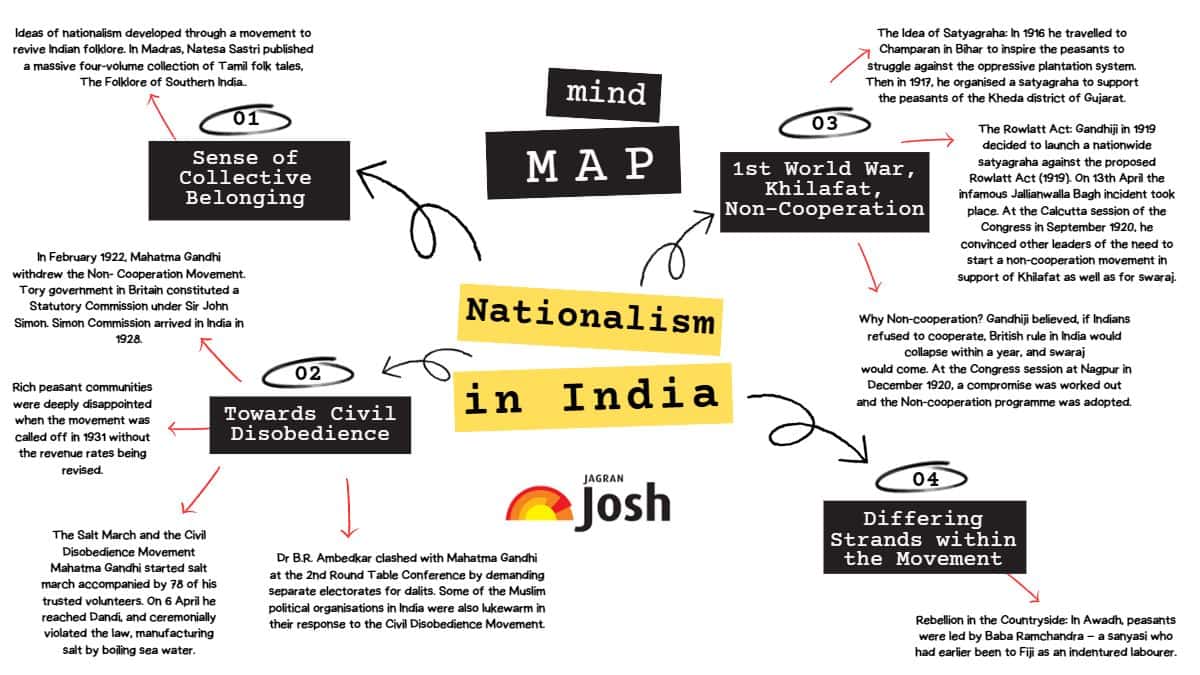 Also Read: