Jammu & Kashmir Bifurcated: J&K, Ladakh to be Union Territories; Know changes here
Jammu & Kashmir no more a State; it is bifurcated into two Union Territories - Ladakh & J&K. Know the changes here that will be now seen in Jammu & Kashmir and Ladakh as well.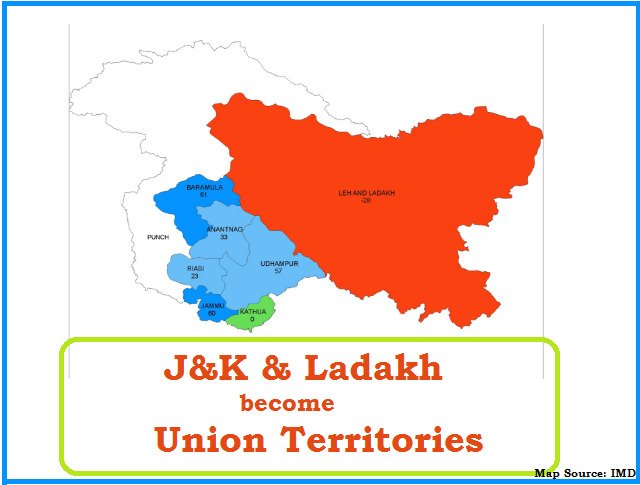 Ladakh & J&K now Union Territories
Jammu & Kashmir, Ladakh Bifurcation: After scrapping Article 370 & Article 35A, Union Home Minister Amit Shah announced bifurcation of Jammu & Kashmir into two Union Territories (UTs) – Ladakh and Jammu & Kashmir. Hence, Jammu & Kashmir is not a State now, but a Union Territory with Legislature; while Ladakh becomes a Union Territory without legislature. Have a look at the Order issued by Minister Shah:
With this move, there are now 9 Union Territories and 28 States in India. The decision came after President Ram Nath Kovind issued Government Order in Jammu and Kashmir Gazette, scraping Article 370, except Clause 1 which states that J&K is a part of India. With the revocation of Article 370, Article 35A gets revoked as well.
To know more about Article 35A, click here:
Article 35A Scrapped: What is it and why it has been controversial?
What does the status of UT imply for J&K?
Now, there will be no separate elections and any amendment won't need the nod of Kashmir Assembly anymore.
Difference between State and Union Territory
Category

State

Union Territory

Control

Elected Government

Union Government

Head

Governor (Constitution Head)

Lieutenant Governor (Executive Head)

Legislative Assembly

Yes

In some cases like Delhi, Puducherry and now Jammu & Kashmir

No Legislative Assembly in UTs like Chandigarh, Dadra and Nagar Haveli, Daman and Diu, Andaman and Nicobar Islands, Lakshadweep and now Ladakh

Powers

State Government + Union Government

Union Government
Article 370 & Article 35A
Article 370 of the Indian Constitution grants special status to Jammu and Kashmir and enables it to draft its own constitution. It bridges the gap between the Constitution of Jammu and Kashmir and the Constitution of India.
On the other hand, Article 35A defines Jammu & Kashmir "permanent residents" and provides special privileges to permanent residents of J&K such as employment, acquisition of property, scholarships, settlement and so much more.