Climate Emergency declared in England; ancient tombs discovered in Egypt - Current Affairs
Welsh and Scottish governments had both declared a climate emergency. There is no clear definition of what constitutes climate emergency.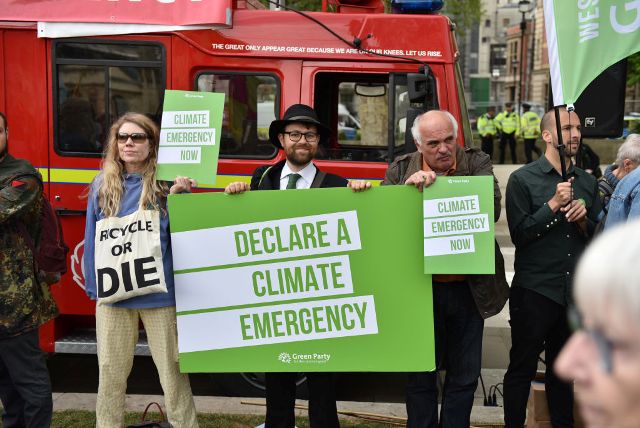 Extinction Rebellion Protest in London
Story 1: First in world, UK declares 'climate emergency'
UK Parliament recently passed a motion of an Environment and Climate Emergency. The UK has become first country to declare such an emergency in the world. The declaration of an emergency was one of the key demands put to the government by environmental activist group Extinction Rebellion, in a series of protests over recent weeks.
Before this, Welsh and Scottish governments had both declared a climate emergency. However, government has not cleared what "climate emergency" means, but several cities, including Bristol and London, have already declared their own emergencies.
What is Climate Emergency?
There is no clear definition of what constitutes climate emergency but the move has been linked with vital measures will be taken on climate and the environment.
The UK govt is legally committed to a 80% reduction in carbon emissions by 2050 (about 1990 levels).
Country was recently recognised as one of just 18 developed economies that have driven down carbon dioxide emissions over the last decade.
Some cities and local councils have set out their climate emergency policies to become carbon zero by 2030 built around renewable energy supplies.
What was Extinction Rebellion protest?
Extinction Rebellion is a socio-political movement which uses nonviolent resistance to protest against climate breakdown, biodiversity loss, and the risk of human extinction and ecological collapse.
Extinction Rebellion was established in the United Kingdom in May 2018 with about one hundred academics signing a call to action in support in October 2018.
They were demanding the government must declare climate emergency and work with other institutions to make changes.
The UK must enact legally binding policies to reduce carbon emissions to net zero by 2025.
A citizens' assembly must be formed to look after changes needed to achieve this goal.
Background
United Nation's Paris Agreement was signed by 197 countries in 2016. This agreement has the ambitious global aim of preventing global temperatures from reaching 2˚C above pre-industrial levels by 2100, and ideally should be no more than 1.5˚C. But planet is experiencing further warming, there is increasing international focus on meeting UN Paris Agreement. A report by the Intergovernmental Panel on Climate Change has suggested that meeting this target means annual global carbon emissions must effectively halve between now and 2030, and then fall to zero by 2050.
Liked the article? Do watch our videos too!
Story 2: 4500 years old tombs discovered in Egypt
Egyptian archaeologists have recently discovered two ancient tombs at the Pyramids of Giza dating back 4,500 years ago. It was revealed by government officials that the tombs were belonging to two high ranking men who were part of King Khafre's priests. One of the men in one of the tomb was named Behnui-Ka, who had seven titles including the Priest and the Judge to the Pharoah.
It was found near Egypt's famous pyramids on the Giza plateau near Cairo. As per the Egypt archaeologists it may be dated back to fifth dynasty period - between 2563 - 2423 BC.
Image: EPA
Key Findings
This tomb was belonged to a guy named Tutu. It was a place for him and his wife.
It was also discovered that wife of Tutu was a musician and used to play Sistrum Music.
Aside from the tombs, the discovery also found limestone statues of the tomb's owners, his wife and son.
The other tomb belonged to another man named Nwi, who served as Chief of the Great State and 'purifier' of the Khafre.
Many artifacts were discovered in the tomb including limestone statues of one of the tomb's owners, his wife and son, as well as statues of what appear to be jackals.
Mummified mice and falcons were also found at the newly discovered burial site.
About Valley of the Kings
The Valley of the Kings is a valley in Egypt where rock cut tombs were excavated for the pharaohs and powerful nobles of the New Kingdom (the Eighteenth to the Twentieth Dynasties of Ancient Egypt). The valley stands on the west bank of the Nile, opposite Thebes (modern Luxor), within the heart of the Theban Necropolis. The area consists of two valleys, East Valley (where the majority of the royal tombs are situated) and West Valley.
Download our Current Affairs& GK app from Play Store/For Latest Current Affairs & GK, Click here