Coronavirus Live: No new COVID-19 case in last 40 hours in Delhi, says Delhi CM, announces Rs 5000/- for labourers
Coronavirus Live: 30 States and Union Territories announced complete lockdown amid the rising number of COVID-19 cases in the country. On Monday i.e. 23rd March, India witnessed 99 new cases - the highest spike in number of Coronavirus cases, since the outbreak. Stay tuned for live updates about COVID-19.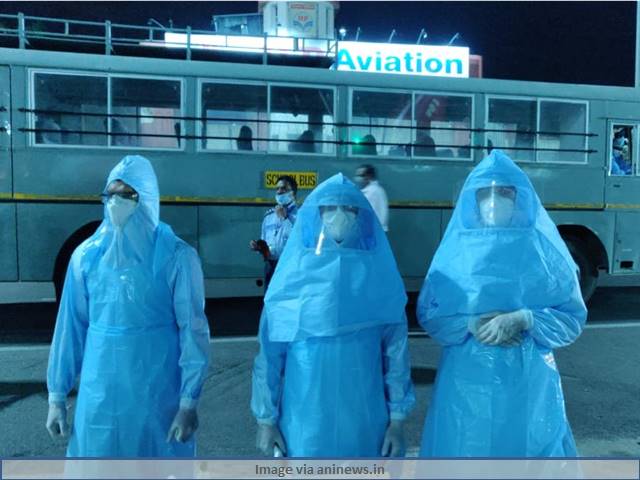 COVID-19 Live Blog
Coronavirus Live Update: Amid rising concerns around Coronvirus outbreak in India, PM Modi is all set to address the nation for a second time this week at 8 PM tonight. In his address, PM Modi is expected to talk about the vital aspects relating to the menace of Covid-19. In related news, WHO has warned world leaders that the COVID-19 pandemic is accelerating at a rapid pace and more collaborative efforts are required at a global level to contain it. World Health Organization also lauded India's efforts to check the spread of Coronavirus outbreak and said the future of spread of the pandemic will largely depend on how India handles the situation. At 2 PM, Finance Minister Nirmala Sitharaman briefed the media about a slew of economic measures taken by the central government to overcome the impact of COVID-19 on Indian economy.
Live Updates on COVID-19 to continue below:
Live Update @ 5:32 PM: ICMR on Hydroxychloroquine Testing
ICMR officials also talked about the Hydroxychloroquine drug, which is currently being given only to healthcare workers who have maximum exposure to this virus on trial basis. ICMR also stressed on the fact that Hydroxychloroquine has side-effects and therefore it is not advised for people to take the medicine on their own, without being prescribed by a doctor.
Live Update @ 5:30 PM: ICMR on Testing Capacity of India
ICMR in the Health Ministry Press Meet informed the media persons that it has capacity to conduct 12000 tests daily for COVID-19. Apart from this, the government authorities have also roped in 22 private laboratories, who have been approved to conduct Coronavirus testing and altogether these private laboratories have largely enhanced the testing capacity for COVID-19 testing through their 15000+ collection centres.
Live Update @ 5:15 PM: Health Ministry Press Meet
Union Health Ministry held a press meet at 5 PM to appraise media persons about the latest developments with regards to COVID-19 outbreak in the country. The ministry said that Central Government has reached out to state governments across the country to adopt a collaborative approach to tackle the Coronavirus epidemic.
Live Update @ 5 PM: No new COVID-19 case in last 40 hours: Delhi CM
Delhi Chief Minister Arvind Kejriwal also informed the press that in the last 40 hours, there has not been any increase in the number of COVID-19 positive cases in Delhi. He also said that of the 30 Coronavirus patients that were admitted in various hospitals in Delhi, 7 have recovered and been discharged. Currently, there are only 23 active cases in Delhi. But he also warned that while this is good news for Delhites, to maintain this situation, people need to follow lockdown rules along with social distancing and follow good hygiene practices.
Live Update @ 4:45 PM: Delhi Govt to give Rs 5000/- to all labourers and construction workers
With the lockdown in Delhi deeply affecting the lower working classes, Delhi Government has decided to give Rs 5000/- to all the all labourers and construction workers who are currently working in Delhi. Delhi CM Kejriwal made the announcement during a press brief held in the evening.
Live Update @ 4:30 PM: PM concerned about Negativity, Pessimism
In an interaction with print media journalists today, Prime Minister Narendra Modi expressed concern over the spread of negativity and pessimism in the society. To overcome this, PM sought support of media organizations to report positive stories and also highlight government measures and successes in order to keep up the spirit of people of India.
Live Update @ 4:15 PM: Uttarakhand to provide ration for 3 months
In the wake of the COVID-19 outbreak in the country, the Uttarakhand Government has decided to supply ration for next three months in advance to the people through the public distribution system.
Live Update @ 3:45 PM: State-wide Curfew imposed in Himachal
Himachal Pradesh Government decided to impose state-wide curfew in order to check the spread of coronavirus among the people. During the curfew, only personnel who are working for essential services network will be allowed to venture out of their homes. Himachal Pradesh Chief Minister Jairam Thakur has declared state-wide curfew in view of the Covid-19 outbreak.
Live Update @ 3:15 PM: ATM Charges on Debit Cards, Minimum Balance norms suspended
Other measures announced by Finance Minister Nirmala Sitharaman
No charges on ATM Withdrawal: All Debit Card holders will be able to withdraw money from any ATM without any additional transaction charges for next three months
Minimum Balance Norms suspended: Government has also done away with the minimum balance norm for savings accounts considering the current circumstances
Bank Charges have also been reduced for all trade and finance consumers
SEBI to announce guidelines to regulate short-term transactions soon
Live Update @ 2:51 PM: Economic measures to overcome COVID-19 impact
Some of the key economic measures announced by FM Nirmala Sitharaman today are as follows:
GST Return Date Extended: Finance Minister also extended the date for filing GST Returns and Composition Returns for months of March, April and May 2020 until 30th June 2020
No Penalty on Smaller Companies: FM also said that there would be no penalty charged for smaller companies (turnover of less than 5 Crores) while bigger companies would be penalized at a lower rate of 9%. '
Customs Department to operate 24 x7 as an essential service
No Mandatory Board Meetings: Mandatory Requirement of holding Board Meetings relaxed for next 60 days until next two quarters
All Compliances Extended till 30th June: All compliances under Wealth Tax Act, Income Tax Act, Benami Transaction Act, Black Money Act, have been extended to June 30, 2020.
Insolvency Limit Extended: FM also extended the insolvency limit from Rs 1 lakh to Rs 1 Crore as a special relief for small business owners
.Live Update @ 2:35 PM: Key Measures Announced by FM Sitharaman
Finance Minister Nirmala Sitharaman announced a slew of economic measures to help the country tide over the economic impact of Coronavirus outbreak. The key among these include
FY 18-19 Extended to 30th June – FM announced that the last date to file Income Tax for Financial Year 18-19 has been extended until 30th June 2020
Late Payment Penalty Decreased: The penalty for late payment of income tax which is usually at 12% has been reduced to 9%.
Aadhar PAN Link Scheme Extended: FM also announced relaxation in the Aadhar – PAN linking scheme. People will now be allowed to link their PAN Card with Aadhar by 30th June 2020
Vivad se Vishwas scheme extended: Modi Government also decided to extend the Vivad se Vishwas scheme until 30th June, with on late fee or additional charge of 10%,which was proposed earlier.
Live Update @ 2:30 PM: FM briefs media on economic measures to overcome COVID-19 impact
Finance Minister Nirmala Sitharaman announces a slew of economic measures intended to help people and industries to cope-up with the impact of Coronavirus. FM's address will focus on statutory and compliance-related issues with prime attention to income tax, customs, the Insolvency and Bankruptcy Code (IBC)-related matters, bank-related compliances, fisheries.
Live Update @ 2 PM: Govt announces Relief Measures for Workers
The Ministry of Labour & Employment on Tuesday directed all the state governments and Union Territory administrations to transfer funds in the account of construction workers through DBT (Direct Benefit Transfer) mode. The funds to be released to construction workers can be taken from the cess fund collected by the Labour Welfare Boards. In total around, 3.5 crore construction workers are registered with construction welfare boards.
Live Update @ 1:30 PM: PM to interact with Hospitals
According to the latest reports, PM Modi will interact with the heads of leading hospital chains in the country as part of the government's outreach to health care workers. PM Modi will hold a meeting with Healthcare Providers Association of India via video conferencing at 5 PM.
Live Update @ 1PM: UP CM announces complete lockdown for 3 Days
UP Chief Minister Yogi Adityanath announced complete lockdown in the state for the next 3-days starting from Wednesday. Giving an update about the prevailing situation in the state around COVID-19, he said that there are 34 positive cases of the novel coronavirus, including 1 from Shamli. He also added that as part of the precautionary measures, the state government has sealed its borders with neighbouring states of Delhi and Haryana as well as international board with Nepal.
Live Update @ 12:35 PM: FM working on Economic Package for COVID-19
Finance Minister Nirmala Sitharaman on Tuesday said that the Central Government is working on preparing an economic package to tide over the impact of Coronavirus outbreak in the country. FM is expected to hold a Press Meet via Video Conferencing today at 2 PM to announce the stimulus package.
Live Update @ 12:05 PM: COVID-19 treatment to be covered under Ayushmann Bharat
The central government announced on Tuesday that the treatment for COVID-19 will be covered under Ayushmann Bharat. The decision to include the treatment of novel coronavirus in the health insurenace scheme will benefit all the schedule who will now be able to avail treatment for Coronavirus.
Live Update @ 11: 45 AM: No new COVID-19 cases in Delhi in 24 Hours
Delhi Chief Minister Arvind Kejriwal took to twitter to inform Delhities that no new positive cases of Coronavirus infection have been reported in Delhi in the last 24 hours. However, he also warned the people of the city that the fight is far from over and it is important for all to actively contribute to the containment of COVID-19.
Live Update @ 11:22 AM: Rajya Sabha Polls Deferred
Going by the latest update, the Election Commission of India has decided to postpone the Rajya Sabha elections that were scheduled to be held on 26th March 2020. New date for the election would be notified by the Election Commission soon. The decision comes in the wake of the prevailing public health emergency in the country due to Coronavirus outbreak.
Live Update @ 11:10 AM: PM Modi to address the Nation at 8 PM
PM Modi will address the nation at 8 PM tonight, to on vital aspects relating to the menace of Covid-19. Prime Minister made the announcement via his official twitter handle today morning. This will be his second address to the nation within a week.
Live Update @ 11 AM: Lockdown in Wuhan to be lifted from 8th April
Another promising news emerging from China suggests that with significant fall in the number of new cases for COVID-19, Chinese authorities have decided to lift the lockdown in Wuhan from 8th April 2020. According to the media reports, the Chinese government also plans to lift all travel restrictions in and out of the province on March 25.
Live Update @ 10:30 AM: TN announces relief measures for people
Tamil Nadu Government has announced a slew of relief measures for the people who have been affected by the COVID-19 and are under a lockdown. According to reports, the TN CM EK Palaniswami will award Rs 1000/- to all ration card holders in the state to help them meet the financial requirements during these challenging times. In addition to this, people would also be provided free rice, sugar, and other essential commodities.
Live Update @ 10 AM: COVID-19 cases in Maharashtra rise above 100
The total number of positive COVID-19 cases in Maharashtra rose above 100 mark today, with four new cases reported in the state. According to the Maharashtra Health Department, 3 new cases in Pune and 1 in Satara, which took the state tally of positive cases to triple digits.
Live Update @ 9:35 AM: Manipur reports first COVID-19 case
Manipur has reported its first positive case of COVID-19 infection today. According to media reports, a 23 year old from Imphal (West) with travel history to the UK, has been confirmed to have the case of novel Coronavirus. He is currently undergoing treatment at JNIMS. Following the surfacing of the first case in Manipur, India has sealed its border with Nepal.
Live Update @ 9:15 AM: Markets open in Green
After a fall of nearly 3000 points on Monday, Markets opened in Green on Tuesday. Sensex rose by over 1300 points while Nifty grew closer to 8000 marks. In terms of sector wise appreciation, stocks of Pharma and Financial companies surged during the morning trade.
Live Update @ 9 AM: COVID-19 pandemic accelerating, warns WHO
The World Health Organization on Monday warned that the Coronavirus pandemic is accelerating at a very rapid pace and is a cause of concern of all countries globally. WHO chief Tedros Adhanom Ghebreyesus said that it took the virus 67 days since its outbreak to infect 1 lakh people; this number rose exponentially to 2 lakhs in mere 11 days wherease the cases tripled to 3 lakh above in just 4 days. He also said that it is still possible to change the course of this pandemic through collective global action.
Live Update @ 8:45 AM: UK announces 3-Week Lockdown
The United Kingdom announced a 3-week lockdown to tackle the coronavirus outbreak in the country. During the lockdown, the county would close all non-essential services while banning gathering of 2 or more individuals. UK Prime Minister Boris Johnson urged citizens to 'stay at home' as the country grappled with the COVID-19 outbreak with the death toll rising to 335.
Live Update @ 8:30 AM: Tokyo Olympics likely to be Postponed
According to a statement issued by Senior International Olympic Committee (IOC) official Dick Pound, the postponement of 2020 Tokyo Olympics is a inevitable in times such as COVID-19 outbreak. However, officially, IOC has taken a different stand with the organization informing the press that it will evaluate the situation regarding the feasibility of holding the Tokyo Olympics in next 4 weeks. Tokyo Olympics is scheduled to be held from 24th July 2020 to 9th August 2020.
Live Update @ 8:15 AM: Shaheen Bagh Protest Site cleared
Delhi Police on Tuesday morning, cleared the Shaheen Baug protest site in Delhi amid the rising concerns around Coronavirus infections among the protestors. The site was cleared after Sec 144 was imposed across Delhi in order to enforce a complete lockdown in the national capital to check the spread of COVID-19.
Live Update @ 8 AM: COVID-19 cases in India inch towards 500 mark
Monday i.e. 23rd March 2020 India recorded a total of 99 positive cases, marking the highest spike in the Coronavirus infection cases in the country since the outbreak. The overall tally of positive COVID-19 cases stood at 498 with the death toll also rising to 9. The worrying factor for the Central and State Government has been the continued spike in the number of cases in the last three days. Of the total 500 cases, the 246 cases have surfaced in the past three days. On the other end, a total of 40 patients with COVID-19 infection have been treated, recovered and discharged across India.