Current Affairs in Short: 12 March 2019
The United Nations has again requested Sri Lanka to establish a hybrid court consisting of international judges, lawyers and investigators to probe war crime allegations during three-decade long LTTE war.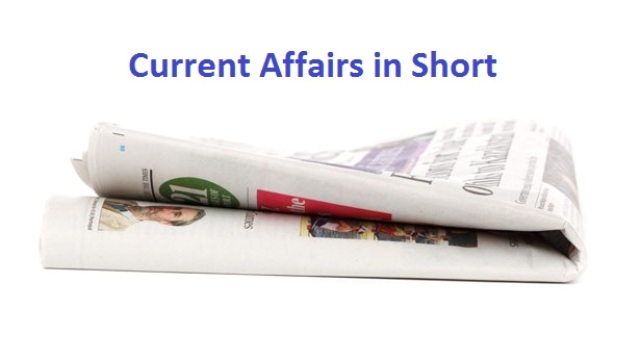 Current Affairs in Short: 12 March 2019
UN requests Sri Lanka to establish hybrid court to probe war crimes during LTTE war

• The United Nations has again requested Sri Lanka to establish a hybrid court consisting of international judges, lawyers and investigators to probe war crime allegations during three-decade long LTTE war.
• The demand had been rejected by Sri Lankan government earlier saying it has its own strong justice system.
• The annual report on Sri Lanka presented to the UN Human Rights Council (UNHRC) at its ongoing session in Geneva recommended the government to adopt legislation establishing a hybrid court to investigate allegations of human rights violations.
• It recommended that the Government promptly investigate and prosecute all allegations of torture and other gross human rights violations and give highest priority to long-standing emblematic cases so as to regain public confidence in the justice system.
• Sri Lankan government has requested for more time and roll over of resolution which it co -sponsored in 2015 to promote reconciliation, accountability and human rights in the country. The nation's President has requested the international community to let Sri Lanka solve its own problems adding that independence of a country is very important.

India granted permission to wear caps in memory of fallen soldiers: ICC

• The International Cricket Council (ICC) said India was granted permission to wear camouflage military caps in the third ODI against Australia as a tribute to the country's armed forces, a gesture which Pakistan has objected to.
• On March 8, 2019, in Ranchi, the Indian team sported military caps as a mark of respect to the CRPF personnel who were killed in the Pulwama terror attack and donated its match fee to the National Defence Fund.
• ICC's General Manager Strategic Communications Claire Furlong said in a statement that the BCCI sought permission, which was granted.
• The Pakistan Cricket Board had earlier sent a strongly worded letter to the International Cricket Council (ICC), calling for action against India for wearing camouflage military caps during the third ODI against Australia.

Singapore temporarily suspends all versions of Boeing 737 Max

• Singapore's Civil Aviation Authority has temporarily suspended all versions of the Boeing 737 Max from flying into and out of the country. The decision comes after an Ethiopian Airlines Boeing 737 Max 8 crashed on March 10, killing all 157 people on board.
• China and Ethiopia had decided on March 11 to ground their entire Boeing 737 Max 8 fleet citing the recent crash and another deadly accident of that same model in Indonesia last October.
• Meanwhile, the US Federal Aviation Administration has ordered Boeing to make urgent improvements to its 737 Max 8 fleet, including an anti-stalling software and manoeuvering system. The US regulator, however, has ruled out grounding the fleet.

Reservation to Maratha community legal &valid: Government tells Bombay HC

• The Maharashtra government has informed the Bombay High Court that its decision of granting reservation to the Maratha community was legal and valid.
• Concluding its arguments before the division bench of Justices Ranjit More and Bharati Dangre on March 11, the government counsel said that the petitioners have failed to show that the government's decision was malafide and dishonest.
• Sakhare said that the government considered the Maratha community as socially and educationally backward and hence decided to grant them reservation.
• It clarified that Maratha community was not included under OBC quota so as to avoid any repercussions in the state. The court will now hear the petitioners' advocates.

DRDO test fires PINAKA weapon system

• The Defence Research and Defence Organisation (DRDO) on March 11, 2019 successfully test fired the Guided PINAKA from Pokhran ranges.
• The weapon system is equipped with state-of-the-art guidance kit comprising of an advanced navigation and control system.
• In both the missions, the weapon systems impacted the intended targets with high precision and achieved desired accuracies. The telemetry systems tracked and monitored the vehicle all through the flight path. All the mission objectives were reported to have been met.
• The indigenously developed Guided Pinaka is expected to significantly boost the capability of the artillery to make precision hits.

Zinedine Zidane re-appointed as coach of Real Madrid till 2022

• Zinedine Zidane has been re-appointed as the coach of Spanish football club Real Madrid till 2022.
• The Frenchman replaces Santiago Solari, who was sacked after less than five months in charge.
• Zidane, who is a former Real Madrid midfielder, had resigned from the club after leading it to three consecutive Champions League titles.
• Real Madrid is going through a rouch patch this season with nothing left to play for other than qualification match into next season's premier European competition.
• Real Madrid's Champions League challenge came to an end last week after the defending champions were stunned by Ajax in the Round-of-16.

Indian campaign ends in Indian Wells Masters Tennis tournament in United States

• The Indian campaign has ended in the Indian Wells Masters Tennis tournament at California in the United States.
• In the Men's Doubles pre-quarterfinals, the Indo-Canadian pair of Rohan Bopanna and Denis Shapovalov lost to the Serb-Italian team of Novak Djokovic and Fabio Fognini, 4-6, 6-1, 8-10.
• The lone Indian in the Singles, Prajnesh Gunneswaran was beaten by Croatia's Ivo Karlovic, in straight sets, 3-6, 6-7.
• Among other results, world number three Alexander Zverev made a shocking third round exit after he was stunned by unseeded fellow German Jan-Lennard Struff, 3-6, 1-6.

Veteran Hindi Newsreader Vinod Kashyap passes away at 88

• Veteran Hindi Newsreader Vinod Kashyap has passed away following a prolonged illness. She was 88. She served in All India Radio for about 30 years.
• The veteran newsreader started her career in Radio as a drama artist. A prayer meeting in her memory will be held in New Delhi on March 12.

Russia commissioned over 1,000 new aircraft in past few years: Defence Minister

• The Russian military has commissioned more than 1,000 new aircraft and thousands of tanks in the past few years in a massive modernisation effort amid tensions with the West.
• The information was shared by Russian Defence Minister Sergei Shoigu on March 11 during a speech to the lawmakers. He said that the armed forces have turned into a highly mobile force capable of projecting power to distant areas.
• He also noted that the military received more than 1,000 warplanes and combat helicopters and over 3,700 tanks in 2012-2018.
• He added that the armed forces have received 109 ground-based intercontinental ballistic missiles and 108 submarine-launched ICBMs and formed 10 brigades armed with state-of-the-art short-range Iskander missiles.

India, US ask Pakistan to take concerted action to dismantle terror infrastructure

• India and the United States have agreed that Pakistan needs to take concerted action to dismantle the terrorist infrastructure and deny safe haven to all terror groups operating in its territory.
• The agreement was reached during the meeting between Foreign Secretary Vijay Gokhale and US Secretary of State Michael Pompeo in Washington on March 11, 2019.
• Both the sides also agreed that those who support or abet terrorism in any form should be held accountable.
• India's Foreign Secretary appreciated the firm support that India received from the US in the aftermath of the terrorist attack at Pulwama in Jammu and Kashmir. At the same time, the US Secretary of State expressed his understanding of India's concerns regarding cross-border terrorism.
• Both sides discussed the importance of bringing those responsible for the Pulwama attack to justice and also discussed other issues of mutual interest, including Afghanistan and cooperation in the Indo-Pacific region and agreed to closely work together in this regard.

Algerian President Abdelaziz Bouteflika will not seek fifth term, delays elections

• Algerian President Abdelaziz Bouteflika has announced that he will not seek a fifth term and delayed the next month's Presidential polls following weeks of protests against his candidacy.
• The 82-year-old leader said, the elections would follow a national conference on political and constitutional reform to be carried out by the end of this year. He did not give a date or timeline for the delayed election.
• The ailing leader, who has been confined to a wheelchair since suffering a stroke in 2013, said a government reshuffle would also take place.
• Prime Minister Ahmed Ouyahia resigned on March 11 and was replaced by Interior Minister Noureddine Bedoui. Ramtane Lamamra was named deputy prime minister, a position that did not exist before.

Centre approves two corridors of Surat Metro project

• The Union Government has approved two corridors of the Surat Metro project to be executed at an estimated cost of around Rs 12,000 crore.
• The Housing and Urban Affairs Ministry said in a statement that the project will be implemented by the Gujarat Metro Rail Corporation and it will be completed in five years.
• The length of the first corridor - Sarthana to Dream City line - will be 21.61 km and the second - Bhesan to Saroli - will be 18.74 km.
• The project will be financed mainly through equity from the Centre and state government on 50-50 basis.
• It will provide continuous availability of affordable, reliable, secure and seamless transport system in the urban agglomeration of the city.

Wrestler Bajrang Punia wins gold in Bulgaria

• India's star wrestler Bajrang Punia won a gold medal in 65 kilogram freestyle at the International wrestling tournament, "Dan Kolov – Nikola Petrov" in Ruse, Bulgaria.
• Punia, a World Championship silver medallist, overpowered Jordan Oliver of USA 12-3 in the final held on March 10, 2019. He also secured the maximum ranking points from the tournament.
• Punia dedicated the victory to Indian Air Force Wing Commander Abhinandan Varthaman, from whom Punia said he got inspiration.
• This was Punia's 10th medal in as many international tournaments since the 2017 World Championships in Paris.

Nagaland launches 1st round polio immunisation

• Nagaland launched the first round of immunisation as part of the nationwide Pulse Polio programme.
• Around one-and-a-half lakh children of less than five years will be given polio drops to sustain polio eradication.
• According to the Directorate of Health and Family Welfare, 2,274 polio booths have been set up to administer polio drops to children.