Current Affairs in Short: 21 June 2018
US President Donald Trump has signed an executive order to keep together immigrant families who have been detained at the border with Mexico.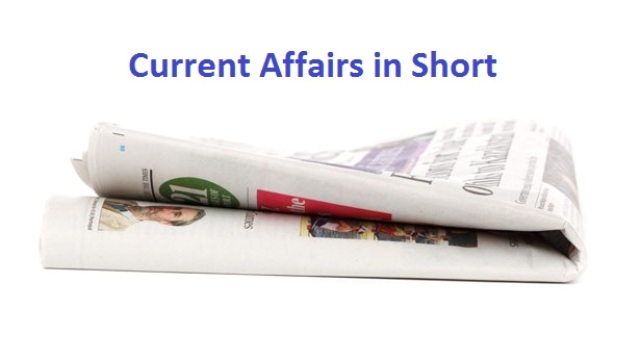 Current Affairs in Short: 21 June 2018
US President Donald Trump orders to end separation of immigrant families

• US President Donald Trump has signed an executive order to keep together immigrant families who have been detained at the border with Mexico.
• With the decision, Trump reversed his own policy amid heavy pressure from his fellow Republicans, Democrats and the international community, over the separation of undocumented parents and children.
• The order states that most families would be kept together under the Department of Homeland Security, except in cases where an adult may pose a threat to a child. It is not immediately clear when Trump's order would be implemented.

Sikkim govt announces A R Rahman as its Brand Ambassador

• Renowned music composer A R Rahman has been appointed as the Brand Ambassador of the Sikkim government.
• Rahman will promote and project Sikkim's achievements nationally and globally
• Sikkim, with its natural and pristine beauty, has over the last two decades emerged as a world famous eco-tourism destination, besides attaining a distinct identity as the first fully organic farming state of the country.
• The state government had earlier this year made Rahman its Brand Ambassador of tourism and business.

Priyanka Chopra to come out with memoir in 2019

• Actor Priyanka Chopra will come out with her memoir next year in which she will write about things which she has never spoken before.
• "Unfinished" is a collection of personal essays, stories and observations of the actor, producer, activist and UNICEF goodwill ambassador.
• The announcement was made by publishers Penguin Random House India on June 19.
• The book will be published simultaneously in the US by Ballantine Books and in the UK by Michael Joseph.
• The actress forayed into the entertainment industry at the age of 17 when she won Miss India and went on to win Miss World the following year.

Seven Indian boxers enter quarterfinals of Ulaanbaatar Cup Tournament

• Seven Indian boxers entered the quarterfinals to make a resounding start at the Ulaanbaatar Cup Tournament in Mongolia on June 20, 2018.
• Shiva Thapa and L.Sarita Devi, both in 60 kg category, were among the prominent winners.
• Ashish, Mandeep Jangra, Etash Khan and Salman Sheikh joined Shiva in the quarters among the men after clinching contrasting victories.
• In the women's draw, national champion Sarjubala Devi and veteran Sarita Devi made the last-eight stage.
• All the six boxers are now just one win away from securing themselves a medal.

India & Tajikistan agree to enhance mutual cooperation for sustainable water development

• India and Tajikistan have reaffirmed their commitment to promote bilateral relations and agreed to enhance economic cooperation, particularly in sustainable water development.
• Nitin Gadkari, the Union Minister for Water Resources, River Development & Ganga Rejuvenation, Road Transport & Highways and Shipping, currently on a two-day official visit to the central Asian republic, held wide-ranging talks with Sirodjidin Muhridin, Foreign Minister of Tajikistan in Dushanbe on June 20.
• The two leaders underlined the need to give further impetus to the ongoing bilateral cooperation in various fields and agreed to enhancemutual cooperation in the area of sustainable water development.
• Gadkari is in Dushanbe to represent India at the high level global conference on "International Decade for Action: Water for Sustainable Development".

Canada legalises recreational use of marijuana nationwide

• Canadian Senate has passed a landmark law that legalises the recreational use of marijuana nationwide.
• The Cannabis Act passed its final hurdle on June 20 in a 52-29 vote in the Senate. The bill controls and regulates how the drug can be grown, distributed and sold.
• With the bill's passing, the Canadians will be able to buy and consume the drug legally as early as September 2018.
• The country is the first in the G7 to legalise the drug's recreational use.

Japan halts evacuation drills simulating North Korean missile attack

• Japan has halted evacuation drills simulating a North Korean missile attack in the wake of historic talks between Washington and Pyongyang.
• Yaita in Tochigi prefecture north of Tokyo had been planning an evacuation drill for next week involving some 800 residents including 350 school children.
• The Japanese Government, however, instructed that the drills should be postponed for the time being following a change in the environment after the US-North Korea summit.
• The decision comes after US President Donald Trump and North Korea's leader Kim Jong Un met last week in Singapore, with the pair signing a joint document calling for denuclearisation of the Korean peninsula.

North Korea may soon return US soldier remains

• North Korea may soon return the first out of 200 sets of remains of American soldiers who died during the Korean War.
• This comes after an agreement was reached last week by North Korean leader Kim Jong Un and US President Donald Trump.
• Preparations are on in the United States to receive the remains. It could happen in the next few days.
• The US and North Korean leaders agreed to the repatriations during their historic June 12 summit in Singapore.
• According to the United States, more than 35,000 Americans were killed on the Korean Peninsula during the war, which ended in an armistice with no peace treaty.

ICC Test rankings: Dhawan reaches career-best 24 spot, Vijay & Jadeja move up too

• In the latest ICC Test rankings, Indian opener Shikhar Dhawan moved up 10 places to achieve a career-best 24. His teammates Murali Vijay and Ravinder Jadeja also moved up.
• Dhawan's knock of 107 in the historic Bengaluru Test against Afghanistan saw him become the first Indian to complete a century before lunch on the opening day of a Test match.
• Vijay's innings of 105 has lifted him six spots to the 23rd position. Indian spinner Jadeja also inched up one slot to third position after claiming six wickets in the Bengaluru Test.
• Fast bowlers Ishant Sharma and Umesh Yadav have also made an upward movement in the rankings list.
• Team India also maintained its top spot in the team rankings.

7th India Minerals and Metals forum inaugurated in New Delhi

• The 7th India Minerals and Metals forum was inaugurated in New Delhi on June 21, 2018.
• The forum seeks to come up with solutions to leverage in the sector with the changing global scenario.
• The deliberations took cognizance on the need to consolidate small players for strengthening of overall health of the industry.

Rajasthan: Record set at State Level yoga celebration in Kota

• In Rajasthan, a record has been set at State level yoga function in Kota on June 21, 2018 where around one lakh 60 thousand people performed yoga at one place at a same time on International Yoga Day.
• The function has set a world record for largest number of people performing yoga at one place at the same time.
• Chief Minister Vasundhara Raje and Yoga Guru Baba Ramdev led the people at RAC Ground, where 30 lakh squre feet area was prepared for performing yoga.
• Representatives of Guinness World Record handed over the certificate of world record to Chief Minister Vasundhara Raje and Swami RamDev.
• Last year, 55 thousand people of Mysore had set a world record performing yoga at one place at the same time.